Huffington post
Posted: 12/10/2015 10:14 am EST Updated: 12/10/2015 10:59 am EST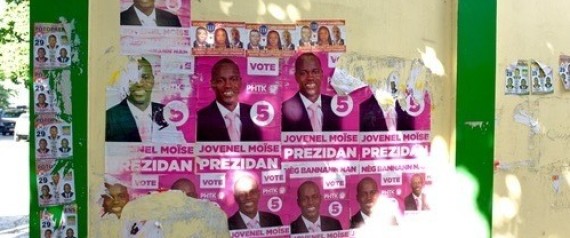 Written with former U.S. Congressional Advisor Regine Barjon
In a remarkable display of cognitive dissonance, exit polls conducted by the Igarape Institute after the first round of the Haiti elections found that 82% of voters interviewed believed that there was no fraud. Yet after the election results were announced, 90% of those same voters believed a developing narrative that there was fraud. U.S., Canadian and Haitian researchers interviewed 1,991 people at 135 polling stations. The survey had a margin of error of 2.29 percentage points. 54 candidates crowded the October 25 election slate and added to the disorder. It is now almost two months after the initial balloting. The December 27 run-off is fast approaching and Haiti is facing a genuine electoral crisis.
Candidates influenced this shift in perception by publicly declaring themselves winners before the ballots were tabulated and then alleging fraud after the results were announced. Respective bases were organized in a deliberate attempt to fan the embers of suspicion into renewed protest and violence. Several thousand marched in Port-au-Prince until police firing tear gas and rubber bullets dispersed them. The protests occurred mostly in the capital, Port-au-Prince, and not in the rural provinces.
Stage Set
The stage was set for this confusion, chaos and apathy long before the elections took place. Threats of intimidation and violence from some members of Parliament, and the failure to address social and economic issues by President Michel Martelly's administration, created a climate of repression and corruption. Specifically, Martelly's attempt to redress the economy failed as a result of parliamentary gridlock; thereby resulting in trade difficulties between Haiti and the Dominican Republic. A devalued currency and import/export inequalities exacerbated the impasse. At this time the exchange rate is approximately 50 Gourdes to 1 U.S. Dollar. Haiti has 4.5 million unemployed in a previously agrarian society, yet relies almost completely on food imports to sustain the population. Haiti can grow its own chickens and produce its own eggs. At least 60% of Haitian households depend on farming and 25% of the GDP comes from agriculture.
A Clinton Apology and Failed Policies
Former United States President Bill Clinton, then the U.N. Special Envoy to Haiti, publicly apologized in 2010 for forcing Haiti to drop tariffs on imported, subsidized U.S. rice during his time in office. The policy all but wiped out the Haitian rice, sugar, and poultry sectors, and was another serious blow to Haiti's self-sufficiency.
International rebuilding efforts after the 2010 earthquake leave much to be desired. The rubble has been removed from Port-au-Prince, and the tent cities are gone; replaced by a revitalized Champ de Mars. A few kilometers away, the original Camp Canaan now has an estimated population of 150,000 to 200,000 at the base of deforested Goat Mountain (Morne Cabrit). There is no supporting infrastructure, and another earthquake or a major hurricane would result in major loss of life.
Within this framework of failed domestic and foreign policies, international observers and Martelly's opposition suggested that 50% of the 1.5 million votes cast were either fraudulent or purchased because the majority of the voters were campaign workers. These suggestions have merit and are red flags waved by a frustrated and aggrieved resistance.
Cash for Votes
Voter turnout was low, an estimated 25-30% of eligible voters. The Provisional Electoral Council (CEP) distributed over 900,000 accreditation passes for monitors, and each of the 54 presidential candidates received more than 13,700 passes each for poll watching; enough to be present at each voting booth in the country. Few of the candidates had the capacity or the money to actually use them. As a result, political parties sold some passes to the highest bidder in the days leading up to the election. Credentials were going as high as $30 in an economy where the average yearly income is $400. On Election Day, these passes were selling for as little as $3.
The 13,700 poll watchers, who are employed by the campaigns, accounted for an estimated 739,800 (54 candidates x 13,700) votes cast. This caused the Martelly opposition to suggest that half of the voters were paid participants, though it is not illegal or fraudulent to vote for one's employer. In addition, numerous votes were rejected based on illiteracy, human error, ballot burning and alleged ballot box stuffing. Is it more likely the electoral crisis can then be summed up as the non-engagement and non-participation of the over 5 million Haitian registered voters?
It is not completely clear why the Haitian population opted to not participate. A reasonable thesis emerges that the underlying dissatisfaction of the Haitian electorate, as demonstrated by the lack of voter participation, is steeped in the country's poor economic outlook. It must be noted that there is a huge gap in the age of potential voters in Haiti, with 70 % of the population under the age of 30. With almost no employment opportunities in rural areas, this has resulted in a huge migration to Port-au-Prince and Cap Haitien. Political stability depends upon voter participation and a belief that good governance is within reach. This highlights the necessity for economic development, which in turn can expand local and foreign investments for the 3rd poorest nation in the world.
Possible Solutions
A possible outcome for this electoral and economic morass would be the imposition of a transitional government, as Martelly's opposition has demanded. A worse possible outcome would be the expansion of the United Nations Stabilization Force if the country descends into the violence and instability that such a draconian move would surely produce. Or, the elections could be delayed and the results vetted before the runoff.
Proponents of a transitional government are advocating pressing the reset button– to start with new actors, new local and international partners, and a new constitution when the 1987 one was never really given a chance. Political actors cling to this solution fatale in spite of repercussions that would result from such a course of action. If the opposition simply came together under second place Jude Celestin's banner in order to counter Martelly's chosen successor, Jovenel Moise, they could be assured a fair contest and a possible win. The refusal of the opposition to consider this strategy rightfully questions altruistic motives. It suggests that personal gain is at stake. What hangs in the balance are both international funding and investments, and Haiti's mining and other potential assets: such as presumed oil fields, iridium, gold, silver, and other rumored mineral deposits.
Neither the U.S. nor other actors will leave Haiti. A destabilized Haiti represents a Hemispheric Security Threat. In addition, Haiti relies on foreign aid and Diaspora remittances for over 60% of its GDP. Haiti cannot afford to start over. Haiti's "friends" still hold the mortgage.
Politicians in Haiti need to start behaving like true leaders in a democracy that is obviously struggling. Urging followers to take to the streets, creating chaos, disrupting commerce and tourism to the detriment of civil society is not the answer.
Haiti needs to educate its electorate so that they can differentiate between candidates and be better informed. Candidates must step up to the plate; actually participating in campaigns instead of simply throwing their collective hats into the ring. Politicians must campaign fairly and win elections on merit instead of purchasing votes. Violence, intimidation of the populace, corruption, and incompetence complete the outsider's view of Haiti; obviously discouraging local and foreign investment.
The training and education of public officials in the legitimate intricacies of running campaigns is one solution. Entities advocating for a transitional government should not hide behind demands, but work toward a translating those demands into laws enacted by Parliament. A transitional government is not democratic. It simply puts into place a person or group to do the bidding of yet another group of the political and economic elite.
The current electoral crisis is both economic and political. Proper structural solutions must be adopted to regain the public trust with the implementation of measures to safeguard the integrity of the people's vote. Therefore, it is suggested that the international community, the Government of Haiti (GOH), and designated indigenous legal experts proceed with an independent investigation into the recent allegations of election fraud while using popular venues of communication to invite a vested partnership between the State and the public for the future of Haiti.
Although this would delay the scheduled December 27 elections for a short period of time, it would still allow the swearing in of a new President in February 2016. Some compromise would quell the unrest. If handled properly, this public discourse should include the consideration of pertinent legislation for the new Parliament in order to support measures that yield political stability and confidence in government institutions.
The end result holds great promise to generate economic growth and investment. During his remaining mandate, President Martelly should ready the state to move Haiti's economy forward and prepare for his successor. He should pass his own Business Modernization Bill in addition to the multiple programs that are lingering in his desk. A Bill on limiting Tariff Import products, which represent a direct threat to Haitian production, would certainly boost the economy.
Highly recommended is a countrywide Capacitation Center (CC) as a viable response to the dire economic situation of most Haitians. The CC could align itself with socio-economic policies of the GOH that have yet to be realized. Modernization of the Justice System, Food Security, Food Sovereignty, and integration of the Diaspora are critical components of this plan. Haiti needs Haitian teachers, Haitian trainers, and Haitian volunteers to prepare, educate and train political parties and the public in civic education for future elections.
Regine Barjon is a former U.S. State Department, Congress, Senate and U.S. Southern Command advisor. Cowriter Georgianne Nienaber is a regular contributor to the Huffington Post as well as regional and international publications. She is a member of the Society of Professional Journalists and Independent Reporters and Editors and recently returned from Haiti.