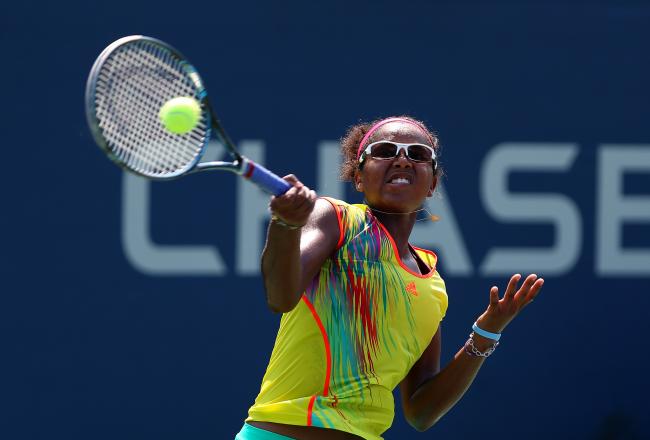 Seventeen-year-old Vicky Duval (USA)
Clive Brunskill/Getty Images
When I first saw Vicky Duval play tennis in her first-round U.S. Open qualifying match last week, I was curious. Who was this young, Haitian-American 17-year-old with the sporty shades who was beating up on the No. 4 seed in the tournament, Teliana Pereira of Brazil?
Duval was fast around the court, and she pushed Pereira around with her attacking groundstrokes. I sensed that she was a real competitor.
When I sat down with Vicky Duval on Friday, I was surprised again. Tennis players are not always the most social bunch. Tennis is an inherently inward-looking game. There are no teammates (except in doubles), and there is little camaraderie compared to other sports.
Yet along came Vicky, laughing and smiling, and I was instantly struck by her charm and gregariousness.
The first thing Vicky showed me was a little joke she had made on her iPhone about her challenging trigonometry class. I didn't get the joke—which was precisely the point. Vicky explained, "basically the question makes no sense and the answer makes no sense." Just like in trigonometry.
Vicky's sweet, fun-loving demeanor may be attributed, in part, to her mother, Nadine Duval. Nadine is the antithesis of an overbearing tennis parent.
"I don't know anything about grips, about strokes, or anything," said Nadine in her rich French-Creole accent. "I don't get involved in the tennis. I'm just the mom. And she [Vicky] likes it that way…My job is just to make sure that she does her schoolwork, she has enough sleep, she feeds herself properly and she's a good girl."
Nadine's eyes light up when she talks about Vicky and her two older sons, and she punctuates many of her sentences with infectious laughter. After watching Vicky and her interact for a few minutes, it was easy to see what a loving relationship they have, sprinkled with just the right amount of silliness.
"My mom is amazing! She's so fantastic," says Vicky as she rolls her eyes, and Nadine breaks into laughter again.
The support Vicky feels from her mom and the rest of her family is crucial. "I don't really have a social life," Vicky admits. "But I don't feel lonely or anything. I have a lot of support."
The support team includes Vicky's two older brothers, who inspired her to play tennis and act as her part-time hitting partners and coaches.
"They [my brothers] got me into it because they started, so I just watched them play…I still remember I was like seven, and I was watching them practice, and I was like, 'Oh my God, how do they hit it on the strings?'"
Nadine Duval remembers about Vicky and her brothers, "she wanted to be in the spotlight…She wanted to kick their…(voice trails off)!"
Not everything was fun and games during Vicky's childhood, however. Vicky was born in Miami but spent her early childhood in Port-au-Prince, the capital of Haiti. Haiti, at that time, was a dangerous place, marked by political turmoil and widespread violence. When Vicky was seven, her aunt's house was robbed, and Vicky and her cousins were held at gunpoint for hours.
The incident prompted Vicky's mother to give up her medical practice and move the family to the United States where the children could grow up in a safe environment. Vicky's father, Jean-Maurice, meanwhile, returned to Port-au-Prince, where he had also established an extensive medical practice.
In January 2010, the family received a phone call that there had been a massive earthquake in Haiti and Vicky's father had been trapped when his house collapsed on him. He was able to dig himself out of the house, but his injuries were extensive. His legs were broken, his left arm was shattered and his lungs were punctured by his seven fractured ribs.
Under ordinary circumstances, Jean-Maurice would have probably died from secondary infections because of the lack of adequate medical care in Port-au-Prince. His life was saved, however, by the incredible intervention of a family in Atlanta who knew Vicky and her family from the Racquet Club of the South in Atlanta. The Kitchen family paid a large sum of money to a private company that airlifted Jean-Maurice to a hospital in Fort Lauderdale, where he received treatment.
Jean-Maurice still suffers today from chronic pain because of the injuries, and his left arm is paralyzed. When I spoke with Vicky, he was undergoing treatment in Canada to alleviate the pain. It is hard for Vicky to see her father suffering, and this has inspired Vicky's other career aspiration to become a biomedical engineer.
"I have good math skills," said Vicky. "I learn pretty quickly, and I just want to help people. I think that's the main thing."
College will have to stay on the back burner for the time being because Vicky made the decision to turn pro in March. However, she enjoys studying anatomy and biology in her spare time.
Vicky will be making her second appearance in the main draw of the U.S. Open on Tuesday when she faces the 11th seed, Samantha Stosur. She received a wild card into the first round last year after winning the USTA Girls' 18s National Championship. There, she lost to former world No. 1, Kim Clijsters.
This year, Vicky's short-term goal is to win her first-round match so that she will "do better than last year."  Longer term, her eyes are set on a bigger goal.  "I want to win all four slams.  I think that would be cool," said Vicky with a twinkle in her eye.
Follow Andy Luse on Twitter @lusegoose