Hugo Chávez promises to increase production and reduce dependence on US market by doubling crude exports to Asia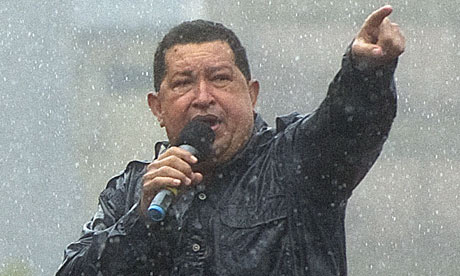 Venezuelan president Hugo Chávez delivers a speech on the last day of campaigning in Caracas. Photograph: Juan Barreto/AFP/Getty Images
While giant rallies in Caracas may be drawing the world's attention ahead of tomorrow's Venezuelan presidential election, the global significance of the vote can be found hundreds of miles to the east in the oil-soaked Orinoco Belt.
According to studies, Venezuela has overtaken Saudi Arabia to become number one in the world for proven oil reserves, largely thanks to the heavy crude found in this vast alluvial plain.
Whether this multi-trillion dollar asset is controlled by Hugo Chávez or the opposition challenger, Henrique Capriles, will influence which countries and companies are given the priority to exploit them and how much drivers around the world pay at the pump. According to a report this year by BP, Venezuela has reserves of 296.5bn barrels, about 10% more than Saudi Arabia and 18% of the global total. At the country's current levels of production, this would last about 100 years.
If Chávez wins – as most polls suggest – he has promised to ramp up production and reduce his country's dependence on the US market by doubling crude exports to Asia. To further this goal, Venezuela plans to build a pipeline through Colombia to the Pacific which would reduce costs and transport times to China and other Asian markets.
Capriles, who has mounted a strong challenge, says he would fire the oil minister, Rafael Ramírez, and rethink how crude is extracted and used. Until now Russian and Chinese companies have struck the biggest deals for future exploitation.
"We have to revise every deal. I think they are agreements that are not functioning," he said. During the campaign, he has also said he would halt subsidised oil shipments to Cuba, Belarus, Nicaragua and Syria. Critics say he is a stalking horse for US interests.
Both Chávez and Capriles are calling for more investment so that Venezuela can increase not only output but also the quality of oil through the use of upgrading technology. But the volatile mix of politics and oil has made it difficult to secure partners.
In recent years Venezuelan oil production has fallen due to poor maintenance, low investment and the loss of key workers. Plans to open new fields have been repeatedly delayed. The state-owned oil company PDVSA says the holdups are over. Last week its joint venture with Russia's Rosneft and Lukoil pumped its first barrel. Another operation, with a Vietnamese firm, has also reportedly begun. Projects with Chevron of the US, Spain's Repsol and others are due to start early next year.
But there are still many empty blocks. Officials said BP, Shell and several other multinationals appear to be waiting to see if the government will change today before committing to possible joint ventures in the two main areas for expansion, Carabobo and Junín.
"There is a danger that British firms might miss out. In this country, oil and politics are intertwined. Many companies are waiting for the election result," said Osmel Molina, deputy manager of the Carabobo region. "They hope for higher profits if the political situation changes. That's why there is so much support for the opposition. They don't necessarily want to oust Chávez, but they do want a weak government so they can control the biggest oil resources in the world."
Venezuela has an oil-dependent economy – PDVSA accounts for 95% of the country's export earnings. Domestically, the mix of populist politics, super-abundant oil and second-rate refining technology has left the country with a peculiar system in which the state sells crude for $100 (£61) a barrel, buys back petrol at $400, then sells it on to domestic drivers at such a discount that a full tank is cheaper than a cup of coffee. A gallon costs about 6p, leading to a lucrative cross-border petrol-smuggling business. Neither candidate has dared to commit to a raise.
Oil rose to the centre of the political debate in 2003, when the sector was crippled by striking workers. The Chávez government, which had survived a coup attempt the previous year, sacked most of the management and many of the workers, saying that they were pawns in a US-backed effort to destabilise the country.
The industry is now a bastion of government loyalists. Molina's office is decorated with portraits of Chávez and Simón Bolívar. Most of the staff wear red Chávez re-election campaign T-shirts. Four oilfields are named after battles of independence.
Oil helps to explain why Chávez is vilified in the US. In 2000, a year after taking power, he made his first mark on global affairs with a tour of the Middle East to lobby key Opec members – Iraq, Iran, Libya, Kuwait and Saudi Arabia – to drive oil prices higher. Since then, the cost of Brent crude has risen from less than $20 a barrel to more than $100.
Saddam Hussein and Muammar Gaddafi were among the leaders who joined Chávez to drive up prices. Molina believes it is no coincidence that they were deposed and killed: "There's a plan in place to control the global oil market. Anyone who tries to erode the monopoly ends up in conflict with the [US] empire."
In the past, Molina said foreign oil firms were paying only 3% royalties to the government, but Chávez pushed this up to 16%. He also helped to raise the value of the output from the Orinoco Belt by relabelling it as valuable heavy crude instead of cheap bitumin or tar, as it had previously been priced.
Some accuse the US and multinationals of trying to influence the presidential campaign. "Transnationals want control of the oil here. They want the submission of Latin America to supply the market needs of the US," said Nicmer Evans, a political science professor at the Central University of Venezuela.
But the outside influence cuts both ways. Since 2007, the government has received $42.5bn in loans from the China Development Bank, with the biggest tranche coming in the year ahead of an election in which Chávez has increased public spending, the minimum wage and pensions. This is repaid largely through shipments of 430,000 barrels of crude a day to China in repayment.
Russian president Vladimir Putin showed his support with the gift of a puppy to Chávez this month.
But geopolitics is not the only factor at play in deciding who gets to exploit and use this pool of oil. Geography, market demand and refining technology are also help to explain why the US – despite Chávez's rhetoric – remains Venezuela's biggest customer.
The scale of the required investment will also be a struggle for any single country. Chávez has said Venezuela should look to the country's Faja oil belt and promised to invest $130bn in the region to double national oil production to six billion barrels a day, pushing Venezuela past Iran as the world's second-biggest producer. The money is needed to upgrade wells, processing plants, refineries, docks, roads and housing. Dire maintenance has plagued the industry, most recently with a huge fire at the Amuay refinery.
Local people say that the main road between Morichal and Maturin has been cut off at least twice in the past month, once because floods swept away a bridge and once because of a protest by nearby residents against power shortages.