As Haiti rebuilds, questions continue to hound the country's government and its donors about how aid money is being spent.
When it comes to U.S. assistance to Haiti, much of the aid dollars, it appears, have gone to the "usual suspects": big international nongovernmental organizations and development consultancies. This contrasts with the U.S. Agency for International Development's vow — as part of USAID Forward reforms — to go local when it comes to implementing projects.
According to publicly available data, USAID awarded $1.15 billion in grants and contracts between January 2010, when an earthquake devastated the Caribbean island nation, until September 2012, with nine of the top 10 awardees being American NGOs and contractors. Those nine won $535 million, roughly 48 percent of the total.
Here are the top 10 recipients of U.S. aid to Haiti, according to a new ranking compiled by a pair of experts from the Center for Economic and Policy Research using information from USASpending.gov and the Federal Procurement Data System.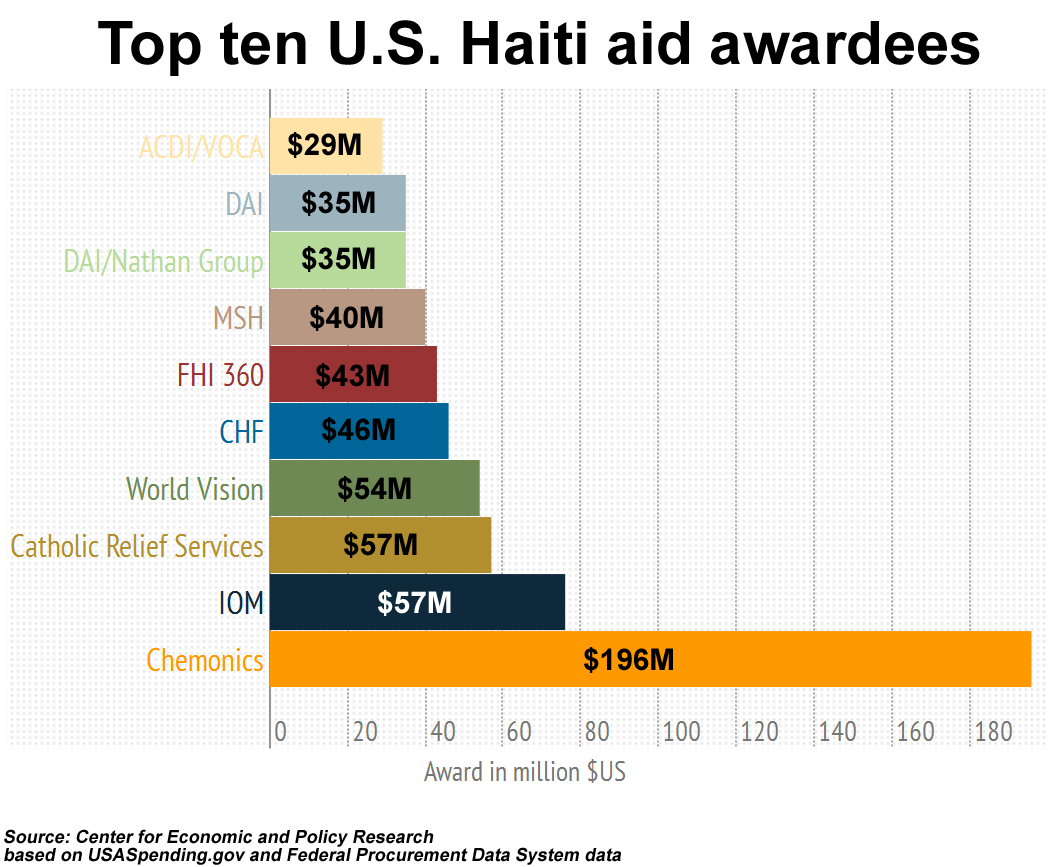 Click the image to view in large size.
Read more development aid news online
______________________________________________________
When you look at these figures, especially CHEMONICS, you must understand that more than 50% of these figures are taken off the top as profits, then more is eaten up as administrative and operating costs. The actual effect on Haiti is minimal. The streets of Washington get more benefit than those of Port-au-Prince.
It is all criminal and the Haitian people continue to be the victims.
CHEMONICS should be revealed for what it really is, and who is involved with this group. Like the telephone crimes in Haiti – FUION and IDT – there may be some major political skeletons in the CHEMONICS  closet.
CHEMONICS has a nice ring to it. It doesn't specify anything, just a nice sounding name.