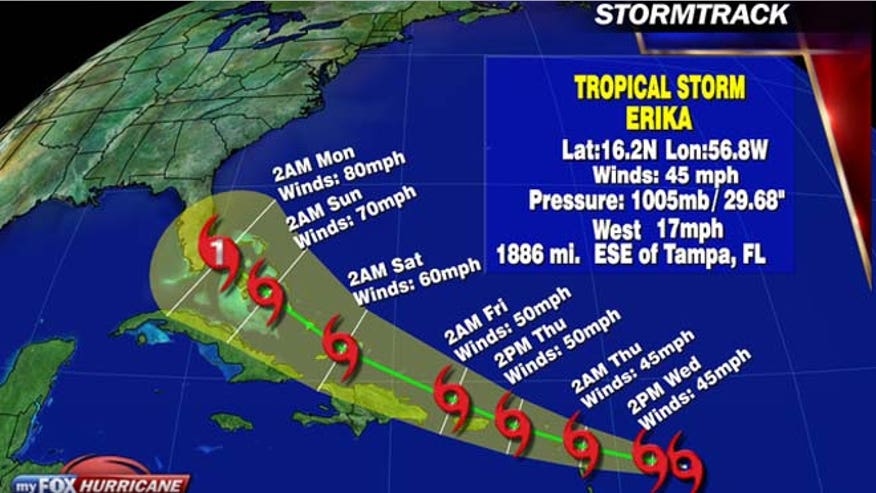 Residents of South Florida are closely eyeing Tropical Storm Erika, which could begin impacting Florida as early as Sunday or Monday.
"I think we'll have a better idea of where Erika is going and what she is capable of, within the next 24 to 48 hours,because today, Erika has struggled mightily to get its act together," said FOX 35 News Orlando Meteorologist Brooks Tomlin. "It's a very disorganized tropical storm right now."
Winds on Tuesday were estimated around 40 mph, meaning Erika is presently a minimal tropical storm, according to MyFoxHurricane. But the storm is forecasted to begin a steady strengthening over the course of the week before it hits the Bahamas during the weekend.
The U.S. National Hurricane Center says Erika will move over or near parts of the Leeward Islands on Wednesday night and move near Puerto Rico and the Virgin Islands on Thursday. This will be the second time in less than three days a tropical storm will slide into the Leeward Islands, after Tropical Storm Danny did so earlier this week. If the storm weakens, it would veer westward towards the Gulf.
According to Florida Today, Kimberly Prosser, the director of Brevard County Emergency Management, says "This is the point where you should start planning whether you're going to evacuate, where you're going to go, how you're going to communicate." Prosser says the agency is also reaching out to several public safety organizations to ensure they are aware of the storm's potential threat.
Tropical storm warnings have been issued for Puerto Rico, the U.S. and British Virgin Islands and the Leeward Island. Erika is centered about 335 miles east of Antigua and is moving west near 17 mph.
Meanwhile in the Pacific, Tropical Storm Ignacio has gained a little strength. The storm's maximum sustained winds have increased to near 50 mph, and it's expected to strengthen to a hurricane by Thursday.
Ignacio is centered about 1,485 miles east-southeast of Hilo, Hawaii, and is moving west near 7 mph.
The Associated Press contributed to this report