Parisian street artist C215 has been traveling again, this time to Port Au Prince in Haiti, where he drew many curious audiences during the week-long visit to watch him create his evocative stencil portraits on columns, in doorways, along narrow walkways, on rooftops, and in streets.
"It was a very strong experience for me personally. I found it to be kind of a mix between the favelas of São Paulo and the suburbs of Dakar," says the artist known for casting a light on homeless or otherwise disadvantaged citizens in cities around the world with his very personal stencil portraits.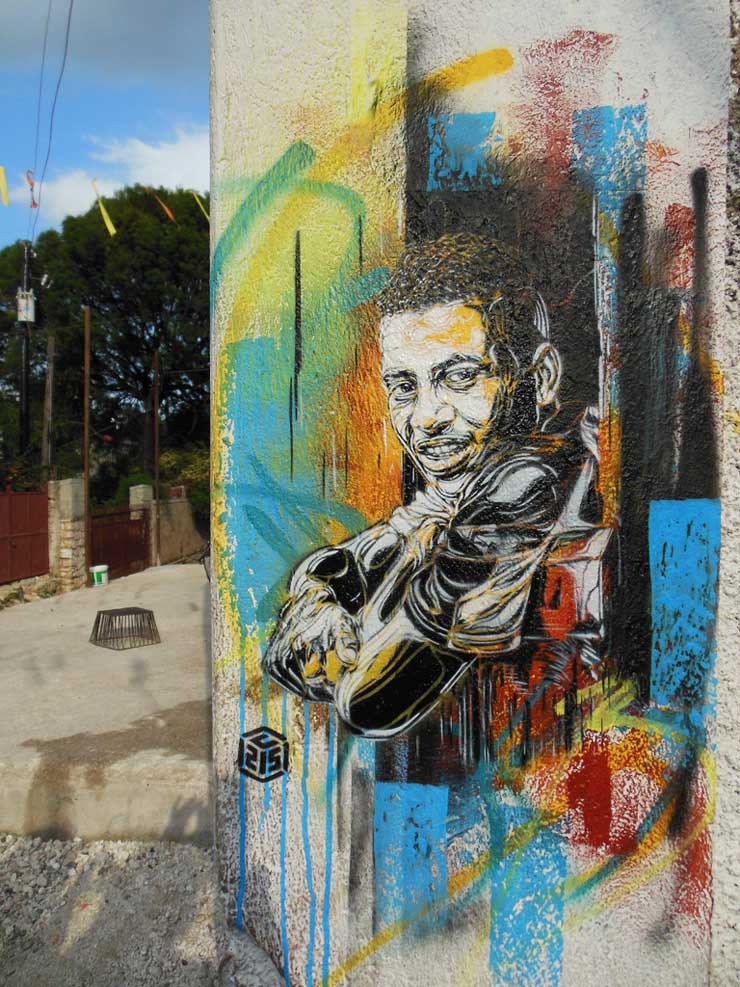 C215. Port Au Prince, Haiti. April 2013. (photo © C215)
While in Haiti meeting new people and learning as much as he could about the culture on the streets, he also was learning about a small new urban art organization that has goals of one day throwing their own festival with invited international artists. "Aude Hulot of the Kasav organization is guiding me in this anarchic city," he reports as he carries bags full of aerosol paint through a back alley.
Only a few years ago C215 made his name in the street art world with one or two colors, white and black. Often he did his work using only white. With some sort of empathy at hand, he developed an uncanny ability to convey part of the essence of the people he depicted simply through a quickly sprayed stencil on a doorway, or on a dumpster. That sort of honesty in depiction, not shrouded by edifice, made his spare figures almost jump from the mottled and rusted surfaces they appeared on. Since he first began there have been many who have observed that his work inspired a number of new street artist — each trying their hand at cutting and spraying portraits. It's not a bad legacy to tell the truth, but you can sometimes guess that the imitation isn't always interpreted as flattery.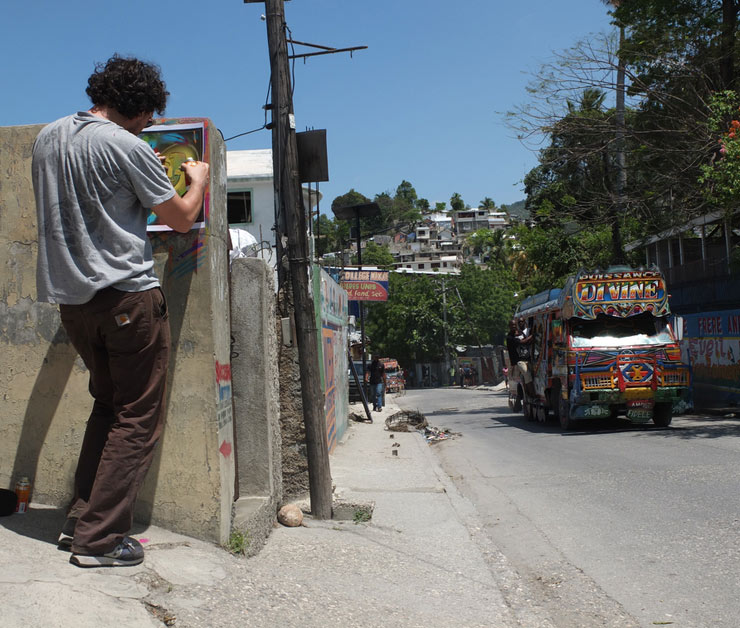 C215. Port Au Prince, Haiti. April 2013. (photo © Viktor Gjengaar)
These days C215 is making some wild, varicolored departures from the single hue stencil that was once his signature. As he tells us in the interview below, a severe illness a few years ago caused his stark and haunting monochromatic images to suddenly become flooded with life, and without warning they became ebullient, even fantastic, in their audacious color combinations. Looking at the wide range of people he has just created on these walls in Haiti, you know that C215 is again setting a standard with his ability to communicate personality, emotion, ease, rage, fear, and a true humanity on the street.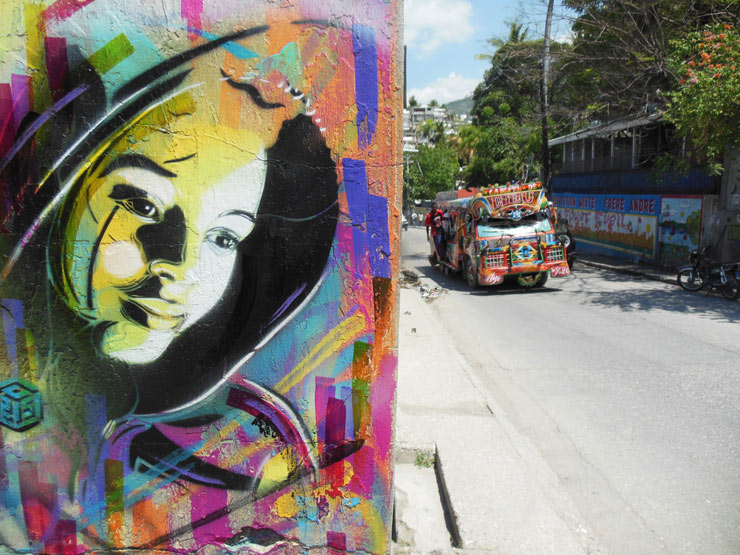 C215. Port Au Prince, Haiti. April 2013. (photo © C215)
Brooklyn Street Art: How has your experience been in Haiti and what brought you here?
C215: A young woman living in Haiti, Aude Hulot, came to visit me in my studio one day in Paris and during her visit she asked me to come to Haiti to paint portraits in the streets of Port au Prince. She said she was part of a local arts association, Kasav and their goal is to promote urban art in the city — perhaps eventually to create a festival that attracts street artists to their city.
I was interested in experiencing and learning about the dramatic living situation of people in Port au Prince, and to see what has happened in the three years since the earthquake. Because I did not know if I would find a potentially dangerous environment or not, my good friend Viktor Gjengaar from Norway came along — he also helped to document the trip properly with photos and video.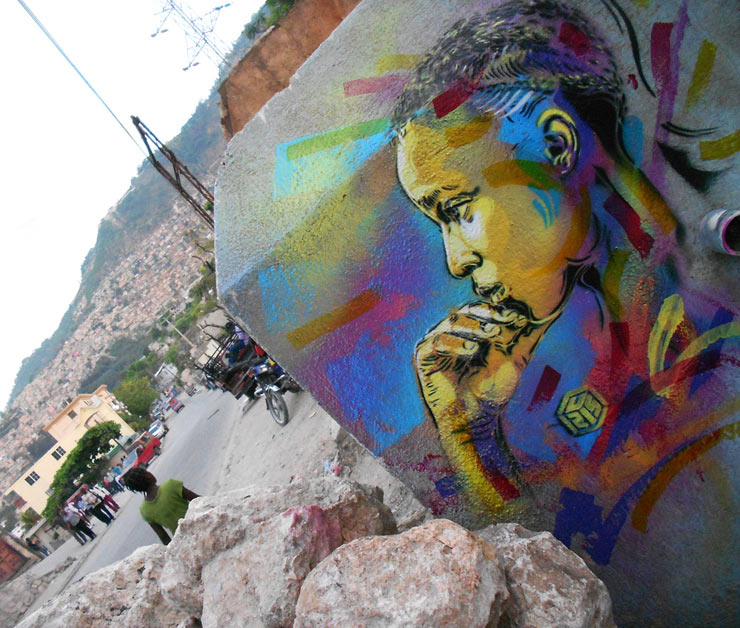 C215. Port Au Prince, Haiti. April 2013. (photo © C215)
Brooklyn Street Art: Can you talk about how you prepared for the trip with your art materials.
C215: I came with a whole collection of Caribbean portraits, a few hummingbirds and tropical flowers, so that the local people could appreciate my art with local subjects. They all understood that way that what I was painting was a clear tribute to their culture, and not simply a Western marking on their walls.
Brooklyn Street Art: When you are selecting individuals for their portrait, what qualities are you looking for?
C215: I simply need to get inspired. I'm not looking for famous people; Instead I look for anonymous ones who anyone can identify with. I learned that it was important in Haiti that no portrait could be understood as a political or a religious message — to avoid possible arguments or controversy. Local citizens were also paying attention to my work to insure that none of the persons whom I painted was dead, because of a concern about the ghost's spirits. This is part of a prevalent belief in Voodooism that is very strong there.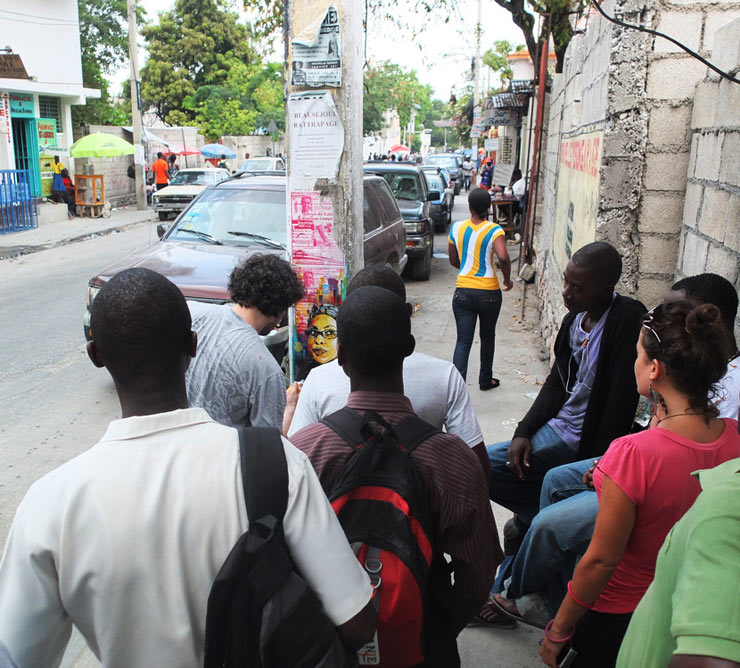 C215. Port Au Prince, Haiti. April 2013. (photo © Viktor Gjengaar)
Brooklyn Street Art: You could simply reprise one of your earlier stencils from other cities on the street here. Why do you make new ones for new locations?
C215: I mixed up old and new ones, but all them were fitting with the island spirit. I did cut two new portraits based on anthropological studies from the very early nineteenth century; the portraits were of a couple to be precise. As a way to evoke the slavery period I painted them next to bars. Haitian culture has deep memories of slavery and I wanted to pay a tribute to this sad memory.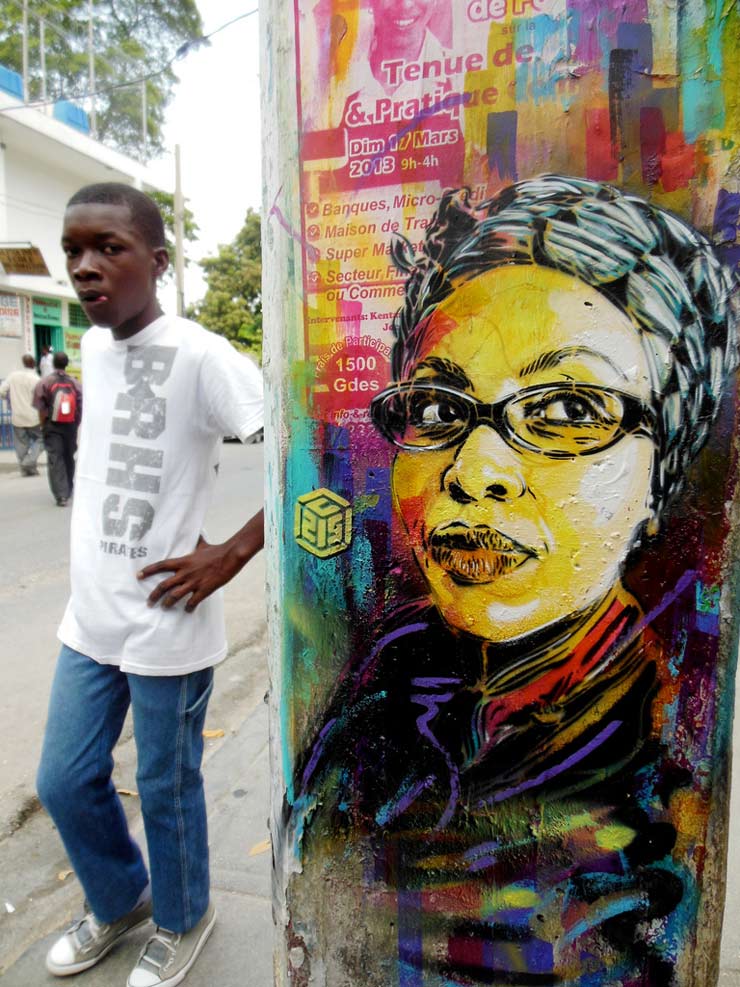 C215. Port Au Prince, Haiti. April 2013. (photo © C215)
Brooklyn Street Art: Can you talk about the portrait of the kid with the gun in his hand?
C215: This portrait is based on an image by the famous photographer, Steve McCurry. I painted it in one of the wealthiest districts of Port au Prince as a way to evoke the economical and physical violence on the island. I hope it might also draw attention to the reality of street kids who are living in Port au Prince.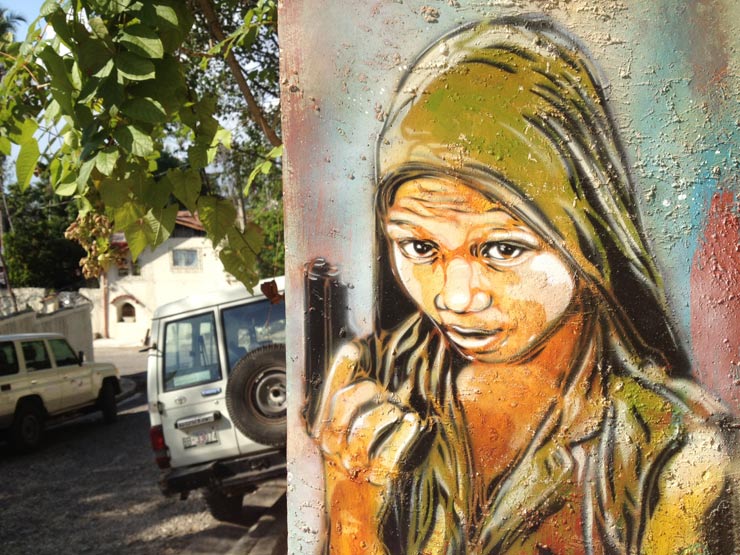 C215. Port Au Prince, Haiti. April 2013. (photo © C215)
Brooklyn Street Art: You have spoken before about your concept of your work in the street as community service. Do you feel that you have been providing a service to part of the community here?
C215: I participated in a fundraiser for Haiti in 2010 with Brooklynite gallery but I thought that going to paint by myself in the slums of Port au Prince was rather a social, if not political act. As time has passed I sadly see that nowadays street art is less and less dedicated to the "street people" and it is more often created for the possible collectors.
There are no street art collectors in Haiti, so I think that even though my work is represented by the wealthy Opera Gallery I would like to go paint in one of the 10 poorest countries of the world, and in some way this is a kind of a community service. Everybody around me was speaking, before my departure and during my stay, about the risks I was taking by going to paint in a city unfortunately famous for tourist's kidnappings and murders.
I experienced the city as a street painter and nothing else: I stayed there one week, painting in almost all districts and especially the "red zone", and I can say that nothing happened and that I felt no threat. So without offering too quick of a conclusion about the island… I can personally say [Haitians] like art and respect artists. I felt everywhere I was welcome and my art got a very good reception.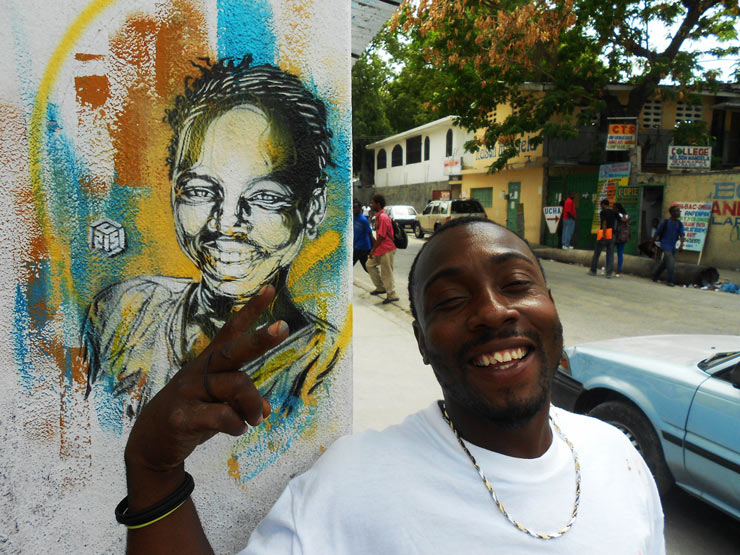 C215. Port Au Prince, Haiti. April 2013. (photo © C215)
Brooklyn Street Art: For many people, one mark of a successful street artist is when they pick the right location for their piece, and the context it appears in. What helps you decide where a piece should be?
C215: Instinct, experience, and the vision I have of the final result before beginning to paint. It is somewhere very technical. I am not looking for the best place to advertise, moreover that I usually paint very small portraits to stay discrete. I am looking for the best result.
Brooklyn Street Art: Your color palette has become so vibrant and full of color in the last couple of years. How has the experience been to using so much color?
C215: Colors became very strong in my works in 2009 after I caught meningitis in Morocco. I lied in complete darkness for one month and when dreaming I had the vision of portraits painted exclusively with very bright colors. I discovered the way to create the images in my dreams and this new palette has had an impact in the streets, making my portraits very eye-catching to people. Using all this color also means I'm taking a greater risk of getting caught that, since it takes longer to paint with many colors than a quick stencil in black or white. I enjoy adrenaline. It was a very good way to turn my works more singular. Now I go painting outside with several cans, but also acrylics, inks and varnishes.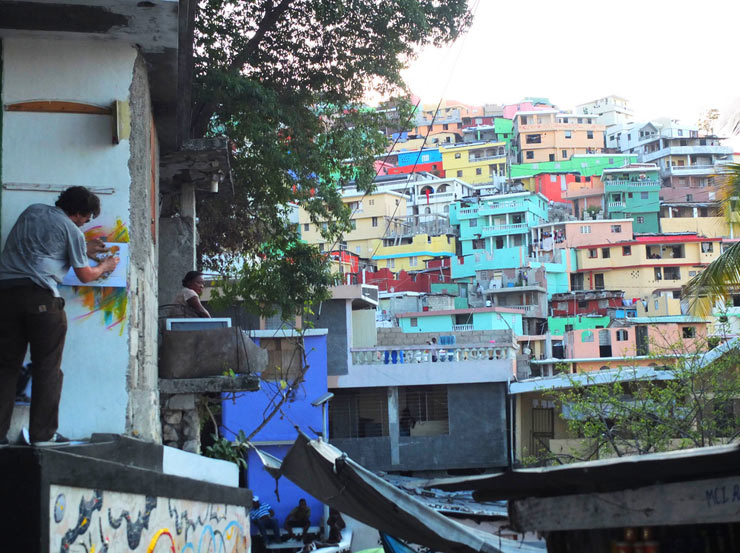 C215. Port Au Prince, Haiti. April 2013. (photo © Viktor Gjengaar)
Also I am using color because I get very quickly bored of repeating the same process, the same technique … I know that many artists on the street like to repeat the same kind of work all their life long but this process could not fit with my personality. I have no idea what I will be painting in the next five years, or even if I will be continuing to paint.
Brooklyn Street Art: Has your line become more relaxed in recent years? It looks like it has a little more fluidity, perhaps more of a feeling of motion.
C215: It is a natural evolution. I pay a little less attention to realistic details and a little more to style. Colors helped me to go into subtle lining since my work is now less based on contrast and sketch effects. Many stencil artists work now in white or black and white in the style I had from 2007 to 2009, working on the same kind of subjects like old people, homeless or sad kids — from Portugal to Iran. So I am happy that this new colored style has helped me to create a distance from what is now a kind of "stencil school" or a global movement. Maybe one day I will come back to white stencils: I like to contradict myself.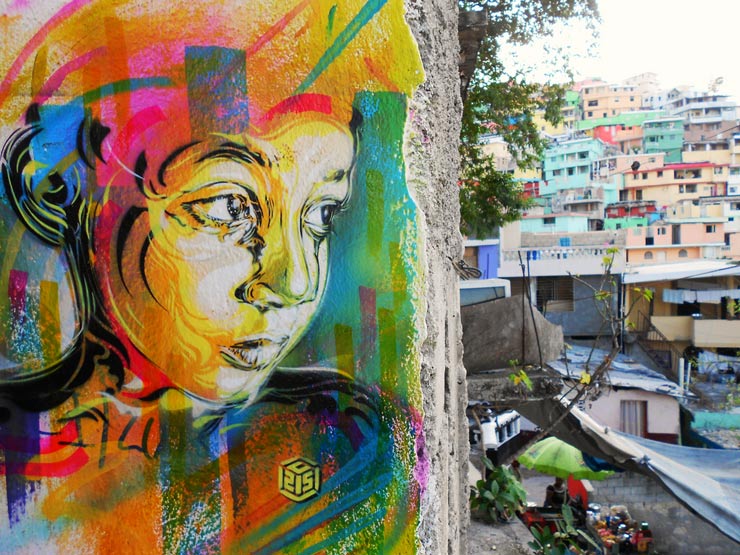 C215. Port Au Prince, Haiti. April 2013. (photo © C215)
Brooklyn Street Art: When we think of the artist Gaugin and the impact that the colors of Tahiti had on his painting, do you think the climate and culture of Haiti influenced your choices of colors?
C215: When I was looking at pictures of the city during my research I was impressed by the vivid palette that Haitians use to decorate shops and buses; art is almost everywhere in the city. I decided to blend in with the scene by using the same colors that I found in the city. Gauguin was looking for the "good savages" in the Pacific islands, but my research is different: I perfectly know that there are no "savages" anymore in this world, only human beings who are equal to me, but from different cultures.

C215. Port Au Prince, Haiti. April 2013. (photo © C215)
Brooklyn Street Art: You had an audience for many of these pieces while you were putting them up. Is it difficult to do the work while people are watching and joking and conferring and talking?
C215: I painted more than fifteen pieces in seven days and every piece took me approximately 30 or 40 minutes to complete. Every time a little crowd gathered to watch what I was painting and I tried to stay focused on my job. When finished, I would speak with one of the people watching so that the others could get an explanation regarding my activity.
Luckily for me Aude Hulot from Kasav always helped to explain to people in their own languages what was the meaning of my work in Port au Prince. I encourage artists who are interested in going to paint there to contact the Kasav association and I am sure they will find them to be a very great help. (http://www.facebook.com/ArtStreetVizyon).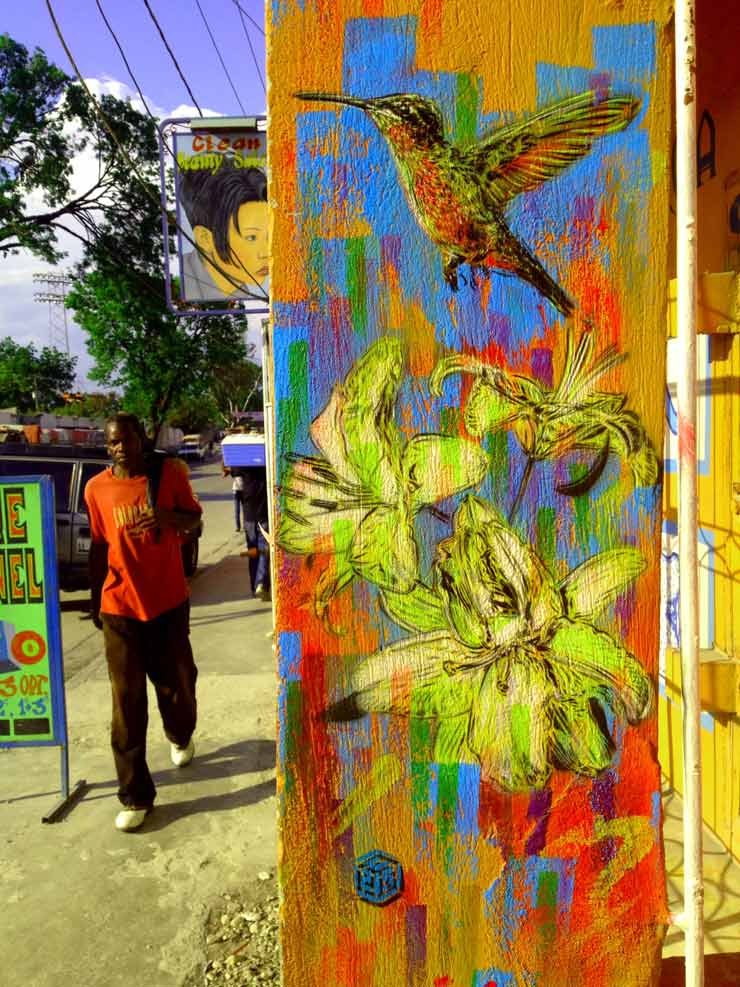 C215. Port Au Prince, Haiti. April 2013. (photo © C215)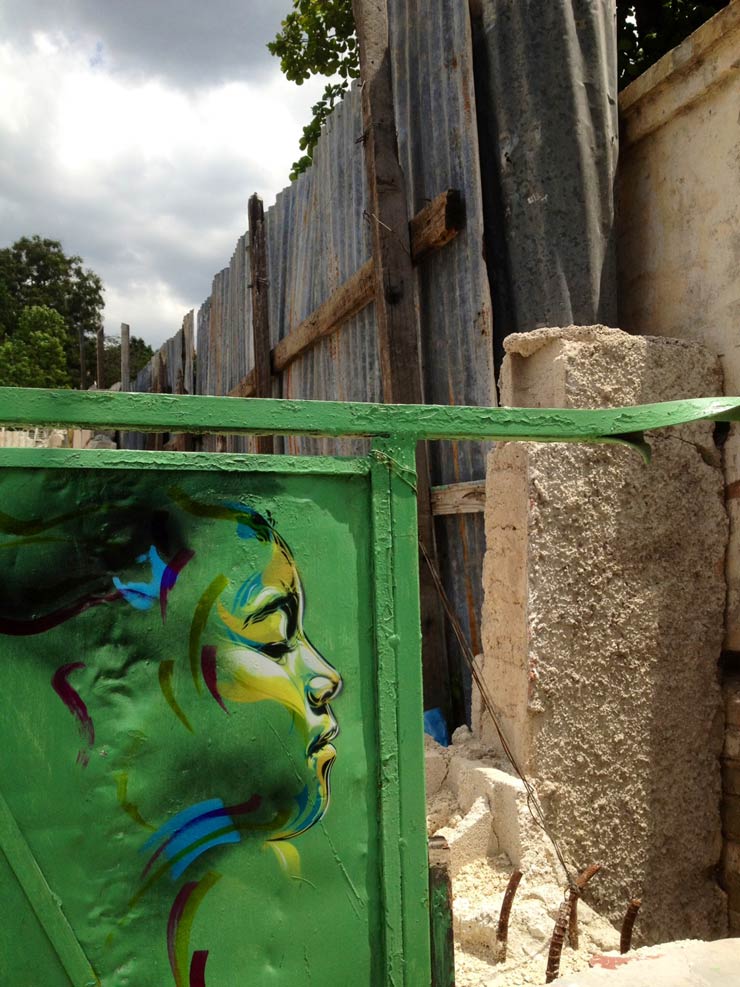 C215. Port Au Prince, Haiti. April 2013. (photo © C215)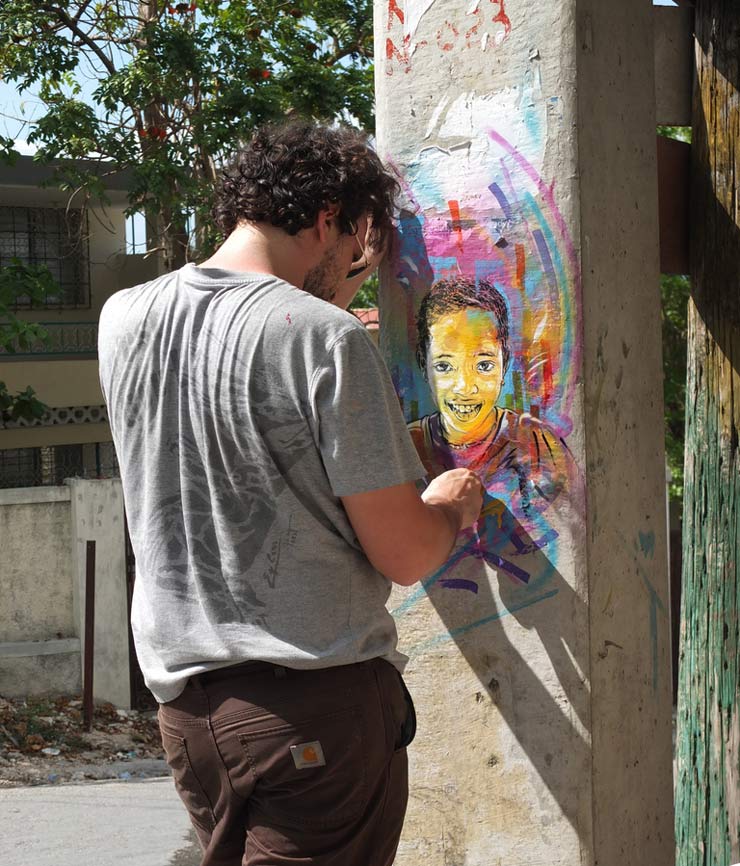 C215. Port Au Prince, Haiti. April 2013. (photo © Viktor Gjengaar)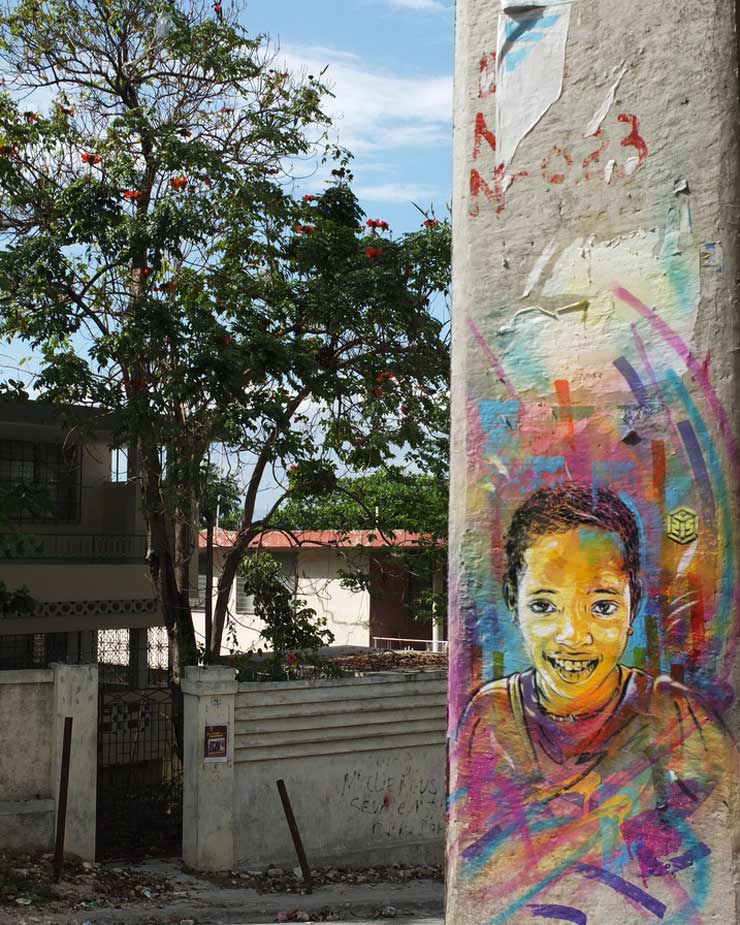 C215. Port Au Prince, Haiti. April 2013. (photo © C215)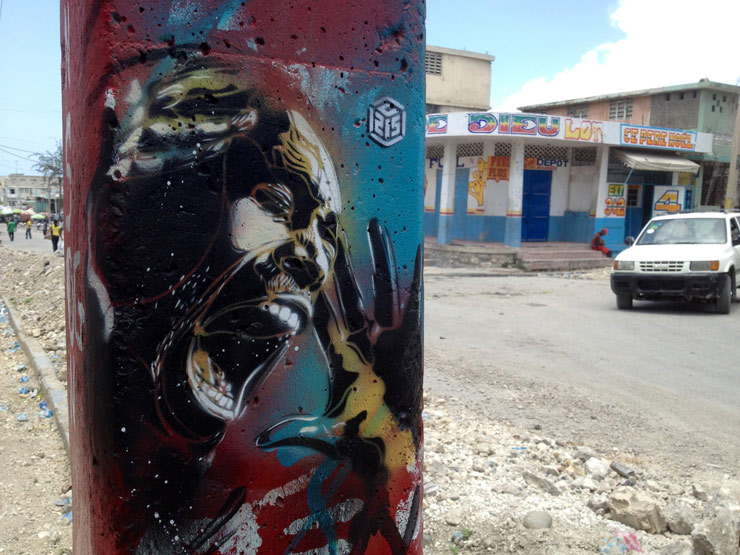 C215. Port Au Prince, Haiti. April 2013. (photo © C215)
<<>>><><<>BSA<<>>><<<>><>>><><<>BSA<<>>><<<>><>
Please note: All content including images and text are © BrooklynStreetArt.com, unless otherwise noted. We like sharing BSA content for non-commercial purposes as long as you credit the photographer(s) and BSA, include a link to the original article URL and do not remove the photographer's name from the .jpg file. Otherwise, please refrain from re-posting. Thanks!
<<>>><><<>BSA<<>>><<<>><>>><><<>BSA<<>>><<<>><> This article was also posted on Brooklyn Street Art.