Nearly 40,000 people live in camps built in the aftermath of 2010's devastating earthquake, and the camps are getting more populated day by day even though they have little water and electricity.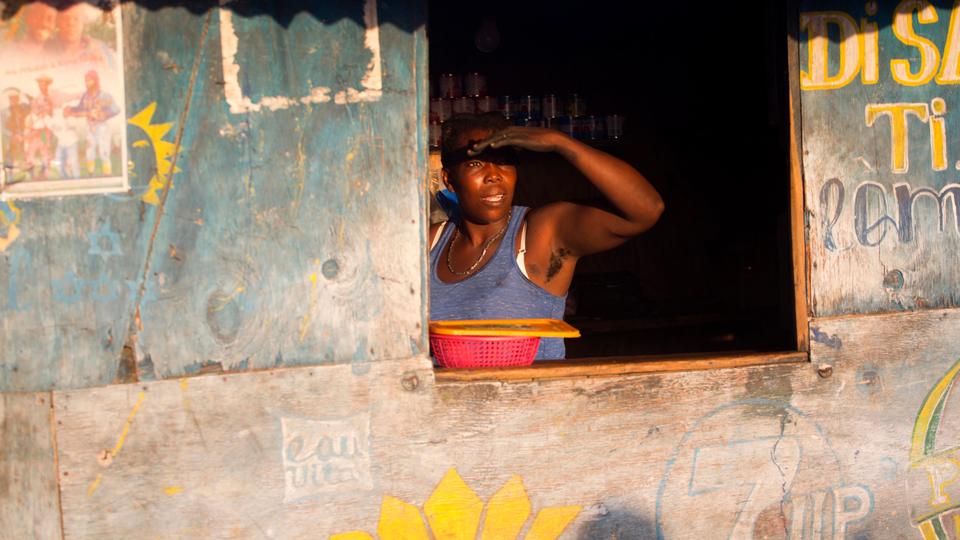 A woman looks out from her vendor's stall where she sells milk, charcoal, oil and rice in the Delmas tent camp set up seven years ago for people displaced by the 2010 earthquake, in Port-au-Prince, Haiti. (File Photo AP) (AP)
A magnitude-7 earthquake struck Haiti in 2010, claiming at least 200,000 lives, displacing more than 1.5 million people and affecting more than 80 percent of rural housing. A large number of cities that crumbled to the ground have never been rebuilt.
Nearly 40,000 people still live in camps set up in the aftermath of the earthquake, and the camps are getting more populated day by day even though they have no water, electricity or proper roads.
The international community donated billions of dollars but only a small amount of the money actually reached Haiti's most vulnerable.
"The money went straight back to the country of the contractors," says Mario Gousse from Haiti Support Group.
Today, the country still needs a relief campaign, and many Haitians have no place to call home except the makeshift camps.
TRT World's Anelise Borges reports on the difficulties Haitians face.
___________________________________________________________

This is not the Haitians' fault.
Our situation is the product of our friends' greed and lack of conscience.
Like passers by who steal money from a blind man's tray, the International Community, led by Bill Clinto, stole from the Haitian tray….. billions of dollars that could have, should have rebuilt Haiti in a better form than originally existed.
Instead, we were set back a generation.
Then everyone walked away and called us "A Failed Nation" as though our situation had been created by us.
God deserted us by inflicting an earthquake that took 320,000 lives andinjured many more.
Then the Interntional Community raped, then deserted us.
And MINUSTAh brought cholera to us, killed 25, 000 (not 9,000 as people tweak the numbers lower with each publication) then deserted us, worse off then when they arrived. MINUSTAH sucked up several billion dollars for support.
We don't have an army – the survival of which was a basic requirement for Aristide's 1994 return – as the world recognized his predictable grab for dictatorial power. The International Community allowed his disbandment of this safety element and now we face chaos as small groups threaten our security.
We need some political pressure now, which doesn't cost a penny, to eliminate irresponsible, and criminal pressures upon President Jovenel Moise as he tries to do something.
He was elected – TWICE – with massive majorities and now faces violent threats from a small minority.
TIME TO EXPLAIN THE REALITIES TO THOSE WHO THREATEN OUR DEMOCRACY.
AMERICANS HAVE MANY DOSSIERS ON GUYS/GIRLS WHO SHOULD HAVE BEEN ARRESTED AND TAKEN TO AMERICA FOR TRIAL. FOCUS ON THE TROUBLE-MAKERS AND LEAVE THE REST ALONE.
THIS WOULD BE THE PERFECT GIFT FROM OUR AMERICAN FRIENDS.