Hurricane Matthew
This message is to advise U.S. citizens residing and traveling in Haiti that Hurricane Matthew, category 3, is predicted to affect Haiti starting Sunday, October 2nd and continuing through Wednesday, October 4th.  This storm is expected to bring significant rainfall that may result in flooding and mudslides, primarily in the southern peninsula but also in Port-au-Prince and the rest of the country, and Hispaniola-wide impacts are projected.  Storm surge along the southern coast, as well as flooding, flash flooding and landslides, are expected.  The National Hurricane Center (NHC) and the Haiti-Météo are monitoring the progress of the storm, and the Embassy will issue updated messages as needed.

Story Highlights

Matthew is now a Category 4 hurricane, rapidly intensifying in the central Caribbean Sea.

Hurricane conditions are possible in Jamaica on Monday, with tropical storm conditions beginning late Sunday.

Tropical storm conditions are likely in northern Colombia.

Jamaica, Hispañola, eastern Cuba and the Bahamas face a hurricane threat early next week.

Potential U.S. impacts for next week remains unclear.
Major Hurricane Matthew strengthened to a Category 4 on Friday evening, and it continues to rapidly strengthen.
The storm poses a danger to Jamaica, parts of Hispañola, eastern Cuba and the Bahamas early next week. Its potential U.S. impact later next week still remains unclear.
Hurricane Matthew became the fifth hurricane of the 2016 Atlantic hurricane season early Thursday afternoon.
(MORE: Hurricane Central)
Matthew was located 75 miles north of Punta Gallinas, Colombia, as of Friday evening.
A Hurricane Hunters reconnaissance mission Friday evening measured flight-level winds a few thousand feet above the sea of nearly 140 mph in the eyewall, prompting the upgrade to Category 4 status. The central pressure continues to quickly drop as Matthew intensifies.
A hurricane watch has been issued for Jamaica. Winds of 75 mph or greater are possible on Monday, and tropical storm force winds may begin late Sunday.
A tropical storm warning continues for he northern coast of Colombia. Winds of 40 mph or greater are likely in northern Colombia on Friday evening.
A tropical storm watch has been issued for the southern coast of Haiti from the border of the Dominican Republic to Port-Au-Prince. Tropical storm force winds may begin there by late Sunday.
Impacts to land should be on a temporary waning trend by late Friday as Matthew moves away from Colombia. Here are the current winds: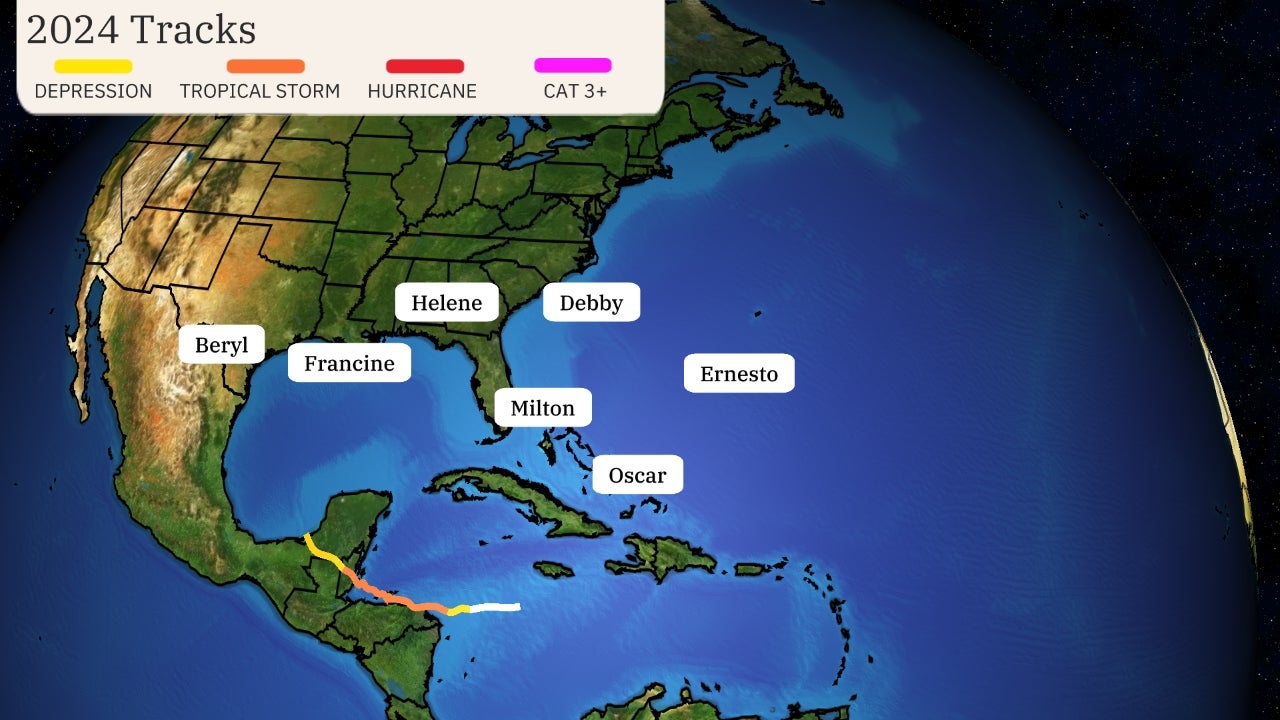 Current Wind Speed and Gusts
The 'Caribbean Right Turn'
Matthew is currently experiencing some wind shear provided by southwest winds several thousand feet above the surface, but it continues to become stronger anyway.
Current Satellite, Wind Shear
Areas of high wind shear are shown in the purple contours. The latest position of the center of circulation is also plotted.
Strengthening is forecast into Saturday, but when this current rapid intensification phase will end is unclear.
First up, given the southern track, outer bands of rain and winds to tropical storm force are likely in portions of coastal Colombia to the Venezuela border through early Saturday.
Beyond that, uncertainty is still considerable on the critical details of this system.
(MORE: Just Because It's Fall Doesn't Mean We Shouldn't Pay Attention to the Tropics)
Over the next couple of days, Matthew should continue to move west or just south of due west as it rides the southern periphery of the Bermuda high.
Sometime on Saturday or early Sunday, Matthew should make its long-anticipated northwest or northward turn in the Caribbean Sea, as the system reaches the southwestern edge of the Bermuda high.
The critical details regarding when exactly that turn is made, how sharp it is, and Matthew's intensity at that time will dictate the impacts for Jamaica, Hispañola, and eastern or central Cuba.
Unfortunately, there is still some important forecast uncertainty regarding those important details, which is common for a tropical cyclone forecast several days out. Phases of rapid intensification like the one experienced by Matthew on Thursday and Friday only hamper efforts to gain a better handle on the forecast.
(MORE: Facts/Myths About the Hurricane Cones of Uncertainty)
For now, impacts could begin in Jamaica and Hispañola (particularly Haiti) as soon as Sunday night, and in eastern Cuba as soon as Monday.
In addition, there is uncertainty regarding Matthew's intensity as it nears those locations. Matthew may be stronger than the current forecast.
Projected Path and Intensity
Beyond that, Matthew is likely to begin impacting parts of the central or southeastern Bahamas by Tuesday.
(FLASHBACK: Hurricane Joaquin 2015)
U.S. Threat?
Beyond that, it is still too soon to determine which parts of the U.S. may be in danger next week.
Ensemble forecast guidance includes scenarios where Matthew moves north, then northeast remaining well off the East Coast, but also includes tracks into the Gulf of Mexico next week.
(MORE: Why Long-Range Model Forecasts For the Tropics Can't Often Be Trusted)
The track will depend, in part, on the steering currents in the atmosphere.
If high pressure aloft is stronger near or over the Eastern U.S., that may steer Matthew closer to some part of the U.S.
Conversely, if a southward dip in the jet stream is in play over some part of the Eastern U.S., that could help deflect Matthew to the east.
For now, ensemble forecast guidance has leddened the threat of a Gulf of Mexico track, but it is still too far out to rule out an East Coast threat later next week.
There is also considerable uncertainty on how fast Matthew moves.
Even if Matthew stays sufficiently off the East Coast, a threat of dangerous swells, coastal flooding, and beach erosion is likely to be in play along parts of the Eastern Seaboard.
Colorado State University tropical scientist, Dr. Phil Klotzbach noted 60 percent of landfalling U.S. hurricanes from September 27 and beyond since 1900 have occurred in Florida. However, while lower probability, there have been landfalls this late in the season as far west as the Texas Gulf Coast.
Typical October named storm origin locations and tracks.
For now, all interests in the Caribbean Sea, Gulf of Mexico, Bahamas and U.S. East Coast should continue to monitor the progress of Matthew. Check back with us frequently at weather.com for any important forecast updates.
Storm Reports
George F.L. Charles Airport on St. Lucia picked up 9.21 inches of rain Wednesday. On the south side of the island, Hewanorra Int'l Airport picked up 13.19 inches of rain in just 12 hours from 8 p.m. Wednesday through 8 a.m. Thursday, according to the Antigua Met Service.