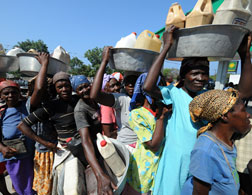 PETIT-GOÂVE, Haiti—They work all day under the blazing sun, hammers and saws in hand, pulling down the last remnants of a structure that had served as the crowning jewel for this once-picturesque town set along the glittering Caribbean Sea.
Numbering about two dozen, the men are tearing down what little remains of the town's storied Église Notre Dame, which once loomed over the city in gleaming blue-and-white relief. Now, only its foundation and the altar remain.
Along with the capital, Petit-Goâve, some 45 miles southwest of Port-au-Prince, was perhaps the most thoroughly devastated municipality in the country after the Jan. 12 earthquake.
As well as the church, the state telephone company building, the mayor's office, a hotel, and scores of houses—all with people still inside—were leveled by the tremor. Dangerous, yawning fissures opened up along the road into town
"This church was here for a long time, for 208 years," said 67-year-old Nathan Leger, pausing as hammers echoed in the background and men milled about wearing surgical masks to protect them from particles of dust and human decay. "It's a catastrophe. We will not have something like this again."
The church collapsed within seconds, burying market women, passers-by, and people who had paused to rest in its shade. Residents estimate that at least 350 died in the town, which was playing host to three large meetings on the day of the quake.
Once, it was known for its particularly fine collection of Haitian "gingerbread" wooden architecture, as well as for its sweet tricolored candy, douce marcosse. Now, Petit-Goâve presents a face of utter destruction, its streets choked with the debris of collapsed buildings. The town was further traumatized by a 6.1 aftershock Wednesday morning, which caused even more damage
"We were injured, we were hit hard, and now we are sleeping in the street," says Andre Zanmi, a white-haired woman camped out in the middle of Rue Faustin with a dozen members of her family, some of whom bear deep cuts and gashes that have yet to receive medical attention.
Sitting in front of a house with half its roof collapsed, the family has strung a blanket between two trees to provide some cover.
Like most people in town, Zanmi said that other than patrols by a Sri Lankan contingent of the U.N. peacekeeping mission in Haiti—which itself lost its top command when the organization's Port-au-Prince headquarters was destroyed—they have yet to receive any outside help.
By late in the week, though, help appeared to be on its way. In a clearing in the town of Carrefour Dufort, near Petit-Goâve, members of the 22nd Marine Expeditionary Unit, based in Camp Lejeune, N.C., were distributing food aid by helicopter.
"It's just good to be able to be here to help," Sgt. Claude Barthold, who was born in the Haitian capital, told me. "But it's overwhelming what you see here."
On Thursday, the Red Cross also announced that it had opened two first-aid posts in Petit-Goâve, staffed by Haitian Red Cross volunteers.
The earthquake has been a brutal blow for this historically significant community, which was the birthplace of one of Haiti's most important leaders, Faustin Soulouque. The son of African-born slaves, Soulouque climbed through the ranks of the post-independence military before being elected president by a Senate vote in 1847. (Building up an irregular network of armed partisans called zinglins, Soulouque's modus operandi served as a precursor to the creation of the feared Tonton Macoutes paramilitary force of Haitian dictator Francois "Papa Doc" Duvalier a century later, as well as that of the chimères, the armed youth groups with which President Jean-Bertrand Aristide sought, unsuccessfully, to cling to power.)
After two unsuccessful invasions of neighboring Dominican Republic in search of loot he could use to pay the onerous 150 million franc "debt" that former colonial power France demanded in exchange for Haiti's hard-won independence, Soulouque was overthrown in 1859 and died in exile, the melancholy fate of so many of Haiti's leaders.
In more recent years, Petit-Goâve was the site of one of the first major demonstrations against the Aristide government in December 2001, when the funeral of a local journalist, Brignol Lindor, murdered by Aristide partisans, was fired on by police and flared into a major disturbance.
Now, though, residents are literally picking up the pieces of a shattered way of life.
"Only God knows why this happened," Robert Henry Etienne told me as he walked the dusty streets with a notebook in hand, carefully cataloging every ruined and damaged structure in meticulous handwriting in the hope that they might one day be rebuilt. "But we need the international community to help the Haitian people, who are sleeping on the streets. We need help, from whatever country in the world."