State Department: Teaching inmates to sew will help fight drug trafficking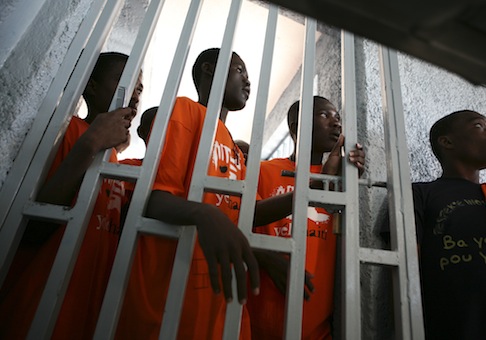 A youth prison in Port-au-Prince / AP
BY: Elizabeth Harrington
February 4, 2014 5:00 pm
A newly announced grant opportunity will provide prison inmates with "vocational training" so they can make their own uniforms, in Port-au-Prince, Haiti.
The Bureau of International Narcotics and Law Enforcement (INL), an arm of the State Department that combats international narcotics and crime, will award up to $95,000 for a program that will teach Haitian inmates how to sew in order to "discourage recidivism."
Calling it a "unique approach," the INL is accepting applications for the project from nonprofit organizations and universities in the United States and Haiti through March 5. The project will cost between $40,000 and $95,000 for one year.
"The objective of the program is to provide training to inmates that will provide them with valuable skills for employment in textile production and assembly, which they will then use to create standardized uniforms for Haiti's inmate population," the State Department said in a public notice on Monday.
"With this request for grant proposals, INL seeks a unique approach to prisoner training that will provide prisoners with skills they can use directly after their release, which will facilitate their entry into the job market," they said.
The textile training will be conducted in at least four prisons in the Ouest Department, located in Port-au-Prince, including a youth offenders' facility in Delmas 33 and the PetionVille Women's facility.
The announcement stresses the importance of Haitian inmates having standardized uniforms because corrections officers currently "cannot differentiate between inmates and civilians."
"Differences in inmates' street clothes can prompt discrimination in how they are treated by corrections officers, or can incite theft from other inmates," the grant said.
The grant recipient will work with Haiti's Directorate of Prisons (DAP) to coordinate training and procure materials for the uniforms.
"As a result of training, inmates should acquire baseline competencies in textile production skills, including basic tailoring and use of sewing machines, evidenced by significantly improved ability to create uniforms after training," the grant said.
The State Department said teaching Haitian prison inmates how to make their own uniforms will help fight drug trafficking by giving criminals skills to reenter society.
"The mission of the State Department's Bureau of International Narcotics and Law Enforcement Affairs (INL) is to minimize the impact of international crime and illegal drugs on the United States, its citizens, and partner nations by providing effective foreign assistance and fostering global cooperation," the announcement said.
"This mission, which centers on helping our partner nations establish a capable and accountable criminal justice sector, was expanded during the past decade to include stabilizing post-conflict societies through criminal justice sector development and reform."