However, there are vast differences in the pace of progress in different parts of the world.
Some countries have secured and delivered doses to a large proportion of their population – but many more are still waiting for their first shipments to arrive.
Who is receiving vaccines?
With an aim to give doses to nearly every adult around the world, this is the largest-scale vaccination programme in history.
The US and China have administered the highest number of doses, 90 million and 52 million respectively.
The UK ranks third, with more than 23 million.
But while nearly all of Europe and the Americas have begun vaccination campaigns, only a handful of African countries have.
Many poorer countries are relying on deliveries from Covax, an international scheme led by the World Health Organization (WHO) which is trying to ensure everyone in the world has access to a Covid vaccine.
Covax plans to deliver about two billion vaccine doses globally by the end of the year, but many vaccines require two doses per person.
Which vaccines are in use?
The vaccine produced by Pfizer and BioNTech was the first approved by the WHO.
It is still the vaccine being given in the most countries, but several others have been approved for use.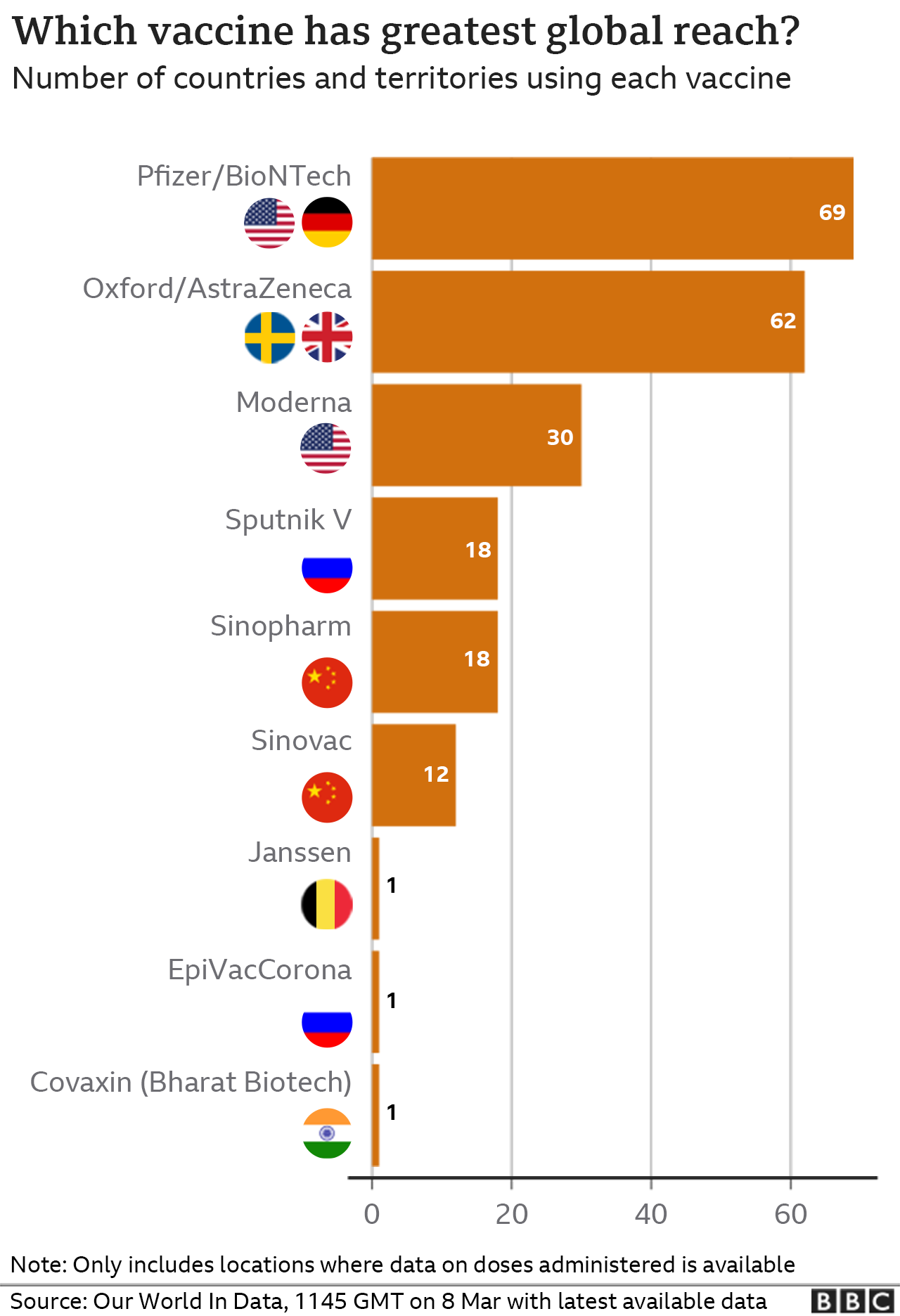 World
305,285,044
US
90,351,750
China
52,573,800
UK
23,519,898
India
20,989,010
Brazil
10,830,688
Turkey
9,917,348
Israel
8,749,514
Germany
7,326,098
Russia
6,655,487
United Arab Emirates
6,273,009
France
5,692,974
Italy
5,417,678
Chile
4,624,924
Morocco
4,492,557
Spain
4,471,577
Indonesia
4,022,544
Poland
3,951,104
Bangladesh
3,682,152
Mexico
2,793,106
Canada
2,387,189
Romania
1,781,602
Serbia
1,651,293
Argentina
1,526,078
Netherlands
1,336,428
Saudi Arabia
1,332,740
Hungary
1,288,974
Greece
1,091,749
Portugal
1,029,189
Belgium
953,532
Sweden
890,291
Switzerland
882,184
Czech Republic
829,555
Austria
802,973
Denmark
726,645
Sri Lanka
724,278
Norway
578,241
Finland
565,456
Singapore
565,000
Slovakia
522,789
Bahrain
509,907
Ireland
493,873
Nepal
402,264
Peru
376,210
Dominican Republic
375,265
Azerbaijan
337,315
Qatar
327,000
South Korea
316,865
Colombia
296,240
Lithuania
295,994
Bulgaria
288,631
Croatia
242,000
Panama
208,415
Slovenia
207,412
Costa Rica
193,273
Kuwait
175,000
Rwanda
158,898
Jordan
150,000
Maldives
145,768
Estonia
145,394
Malaysia
112,914
Bolivia
106,905
Myanmar
103,142
South Africa
101,573
Cyprus
100,000
Malta
95,899
Latvia
82,103
Seychelles
81,715
Australia
81,000
Algeria
75,000
Pakistan
72,882
Cambodia
71,185
Ecuador
71,148
Uruguay
70,408
Oman
67,660
Senegal
65,037
Lebanon
61,330
Barbados
48,886
Japan
46,469
Luxembourg
44,171
Gibraltar
43,712
Iceland
39,749
Zimbabwe
32,240
Cayman Islands
26,580
Isle of Man
24,798
Bermuda
23,939
Kazakhstan
22,294
Guernsey
22,040
Belarus
20,944
Ukraine
17,947
El Salvador
16,000
Albania
15,793
Venezuela
12,194
Iran
10,000
New Zealand
9,431
Faroe Islands
7,925
Thailand
7,262
Dominica
7,202
Turks and Caicos Islands
6,433
Mongolia
4,926
Anguilla
3,929
Greenland
3,927
Moldova
3,849
Mauritius
3,843
Philippines
2,793
Liechtenstein
2,721
Honduras
2,684
Andorra
2,526
Guatemala
2,427
Montenegro
2,406
Monaco
2,400
San Marino
2,339
Saint Lucia
2,094
Guyana
1,852
Paraguay
1,775
Falkland Islands
1,732
Egypt
1,315
Belize
996
Montserrat
652
Trinidad and Tobago
440
Grenada
146
Saint Helena
107