In Haiti, Arcade Fire aren't headliners. Not that it matters to Win Butler and Regine Chassagne, for whom it's a kind of homecoming.
The Guardian.com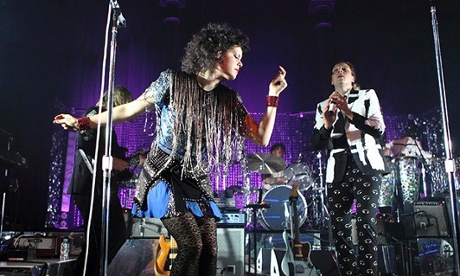 Rhythm kings … Arcade Fire on stage in London last year
Where would Arcade Fire be without the woo-hoos and dense rhythms that characterise many of their best songs? Likely not in Jacmel, a Haitian coastal town known for its artisans, where the band kicked off the annual Kanaval celebrations with a free midnight concert last weekend.
Haiti's native rara music scene has been an enduring influence on Win Butler and Regine Chassagne – whose late mother was Haitian – and it's a debt the pair consistently acknowledge and wish to honour, even if those to whom the debt is due don't greatly mind one way or the other.
"We don't know who they are," says the fabulously named Blondine Brancuse. "We don't hear them on the radio. But maybe they're on the internet."
While other groups on the Butler-selected bill – in particular a group of vodou-inspired women, Rara Fanm, and RAM, a group led by Richard Morse, a part-Haitian, former New York punk-rocker and proprietor of Port-au-Prince's famous Oloffson Hotel – inspire the crowd's passion, they're happy to go along with Arcade Fire, or Arcade Fire (de Canada) as the Jacmel Jou Bare'n event flyers helpfully clarify.
The intensity of Kanaval, with its troupes in papier maché masks of animals, devils and dragons, men with bodies blacked out in cane syrup and charcoal, many hinting at the animist rituals embedded in life here, provide a perfect backdrop for a band that's introduced a sense of mysticism into indie rock.
The band put on a tight show, with no sign of the bloat that blunted the strengths of their recent double album. In their white suits, the towering Butler brothers cavort like insects, whilst Chassagne twirls her streamers. The band move in carnivalesque style. It's not so unfamilar after all. With rum taking its toll, boys push through the crowd. There's incidental bloodshed; cops hogtie a couple of revelers in the bed of a pick-up.
"Je t'aime, Jacmel," Chassagne tells the crowd. She means it.
So at ease are Arcade Fire here they could be found falling in gamely with the students of Cine Institute, a Jacmel film program they support, for some surrealist-influenced documentary-making, and later perform a series of covers – Helter Skelter, Girls Just Wanna Have fun, London Calling and the Buzzcocks' Uncontrollable Urge – as well as some of their own songs, at Jacmel's Hotel Florita.
Arcade Fire have been coming down to Haiti since the success of their first album, Funeral, in 2004. Inspired by Mountains Beyond Mountains, a book by Dr Paul Farmer, they sent a check to Farmer's group Partners in Health, which has done pioneer work in bringing effective HIV treatment to poor people in rural areas.
"We get so much culturally from coming to Haiti," Butler explains. "The music, the folk music. Jacmel is one of the most artistic places I've ever been. You know, a lot of the culture that became Mardi Gras and New Orleans really comes from here."
Since Funeral – for which Chassagne sang the tender, Konpa-influenced Haiti – the band have steadily incorporated more of the island's influence into their work. The touring band now includes a Haitian percussionist and prop maker; there's a rara interlude in Here Comes the Night Time; onstage, they dress in carnival costume (offstage, Butler appears disguised as Guede, Lord of the Cemetery). A dollar (or a pound, or a Euro) from every ticket sale is budgeted for Haiti. Considering their extensive upcoming tour, that should be a considerable sum.
In the aftermath of the devastating 2010 Port-au-Prince earthquake, the band's involvement endured and strengthened but they're under no illusion they are more than a curiosity here. Morse's RAM, perhaps unique in rock to count a vodou priest in its retinue, are the headliners. "They've opened for us in Canada but this is their crowd, not ours," Butler says. Besides, relative obscurity has benefits. Grounding – but in a good way. "It's a cool thing for us audiences don't know a lot of rock music. We've played a lot in rural Haiti. For the first two minutes, they don't know what's happening. We see a lot of blank faces. Then they start to get into it."
Chassagne wanders over. For her, Haiti provides a pure emotional connection. "I see my mother everywhere, she says. "I just feel normal – more normal – here. I feel like it makes sense of me."