Canadian group will play in the coastal town of Jacmel on 21 February, as part of the country's Kanaval celebrations.
theguardian.com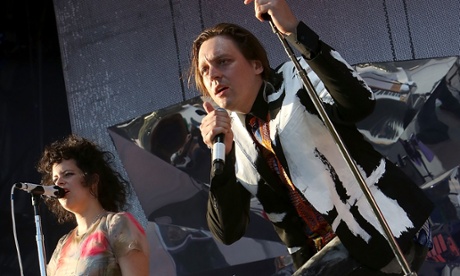 Kanaval spirit … Regine Chassagne and Win Butler of Arcade Fire. Photograph: Matt Jelonek/Getty Images
Arcade Fire will perform in Haiti on 21 February, as part of the country's Kanaval celebrations.
Scott Rodger of Quest Management confirmed that the Canadian group will appear at a show in the coastal town of Jacmel towards the end of this month. While the event normally features local groups, the band have close ties to the country – band member Régine Chassagne's parents fled Haiti during the Papa Doc era, and since the earthquake of 2010 Arcade Fire have explored the country's musical heritage, performing at festivals and playing with Haitian musicians.
The band's last album, Reflektor, is filled with Haitian influences. During the summer of 2011, Chassagne, the band's Butler brothers and drummers from the Haitian band RAM spent two weeks in New Orleans working on rhythm.
"We were interested in doing hybrid beats that could translate stuff that I know from my family background in Haiti. I was always interested to try to find rhythms that mean something, to communicate emotion through rhythm and music. Because rhythm is almost like a vocabulary," Chassagne told the Guardian last year.
Following this show, Arcade Fire have been confirmed to headline this year's Glastonbury and Primavera festivals.