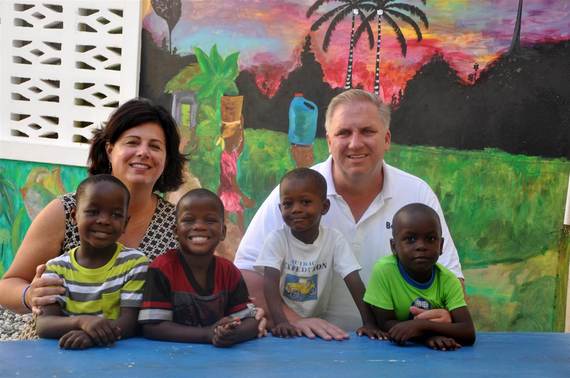 I have interviewed hundreds of amazing leaders, visionaries, and entrepreneurs in the last decade. They all have inspiring stories and an interesting take on life, but none like the two I'm about to share with you. These two are without question world changers. Think about the people who have literally shaped the trajectory of world history like Mahatma Gandhi, Martin Luther King, Jr., Abraham Lincoln, Nelson Mandela, Rosa Parks, and Eleanor Roosevelt. People who have the ability to change history are so unbelievably rare, consisting of less than one tenth of one percent of all humans. Yet, there are some living among us today, and I'm lucky to have two of them as friends. They are Len Gengel and Cherylann Gengel, one time owners of a thriving construction business and restaurant. They are mom and dad to Britney, Bernie, and Richie, and they were living in suburban Massachusetts, enjoying a typical New England life. Ten years ago, the country of Haiti was not even on the Gengel's radar. Today, there is little doubt that the future of Haiti, a poverty stricken third world nation, will forever be shaped by this family.
On January 12, 2010 a 7.0 magnitude earthquake hit Haiti. More than 100,000 people died and a country that was already ravaged by poverty lost most of the infrastructure they had. Nineteen year old Britney Gengel was with her class from Lynn University in Haiti that day. They were doing mission work, volunteering at orphanages and feeding the poor. At the moment the earthquake struck, she and the other students were at The Hotel Montana in Port-au-Prince. It's there that Britney died. Shortly before the earthquake, Britney sent a text message to her mom which said, "They love us so much and everyone is so happy. They love what they have and they work so hard to get nowhere, yet they are all so appreciative. I want to move here and start an orphanage myself." That was the last that was heard from Britney Gengel. Thirty-three days after the earthquake, her body was recovered from The Hotel Montana. It was the end of a beautiful life, but the start of a transformative movement. It was the day in which a new and better world was born for Haiti.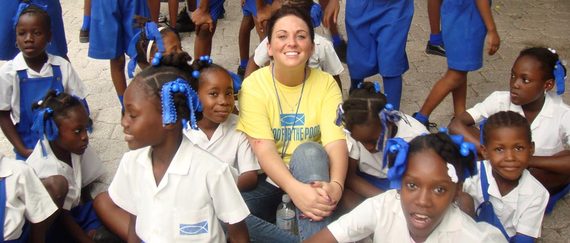 Against all possible odds, Len and Cherylann Gengel, made it their mission to fulfill Britney's last wish, to create an orphanage in Haiti. Three years ago marked the opening of the Be Like Brit Orphanage in Grand Goave Haiti. It's not just any orphanage. It's a 19,000 square foot, earthquake proof orphanage that is home to 33 boys and 33 girls, representing the 33 days in which it took to recover Britney from the ruins of the earthquake. The orphanage is shaped like a letter B, and it is a home full of toys, games, playgrounds, food, medical care, and love. To fulfill a daughter's last wish is awe inspiring. To build an orphanage from nothing is unbelievably moving. To do it all in a third world country where there's no infrastructure, where government is sometimes corrupt, the language is unfamiliar, and where the only way to get supplies there is by freight or by carrying them over on plane, is just incomprehensible. Yet, the Gengel's managed to do it all.
You will not find people more inspiring than Len and Cherylann Gengel in this day and age. It wasn't until recently that I had the opportunity to spend four days in Haiti with Cherylann Gengel and my life is forever changed.
I hope you do more than just read this article. I hope you act. Do something exciting, scary, and life changing. Take a trip to the Be Like Brit Orphanage. Become a part of the movement.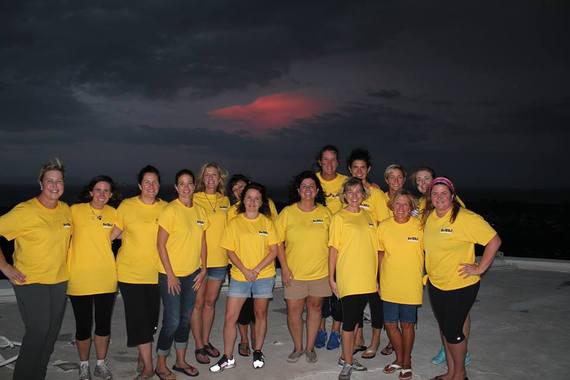 Here are the 5 life changing lessons I learned from visiting Haiti:
What People Really Need: There are more than 1000 orphanages in Haiti. Most kids do not get education because it costs money. Most people in Haiti do not have drinking water, access to healthcare, electricity, or food. What I found that they crave more than these simple necessities is human touch. Both inside and outside of the orphanage, the children craved human interaction, being held, and being noticed. As part of the four day mission trip, we visited the Mission of Hope School which is located right outside of the Be Like Brit Orphanage. More than 1000 kids go to school there. At 10am, we went and served rice to all the children. For most of the children at the school, this is their only meal until the next day. My group visited a classroom of Kindergarten students. They were anxiously awaiting their bowls of rice, which we diligently served. Once their table was full, where every student had a bowl of rice, we crouched down to the floor to interact with them. Most of these children had no food in their bellies for 24 hours, yet rather than dive into their bowl of rice, they wanted to play with us. They wanted to be held, and noticed. It's like they knew that the food would be there after we left, and so they'd instead go hungry a bit longer if just to get a bit of human affection while they could. The lesson for me was this; people need food, water, and healthcare, for sure. But they also need affection. Love trumps a full belly.
Survival Depends on This: I learned from my trip that the Haitian way of life is not better or worse than life in a first world country, it's just different. Survival in Haiti depends upon one's ability to be resourceful. Being Haitian means you must be good at turning a log of wood into a boat, a rock into a toy, a piece of tarp into a roof, and a five foot area of sidewalk into a business. There is trash everywhere along the streets of Haiti, but very little waste. Trash in Haiti is that which is impossible to turn into something useful. Nothing is wasted because before anything is ever discarded it is studied carefully to determine if a second life can be made for the item before it is thrown away. Jobs are few and far between in Haiti and so everyone is an entrepreneur, turning whatever God given talent he or she has into a resource that can be bartered or sold.
Anything But an Orphanage: When I used to hear the word orphanage, I'd think of little orphan Annie. I would envision a cold, sterile, commercial like home devoid of love and attention. When I thought of the word orphanage, I thought of it as a place you never want to find yourself in. Then I visited Be Like Brit Orphanage. It is a home, very much like the home you are sitting in now. It is a bright, beautiful, warm, and safe place to be. It's a place of laughter and happiness. It's a place of community, brotherly and sisterly bonds, and it's a place of love. The Gengel's encourage the kids to treat the entire orphanage like their home. On their downtime, the children may be found playing toys or games in the common areas, or hanging out in their rooms, or outside on the playground, in the basketball court, or reading a book at the tables under the mango tree. This is their home and they are given carte blanche to treat it like one. On Friday nights you will find the kids staying up late, enjoying a movie in the media room. At breakfast, lunch, and dinner, you will find the children all gathered for a meal. After school you will find the children in different nooks throughout the orphanage working on homework. While I always assumed an orphanage is a place where you would never want to end up, here there were kids from the community peeking through the fence at happy children playing, wishing they were so lucky as to have a home like the kids of Be Like Brit. The Be Like Brit orphanage has redefined orphanage. To me, the word is now synonymous with home.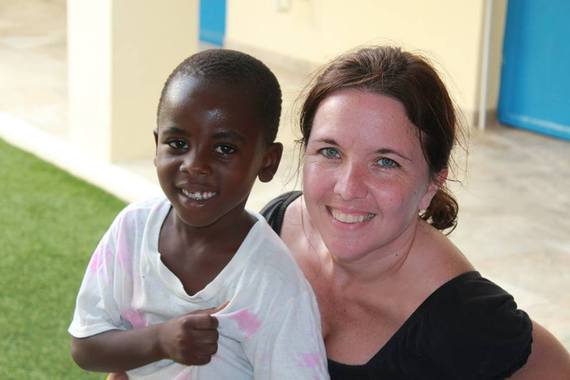 Circle of Hope: While in Haiti I met Renee and Lex, founders of The Mission of Hope, a school for children. They are feeding more than 1000 students with education daily. I met Gama, one of the men responsible for getting Be Like Brit off the ground, and who has since created Tree of Hope Haiti to bring running water, shelter, and education to the people of Haiti. I met other missionaries who came by the orphanage to visit, as they were visiting different parts of the country to offer dental services. When you look past the poverty that is so predominant on the surface, you see Haiti at its core, a country of people who give their time, talent, and treasure to create a better future, to create hope. When I looked into the eyes of the beautiful children of Be Like Brit, all I could see was a future Haiti that is strong, powerful, resourceful, self-sustaining, and thriving.
We All Have the Potential to Be Heroes: There were so many lessons learned in my four days in Haiti that it would be impossible to include them all here. The most important lesson learned for me was this; we all have the potential to be a hero. Len and Cherylann Gengel went through the worst possible tragedy a human could bear, the loss of their nineteen year old daughter Britney. They could have silently withdrawn from the world. They could have forced a smile and went on with their lives as usual. They could have done just about anything, and nobody would have blamed them. But, instead they became heroes. What's awesome about Len and Cherylann Gengel is that they are living proof that ordinary people can create extraordinary change in the world. They are proof that there is a hero living within all of us. Heroism may very well be the most important human trait that lives within every human being, because when you unleash that dormant little spark of heroism within you, to do something selfless, there's a very good chance you will ignite a fire in all the people around you. Britney Gengel unleashed her inner hero when she embarked upon a selfless journey to Haiti, and because of her, the lives of millions will forever be changed.
What does it mean to Be Like Brit? To me it means having faith, courage, and the heart to do something hard and selfless. It means unlocking the hero within you because not only does this allow you to change the world, your example encourages others to do the same. Stop thinking about the change that is needed in the world, and be it. Today's your day to Be Like Brit.