Georgianne Nienaber
Investigative journalist, author, Haiti relief worker
Posted: December 15, 2010
What was Bill Clinton thinking when he told journalists in the Dominican Republic yesterday that Haiti needed "an objective" recount of ballots in the Haiti election? The US State Department has cast doubts on the results, and two of the leading candidates, Michel Martelly and Mirlande Maginat, have said they will not participate in any recount, citing ballot box stuffing, voter intimidation, bribery, payoffs and outright murder as reasons to invalidate any recount effort. Supporters of Jude Celestin, current president Rene Preval's handpicked successor, are accused of perpetrating massive fraud to guarantee Celestin's place in a two-person runoff.
Citing a flawed election and ballot destruction, candidate Martelly has called for a new election on January 16.
Watch this PBS video which clearly shows ballots being destroyed. How can they be counted?
Given this background, Clinton's statement is incomprehensible.
"They have agreed I think, the (electoral) commission, to have a second look at the votes with objective and informed observers. I think that course may offer the best opportunity for the people of Haiti to accept the result. We need an objective view of this count.
Why is Clinton contradicting his own State Department and the US Embassy in Haiti, which both expressed concern that Haiti's Provisional Electoral Council's [CEP] announcement of preliminary results from the November 28 national elections are "inconsistent with the published results of the National Election Observation Council (CNO)."
We have already publicly stated our significant concerns about the results that have been announced. The results that — when these results are finalized, leading to a run-off election next month, the people of Haiti have to believe that these are the candidates that they have chosen, they haven't been chosen by the government behind closed doors.
The CNO is a watchdog group financed by the European Union. Polling of voters showed former first lady Manigat had 30 percent of the vote, Martelly 25 percent and Celestin only 20 percent. CNO's unofficial estimate was based on data from 15 percent of polling stations. It was this estimate that prompted a response from the US Embassy.
Clinton offered his contradictory and confusing comments on the election to reporters after co-chairing a session of the Interim Haiti Recovery Commission (IRHC).
Was Clinton speaking in his capacity as UN Special Envoy, as Co-chair of the IHRC, as part of the Clinton Global Initiative (CGI), or as Secretary of State Hillary Clinton's husband? SOS Clinton has been absolutely silent on the issue of a Haitian election process in total chaos.
Is Hillary Clinton taking bad advice, as back channels are suggesting, from Cheryl Mills, US representative for the Interim Haiti Recovery Commission (Bill co-chairs) and passing it on to her husband? Mills is also currently Chief of Staff to SOS Hillary Clinton, and was deputy White House Counsel for the former president. Hillary's silence on this issue is deafening.
Has the former President forgotten what a disputed election looks like, considering what the United States went through in the Bush vs. Gore 2000 recount? The recount covered 175,037 of the approximately 6,000,000 ballots cast in the election, and was viewed under a media microscope.
Haiti has not had round-the clock scrutiny of the disputed ballots, they are not under lock-down as the Florida ballot boxes were, and there is certainly no court system in place to watchdog the recount. How many of us can forget the videos of National Guard escorting the caravan of ballots as they were transported from Broward and Palm Beach counties to Tallahassee?
Clinton's statement is also in direct opposition to a statement by Vermont Democratic Senator, Patrick Leahy, who called for a suspension of all aid to Haiti unless the "will of the [Haitian] people was honored.
As if Haiti did not have enough problems, now, once again, those in power there are trying to subvert the will of the people. The United States must come down squarely in support of the Haitian people's right to choose their leaders freely and fairly. By suspending direct aid to the central government and visas for top officials and their immediate family members, the United States would be sending that message. This process needs to bring about a legitimate government respected by the Haitian people and recognized by the international community.
Particularly troubling is the connection of the IRHC with the current government of Rene Preval. Clinton's co-chair, Jean-Max Bellerive, is the Prime Minister of Haiti (second to Preval) and Minister of Planning and External Cooperation for the Republic of Haiti. The IRHC has been roundly criticized, by Clinton himself, for lack of engagement since the January 2010 earthquake.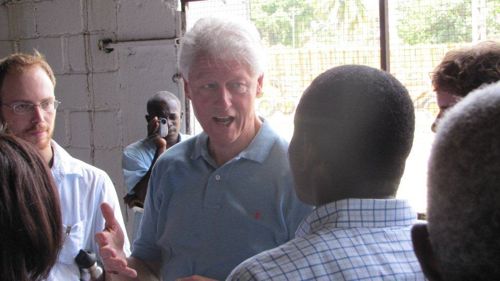 Clinton Meeting with Haitian Growers. Photo by William Pascal
Clinton is setting himself up to make another apology to Haiti. In April, he expressed regret over his trade policies, which helped to destroy Haiti's agricultural economy and the county's ability to feed itself. Clinton told an interviewer for Democracy Now that the United States "made a devil's bargain" when it instituted trade policies that destroyed Haitian rice production.
Clinton now seems to be painting himself into a corner with allegiances that run the gamut from the disgraced UN to the corrupt corners of the Haitian government. Meanwhile 1.5 million Haitians find themselves totally disenfranchised in tarp cities while a cholera epidemic is stalking the surrounding landscapes. Those that literally fought their way to the ballot boxes in opposition to the Preval government now have no way of knowing if their votes were counted
It's time for the Clintons to fish or cut bait. Are they standing with the Haitian people, or not? Tell the Haitian people clearly and without political doublespeak that you stand squarely behind free and open elections in Haiti. Mr. Clinton, ask your wife to make an official statement of support to the candidates, Martelly and Maginat, who have withdrawn from this tainted process. Bill Clinton has been admired for his ability to multi-task.
To remain silent now is to support Rene Preval and his anointed successor.
UPDATE: We received an email from Caitlin Klevorick, Special Assistant to Cheryl Mills, Counselor and Chief of Staff to Secretary Clinton. Klevorick wanted to correct us about SOS Clinton's stand on the Haiti elections. Evidently, SOS Clinton presented remarks to Canadian Foreign Minister Lawrence Cannon and Mexican Foreign Secretary Patricia Espinosa at the Wakefield Mill Inn In Ottawa Canada on December 13. This was in response to a question from Emmanuelle Latraverse from Radio Canada.
I'd like to ask you with regards to the situation in Haiti, the dramatic lack of confidence that we see between the population and the institutions in that country, you have called out to the people on the ground there and you've said that they have to be able to stand tall and support their responsibility towards the country. You talked about a joint electoral commission.Given that things might degenerate, isn't the time come to put more further pressure and do what has been suggested by the senators in the U.S., that is to say to threaten to suspend direct aid to the Haitian Government? Have we come to that point?
SOS Clinton's partial response at the North American Foreign Ministers Meeting:
So I think that Senator Leahy, who is a very significant member of the Senate and heads the subcommittee that determines where our foreign aid goes in the United States Government, should be heeded by the leaders of Haiti, that this is a very strong signal that we expect more and we're looking for more.From the Administration's perspective, we are still working to try to resolve many of the questions raised by the election and will continue to do so. But at the same time, we don't want to punish the people of Haiti because of the flaws that were alleged to have occurred in the election. People still need to have their shelter, their education, their clean water, their health, their economic opportunities addressed.
Full text here. However, SOS Clinton does not offer guidance in these remarks on how to correct an election fiasco and recount that a Boston Globe Op/Ed says "is like rearranging the chairs on the Titanic."
—————————————————————————————————————
COMMENT:

HAITIAN-TRUTH.ORG

Bill Clinton is looking for a Nobel Prize, so he will equal Al Gore.

He is also looking for massive, hidden commissions – delivered in brown bags – from his personal oversight of $2,500,000,000 US Dollars.

He has also failed to hold any substantive meetings since he was appointed Czar. I think they number 2 or 3 and one of these was a phone conversation.

Almost a year has passed and people continue to die, because of his indifference. Now cholera adds to the total and he has the audacity to make stupid, false statements about the recent criminal elections.

There is only one solution…well actually a solution with several parts: Preval must go…we need a new CEP…fresh elections must be coordinated so that the Haitian people get the candidate of their choice, not one generated by Preval's criminality.

Manigat, Celestin, and Martelly were never the top three in anyone's poll, other than the Boulous/Preval fraud called BRIDE. Real polls showed Ceant, Baker and Martelly!!!

The people hate Bill Clinton, almost as much as they hate Preval.