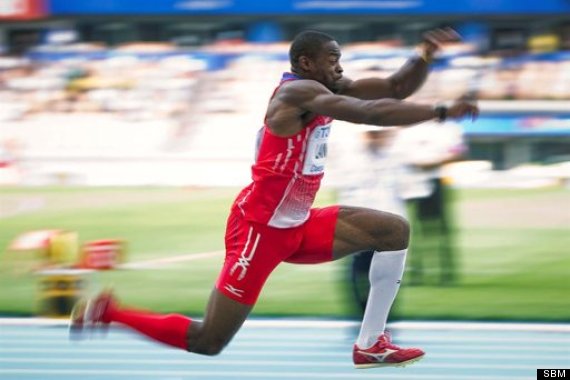 I first started triple jumping as a junior in high school. This was after being a distance runner in 7th grade and getting cut from the track team in 8th grade. Apparently, distance running wasn't my calling as far as track and field was concerned. When I returned to the track my junior year of high school, the (new) coach realized that I had a reasonable amount of speed, pretty good leaping ability and long levers (arms and legs), which he thought would make me a good triple jumper. I immediately fell in love with the fluidity and beauty of the event. It also helped that I got to enjoy some small victories early on before my parents took me off the track team that year to focus on school. I rejoined my senior year and the triple jump has been my primary event ever since.
I can't say that it has always been a dream of mine to compete in the Olympics, although the 2000 Games in Sydney definitely served as the motivation for me to return to track and field. I didn't realize I could actually be an Olympian until 2007 when I graduated from the University of Texas and decided to continue with the triple jump while in law school. I did so because I realized that not only did I have more in the tank, but that I could eventually be one of the best in the world. Having no interest in selling myself short, I committed to becoming one of the world's elite triple jumpers. It helped me put things in perspective as far as my professional life was concerned.
I've realized over time that triple jumping isn't something that I can do forever, and that I have been blessed with the ability to do it at a high level. I also know that I can positively affect many people by doing it. As a result, I feel obligated to at least see how deep the rabbit hole goes. My law degree isn't going anywhere and the bar exam is behind me now, so I can focus on triple jumping full-time for the first time…ever.
My path to becoming a world class athlete is far from ordinary. While in law school at Georgetown, it was all about compartmentalizing my life. My teachers had no idea I would travel to France, Qatar or Brazil for competitions on the weekend, yet make sure that my work was always on point. In doing so, I was able to pursue excellence in the classroom and on the track without letting one affect the other.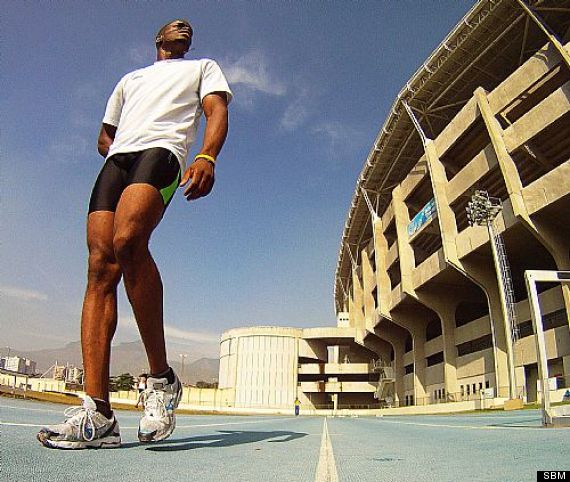 I spent a lot of late nights in the weight room or on the track, only to have to wake up early the next morning to finish assignments, or get them done on my subway ride to school. I studied my craft as an athlete the same way that I studied the law. I also made the necessary lifestyle changes (diet, sleep/rest regimen, etc.) to ensure that I'd be in optimal position to reach the goals I'd set for myself. In fact, much of what I've done these past few years is learn how to (really) triple jump and apply what I've seen to what I want my body to do. Above all else, I've had to train my mind just as much as I've trained my body.
The road to London has been riddled with challenges. Obstacles I've faced range from something as common as the typical struggle Olympic hopefuls have making ends meet, to convincing sponsors to support my endeavors, to getting cut from the track team way back in junior high school. I can also remember being elected team captain my senior year of college at Harvard and having to sit out due to an injury in my tibiofibular joint. It was a tough experience and rebuilding process. I wasn't able to compete again until over a year later while I was at Texas, which was a challenge in itself. I opened that season with the #1 jump in the NCAA, but each of my subsequent competitions yielded so many subpar performances to the point that people, including myself, simply figured that I had either lost my "mojo" or just got lucky with that first jump of the year. And through all that, I managed to keep my head up.
Though some people may have thought I lost the "mojo," very few have doubted or questioned my decision to pursue this. For a while, my parents didn't know that I was actually one of the best and could consistently compete with the best in the world. I think they found it hard to believe that I was having so much success as an athlete rather than an attorney or academic. And though I chose to not pursue one of those paths right away, they, along with the rest of family, have supported me throughout.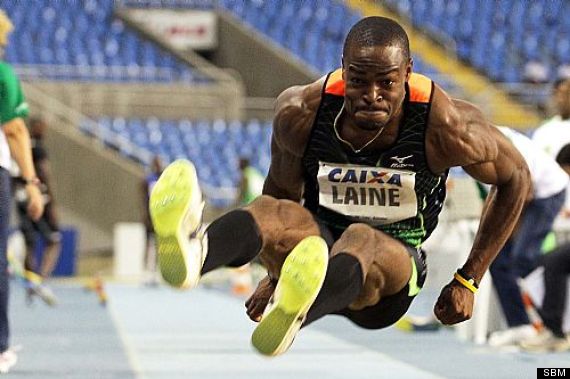 In terms of the Olympics this year, it means everything to me to represent Haiti. Despite the fact that I consider myself to be a Haitian-American, I've chosen to represent Haiti in an attempt to inspire people and showcase my country's dignity. Haiti is typically in the news for all of the wrong reasons despite the fact that the country's beauty far outweighs anything else — even after the earthquake.
So when I speak of representing Haiti internationally, I can't do so without thinking of the kids in Haiti who may not even know what the Olympics are, or other Haitians in the diaspora who may be doubting themselves and wondering if the sky really is the limit? I'm representing Haiti with pride and I'm just thankful to be a positive influence whether it's indirectly as an athlete or directly though my visits to orphanages and my foundation, Jump for Haiti. I want to stand for something and make a difference with the gift I've been given. And if I don't make an attempt to represent and help Haiti, then I've squandered the "gift."
When I win a medal, the first thing I plan to do is find my parents and brothers to thank them for being there and being on this journey with me. Then I'm going to grab a Haitian flag from the crowd and find a television camera so that the world knows that it's Haiti's medal.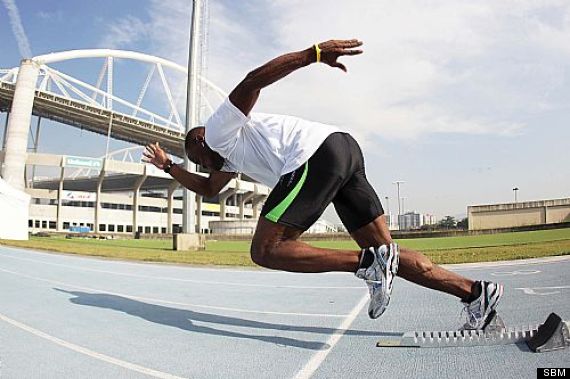 After the Games, I may compete in one or two more competitions since the season officially ends in mid-September. I also want to spend some time getting my foundation off the ground and vacationing in Europe. I've also got a job offer at an international law firm based in New York that has been kind enough to defer my start since my graduation from law school.
As I look back over this journey and into my future, I'm incredibly grateful for the love and support of my family, friends and Ayanna Alexander. They've been instrumental in keeping me climbing and growing on a daily basis. And I can't express enough how big a source of inspiration my parents have been. Emigrating from Haiti and making it a point to work tirelessly so that my brothers and I could excel at something — anything for that matter — really influenced the way I approach things.
I've also gotten a lot of inspiration from Will Smith's words. Hearing him speak time and time again about his work ethic setting him apart from others who may be more talented than himself stuck with me, especially considering the path he took and work he put in to get there. Likewise, his belief in the mind's ability to propel one to great things when faith, diligence, discipline and persistence are the focal point of your life is something I truly believe.
This post was originally featured on singleblackmale.org