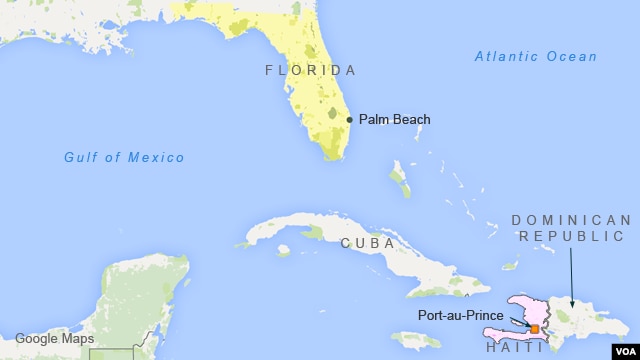 Map shows locations of Palm Beach, Florida and Haiti.
Reuters
MIAMI—A group of 32 people, mostly Haitian migrants, were detained early Monday about 12 miles (19 km) north of Palm Beach, Florida, after state law enforcement officials spotted a boat stolen in the Bahamas floating about two miles offshore.
The group included 13 men, nine women and 10 children, according to the Palm Beach County Sheriff's Office. No injuries were reported.
It was unclear if the group was being transported by smugglers, said Frank Miller, a spokesman for U.S. Customs and Border Protection. The boat, a yellow, center-console fishing vessel, was turned over to U.S. Customs and Border Patrol.
Haiti is the poorest country in the Americas and thousands of its citizens risk their lives in unseaworthy vessels every year trying to seek more a prosperous life in the United States, a journey of more than 600 miles from Haiti's north coast.
The number of Haitian migrants trying to reach the United States by crossing the Florida Straits has dropped sharply in 2015, according to Coast Guard figures.
During the agency's 2014 fiscal year, beginning Oct. 1, 2013, 5,585 Haitians landed in the United States, were intercepted, or turned back at sea, said Coast Guard Chief Petty Officer Ryan Doss. So far this year the number is 2,521.
Some 3,575 Cubans have been intercepted at sea or made it to Florida's shores this fiscal year, roughly the same as the previous year, the Coast Guard said. Thousands more Cubans have crossed into the United States via the border with Mexico.