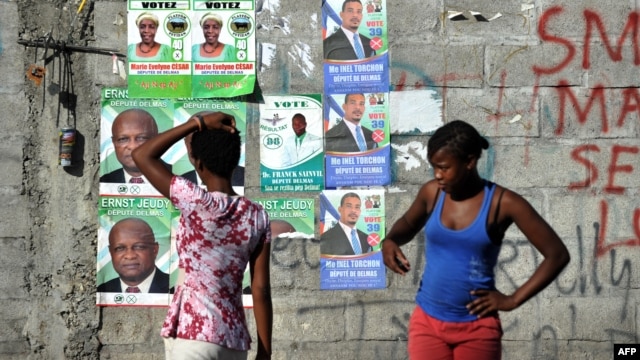 A wall is plastered with campaign posters of political candidates in the commune of Delmas, Port-au-Prince, on Aug. 5, 2015.
PORT-AU-PRINCE—
After years of false starts and blown deadlines, Haitians are set to vote in the first legislative elections in more than three years on Sunday in a test of stability for the country, an impoverished Caribbean nation with a history of coups.
Haiti's parliament dissolved on Jan. 12, coincidently the five-year anniversary of an earthquake that killed more than 200,000 people.
Since then, the 119-member Chamber of Deputies has sat empty, and the Senate, with only 10 of its 30 members, has failed to field a quorum.
President Michel Martelly, who cannot run for re-election, has ruled by decree.
More than 1,800 candidates from dozens of parties are running, and preliminary results are expected in six to 10 days. Runoffs are scheduled for Oct. 25, the same day as the first round of presidential voting.
"These elections will be a major test for October," said Pierre Esperance, executive director of the National Human Rights Defense Network.
The vote is also a test for the Haitian National Police, which will take full control of security during election season, because the U.N. Stabilization Mission in Haiti has slashed its forces. As of July 1, there are 2,370 blue-helmeted soldiers and 2,601 U.N. police in Haiti, down from the peak of 13,300
soldiers and police.
Violence has disrupted the campaigns. A supporter of the Verite party was killed in Carrefour, a city bordering Port-au-Prince, and a mayoral candidate from the Fusion party in the southern town of Marigot was killed last month.
"The Haitian National Police have the capacity to secure this election," said Serge Theriault, the chief of the U.N. Police in Haiti. "Especially with the fact we are there as an extra capacity to support them as the U.N. Police. And then we
have an extra-extra capacity with the (U.N.) military."
The previous elections, which began in 2010 and carried over into 2011, were marred by low turnout, violence and a delayed, disputed runoff.
This time, Haiti has set a firm electoral calendar, finalized the list of candidates and promised security on and after election day.
The elections come as Haiti's currency, the gourde, depreciates, the government is running a high deficit, and the drawdown of U.N. troops has weakened the economy, which received less than $100 million of foreign investment in 2014, economist Kesner Pharel said.
"People are scared about what's going to happen, so they're holding onto money," Pharel said.
_________________________________________________
Faith in the PNH is misplaced.
They are already committed to President Martelly's team to a frightening extent.
If MINUSTAH does not see this, they are blind. If they see it, they are complicit.
In either event, the PNH will be a one-sided, biased played in the electoral process.
Over the past week, they have accompanied people to attack opponents of Martelly's Tet Kale and Bouclier parties.
This election is another UN/MINUSTAH tolerated disaster.
Heaven protect Haiti from the United Nations.