VOA News
October 25, 2012
The U.S. National Hurricane Center says Hurricane Sandy has made landfall on the southeastern coast of Cuba and strengthened to a strong Category 2 storm, with winds up to 175 kilometers per hour.
Sandy was a Category 1 storm when it slammed into Jamaica Wednesday, near the capital, Kingston. Residents were under curfew. Both international airports were closed, and cruise ships stayed away.
Reports say an elderly Jamaican man died when a boulder rolled into his house. Earlier, when the storm passed over Haiti, a woman drowned while trying to cross a flooded river.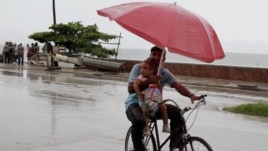 A man balances a child and umbrella on his bike as it rains during the approach of Hurricane Sandy in Manzanillo, Cuba, Oct. 24, 2012.
​​After passing over Cuba, Sandy is expected to pass over the Bahamas before heading for the southeastern U.S. state of Florida.
Some computer models show Sandy moving up the U.S. east coast into colder waters and turning into a winter-like storm called a "nor'easter," bringing high winds and chilly rain to coastal cities early next week.
Sandy is the 18th named storm of a busy Atlantic hurricane season, which began on June 1 and officially ends November 30.