Former president, whose daughter died from leukaemia, joins campaign for the sick child of one of his secret service agents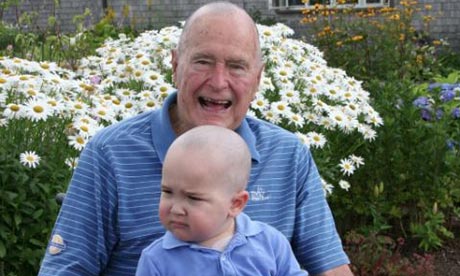 George Bush Sr with Patrick after having his head shaved. Photograph: AFP
Former US president George Bush Sr has shaved his head to show solidarity for the sick child of a secret service agent.
A statement issued by a Bush spokesman on Wednesday said the 89-year-old former president acted earlier this week at his summer home in Kennebunkport, Maine.
That was after he saw members of his secret service detail with newly shaved heads to show support for the two-year-old son of an agent. The child is undergoing treatment for leukaemia and is losing his hair as a result.
The Bush spokesman identified the boy only as Patrick.
George and Barbara Bush lost their second child, four-year-old Robin Bush, to leukaemia almost 60 years ago.
The security detail has launched a website to help with expenses associated with Patrick's treatment.