Category 4 tickets at Champions League final at San Siro on 28 May are priced at $76, while cheapest two-game 'venue pass' at MetLife Stadium is $130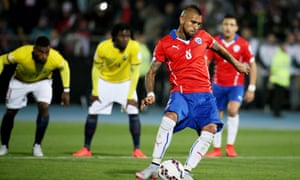 Ecuador watch as Arturo Vidal scores from the spot in last year's tournament. Photograph: Xinhua/Rex Shutterstock
Uefa has announced that tickets to the Champions League final will rise by up to 14% – but that will still make it only slightly more expensive than watching Ecuador v Haiti in this summer's centenary Copa America, which is being staged in the US.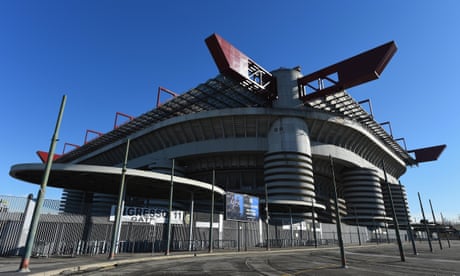 Uefa increases Champions League final ticket prices by up to 14%
Although the price of the most expensive ticket for the most prestigious match in European club football, at Milan's San Siro stadium on 28 May, has risen to €470, the cheapest ticket has been held at €70 – or $76.
Fans of Haiti, the poorest country in the western hemisphere, wishing to follow their team against Ecuador at the MetLife Stadium in New Jersey on 12 June are being asked to buy a "venue pass" giving them access to this match and a quarter-final tie at the same venue. Standard, non-hospitality prices for the two-game package range up to $1,315, with the cheapest seats costing $130, or $65 a match.
So far, individual tickets for the Ecuador v Haiti game have not been made available. The official Copa America Centenario website says: "Due to expected high demand, fans are encouraged to purchase Copa venue passes in the early sales period. If any tickets remain, individual tickets would be made available at a later date."
Supporters who buy a venue pass will be entered into a lottery for priority access to purchase tickets for the final, also at the MetLife Stadium in East Rutherford, on 26 June.
Prices at the other venues across the country vary. The Rose Bowl in Pasadena, which hosts three group games, is offering three-match packages in nine price bands with the cheapest currently available starting at $180 and rising to $3,000.
Last year's Champions League final was won by Lionel Messi's Barcelona, who beat Juventus of Italy. Ecuador are one of only two teams from the South American confederation never to win the regional championship. Haiti are currently ranked 66th in the world.
This article was amended on 2 March 2016. The original article stated the cheapest two-game 'venue pass' at MetLife stadium is $240. The actual cheapest price is $130.