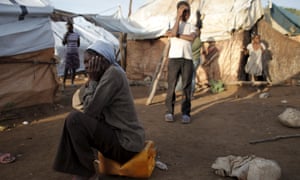 Lamesi Jean (left) at a refugee camp for Haitians returning from the Dominican Republic on the outskirts of Anse-a-Pitres, Haiti. Photograph: Stringer/Reuters
Prospery Raymond in Fonds-Parisien
Monday 12 October 2015 08.02 EDT
The border between Haiti and the Dominican Republic is a hub of non-stop activity, as goods, people and vehicles cross constantly from one side of the island to another.
At first glance, it looked like business as usual when I visited the border region near Lake Azuéi, Haiti's largest lake, which is known as Lago del Fondo in the Spanish-speaking Dominican Republic. However, despite the apparent calm, something had clearly changed since my visit several months earlier: the air was thick with desperation.
In August, the Dominican government began to implement a controversial citizenship policy aimed at Haitian migrants and Dominicans of Haitian descent.
The policy follows a 2013 Dominican court decision that retroactively and unlawfully deprived people of their nationality, namely some 200,000 Dominicans of Haitian descent who were born after 1929, and whose parents have a migratory status. UN experts have warned the deportations risk violating international conventions and the national constitution.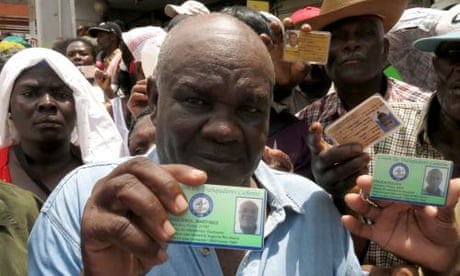 Dominicans of Haitian descent fear mass deportation as deadline looms
Meanwhile, a parallel government process, the national plan for the regularisation of foreigners, is targeting the country's migrant population, who are predominantly Haitians.
As a result, 66,000 people left the the Dominican Republic for Haiti between June and August alone, and many more have followed since. A survey of 4,600 returnees for the International Organisation of Migration (IOM) revealed that 20% had been returned forcibly by the authorities, while 80% left spontaneously.
Many of the returnees have sought refuge in informal settlements with scant resources in Haiti, and others have returned to their original communities. With the situation continuing to concern NGOs and civil society groups in both countries, in late September I went to the Haitian town of Fonds-Parisien – the island's largest border crossing – to see it for myself.
There, I met colleagues from NGO Christian Aid, which operates on both sides of the island to support local organisations working with poor and vulnerable communities. On arrival, I saw Dominican authorities and Haitian police collaborating well to facilitate the two-way flow of traffic and people. But later, Haitian police officers visibly grew nervous, after they were informed of the imminent arrival of deportees from across the border.
Soon after, a bus carrying migrants arrived and 48 Haitian men were escorted to a waiting vehicle sent by the Haitian ministry of migration. With no room for all the passengers, some of the men were handed over to representatives from the IOM, the Haitian Red Cross and a Christian Aid partner organisation, the Jesuit Refugee Service.
Migration from Haiti to the Dominican Republic has been going on for decades; Haitians escaping endemic poverty and high unemployment often leave for the neighbouring nation in search of work. They are also the target of recruitment drives by the Dominican state as well as by local buscones – finders or agents.
The Haitian workers are a source of cheap labour for the formal and informal sectors, including agriculture, construction and domestic work. Yet, despite their contribution to the Dominican economy, Haitians are usually the lowest paid in the workforce and often lack access to food and essential services.
Most of the men I met had worked as masons or street traders near the capital, Santo Domingo. They said there had been improvements in the way their deportation was handled, but it seems there is still a long way to go before the process is conducted in a way that fully respects the dignity of those affected.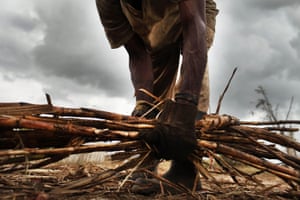 A Haitian sugar cane worker in San Pedro. Migration from Haiti to the Dominican Republic has been going on for decades. Photograph: Spencer Platt/GettyI could see the sadness in their eyes. Some were long-term residents who had raised families in the Dominican Republic. Several had been forced to leave their wives and children in the country. A few said they hadn't even been able to collect their belongings or tell their families before being removed.
"Paul", in his 40s, had left behind three children aged 16, eight and four. The two eldest, born in the Dominican Republic before 2010, would have qualified for "birthright" citizenship automatically. But following the 2013 court ruling, their right to nationality is now under threat.
Paul felt he had contributed a lot to the country: he was a good worker, had a good family, loved his community and wanted to stay to support his family. Another returnee, Stecker Alysee – whose lighter complexion means he could be taken for a Dominican – said authorities had not arrested him at first sight; it was only after someone forced him to speak that they heard his accent, realised he was Haitian and detained him.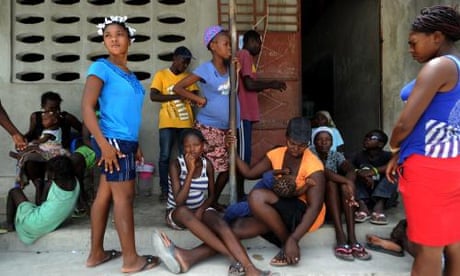 Although both men had lived in the country for a long time, they had no papers documenting their status. The same is true of a significant number of Haitian workers – a problem that partly originates in Haiti.
For decades, the Haitian and Dominican governments have neglected to develop an adequate migration policy that regulates how migrants enter, leave and remain in the country – or that safeguards their rights as workers. As a result, they have been left at the mercy of organised gangs of extortionists, racketeers and traffickers.
At the heart of the situation is an often-overlooked distinction between undocumented foreign workers who were recruited by the Dominican state or by companies, and those who crossed the border illegally and lack a valid visa.
While every government has a sovereign right to document and count its foreign workers, in this case the process fails to distinguish between different categories of migrants: the unlawful and the undocumented.
All the men I spoke to were worried about the future, their loved ones and their livelihoods. They'd left their hearts in the Dominican Republic, together with their families, and they were torn over whether to ask them to uproot their lives and join them in Haiti.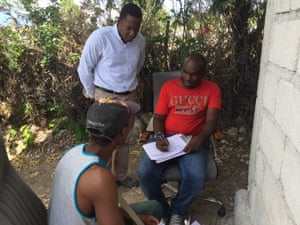 From left: deportee Stecker Alysee, Christian Aid Haiti manager Prospery Raymond, and Jesuit monitor Jogenz Laguerre. Photograph: Christian AidThe tears I saw that day revealed their pain and confusion. "I have a beautiful wife: what will happen to her?" said one man, who was desperate to find a way back across the border.
By this time, the men had been taken to the Jesuit Refugee Service base in Fonds-Parisien, where Jesuit monitor Jogenz Laguerre gently explained what support was available, and why the best way to return was with a valid passport and visa.
The Jesuit team registered the men, recording information on their families, background and assets. This will be given to both governments and will inform the advocacy work of aid agencies like Christian Aid, which are working to uphold the rights of those affected by the current situation.
After receiving food and enough cash for accommodation and a meal, the men were helped to return to their communities in Haiti.