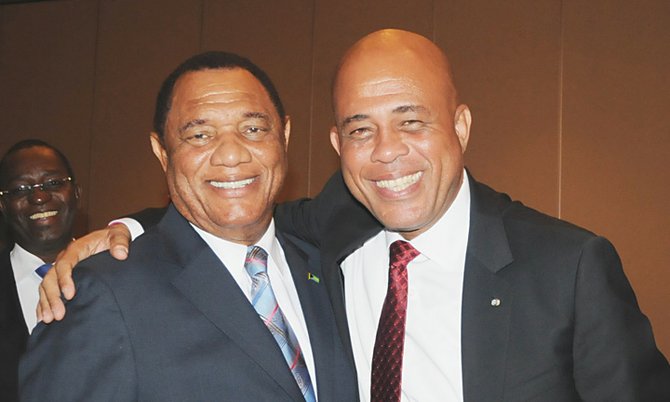 Prime Minister Perry Christie pictured with Haitian president Michel Martelly yesterday. Photo: Peter Ramsay/BIS
#By AVA TURNQUEST
#Tribune Staff Reporter
#aturnquest@tribunemedia.net
#GOVERNMENT leaders yesterday declared historic progress on combatting irregular migration with the signing of three agreements with the Republic of Haiti.
#Prime Minister Perry Christie and Haitian president Michel Martelly signed a framework agreement for bilateral co-operation, an agreement for trade and technical co-operation in agriculture and fisheries and an agreement on the promotion and protection of investments.
#The agreements are expected to bolster opportunities for economic development in Haiti through Bahamian investment in a bid to stem the flow of migrants illegally entering the Bahamas in search of jobs.
#Mr Christie said: "The framework agreement for bilateral co-operation allows for enhanced co-operation between the Bahamas and Haiti with respect to the exchange of information between law enforcement agencies in our two countries, joint projects between relevant agencies pertaining to security initiatives and border control, and legal migration.
#"It forms an umbrella agreement under which enhanced trade and commerce, academic exchanges including research and other projects of mutual interest can be created and developed," he said.
#The signing followed trilateral talks on migration issues between the Bahamas, the Republic of Haiti and the Turks and Caicos Islands held at the Melia Hotel yesterday.
#Heads of government discussed shared challenges concerning illegal migration and committed to strengthened co-operation in information and intelligence sharing and increased assistance on interdiction efforts to curb drug trafficking and illegal fishing.
#Consideration was also given to the possibility of formalising co-operation with the Turks and Caicos in a Memorandum of Understanding.
#During his remarks, Mr Christie underscored the significant contributions of Haitian migrants to the Bahamas, and the lineage of its founding fathers.
#Mr Christie said: "The mother of the Bahamas' ninth governor general Sir Arthur Foulkes was Haitian. Stephen Dillet, our first black Member of Parliament, was Haitian and several prominent businessmen in the Bahamas are Haitian. Although the migration of Haitian nationals to the Bahamas is often seen in a negative light, it is important to note the positive impact of legal migration."
#He added that while the two countries had established diplomatic relations in 1977, there had been a Bahamian consular presence in Haiti since the early 19th century.
#In keeping with his government's mission to distance itself from dependence on foreign aid and negative global stigma, Mr Martelly also met the business community during a luncheon at the Hilton.
#Jointly organised with the Chamber of Commerce, potential investors raised concerns over security and infrastructure capacity, and available incentives.
#Mr Martelly highlighted key areas for investment as energy production, construction and agriculture.