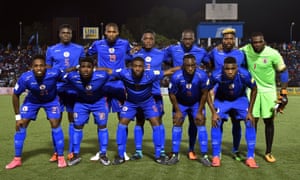 Haiti's national team begin their Copa America quest on Sunday in Seattle. Photograph: Hector Retamal/AFP/Getty Images
Saturday 4 June 2016
When the Haitian national anthem permeates the Seattle air on Sunday night, raw emotion will fill a proud nation's heart.
On hearing the poetic La Dessalinienne, minds will flash back to Port au Prince, the country's brilliantly chaotic capital – a battered, beautiful, historic part of the world which has been ravaged with unimaginable hardships no one should ever experience.
There will be one hell of a party on the heaving streets where, just six years ago, a devastating earthquake struck, killing over 150,000 people and leaving a rebuilding job which, for one of the world's poorest countries, will take years to complete. That's if it's ever finished at all.
Crowds will swarm around solitary TV sets to watch Haiti's biggest moment in soccer since their qualification for the World Cup in 1974. The opening match against Peru will be followed by a meeting with Brazil in Orlando and a final clash with Ecuador in New York.
Naturally, Haitian hopes of reaching the latter stages in their first ever Copa are faint. This is a team, currently ranked an admirable 71st in the world, who following the nightmare of 2010 didn't play for six months and were unable to stage matches in their own country for two years.
The national stadium was used as a refugee camp for the thousands who had been displaced.
Coaches and players were killed. Any footballing infrastructure was destroyed. The road to the Copa America Centenario has been long and arduous.
Yet out of the darkness shines light.
This proud country is in the process of rebuilding itself and, though heartbreaking problems remain, sport will offer temporary respite from the repercussions of Mother Nature's cruelest twist of fate.
"When the national team is playing there is peace in the country for 90 minutes," midfielder Jean-Marc Alexandre told the Guardian. "People aren't thinking about being hungry. They aren't thinking about poverty. They are just enjoying the game.
"Before the earthquake, we had been going well. We were going up in the rankings, but that whole period hurt us. We had some coaches, one guy who was very instrumental in youth football, who passed away. Some players died. It was such a tragedy.
"We recovered and are still recovering from it. Most of our games were in the US or other places. The first time we played in Haiti after the earthquake, the stadium was packed. It was one of the best atmospheres I have experienced. As players, whether we like it or not, we play a huge role in the country.
"Because when the national team does well, there is peace in the country and there is happiness. We are excited and proud to represent Haiti in the tournament.
"We've thought about our feelings when the national anthem will play. When the national team comes together, everyone – from the players to all the coaching staff – its an all-heart effort. We give 100% because we know the reality in Haiti. We know what we stand for. We may not have the money to fix all the problems there, but with the talent God has given us, we can suppress it for a few hours."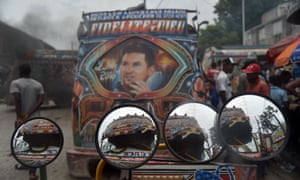 The face of Lionel Messi is painted on a Tap Tap public transportation vehicle in Port-au-Prince. Photograph: Hector Retamal/AFP/Getty ImagesLike all but one of coach Patrice Neveu's roster, Alexandre plies his trade away from Haiti in the United States. A truly international effort sees players come from clubs in outposts like India, Vietnam and Poland.
The 29-year-old currently plays for the NASL's Fort Lauderdale Strikers, and even though he left Haiti at the age of nine, his heart remains very much at home.
In 2007, the Jean-Marc Alexandre Football Academy was created in Verrettes, a city 30 miles north of the capital, to give youngsters with nothing a semblance of hope.
A chance of a better life.
"In 2006 when I went to Haiti for my grandmother's funeral I saw so many kids playing football in the streets. They are talented but they have no structure or organization which gives them a facility to train in," he explained.
"In my city there was no such thing as organized soccer. I spoke to my dad and said, 'You know what, we should do something for these kids.' We went back and started the academy
"It's important that we try and coach the kids at an early age because once they get to 13 or 14, it becomes more difficult to influence them.
"One huge problem there is that we are seeing them get involved with alcohol at a very young age. There's no ID system – if you have money they will get served. We are talking about 11- and 12-year-olds. That's what we are trying to fight and we believe through soccer we can do it.
"There's not so much a drug problem, so it's surprising to have kids drinking. We are trying to fight it."
Soccer remains ingrained in Haitian culture. New York based film producer Ben Patterson, whose critically acclaimed documentary Sweet Micky for President charts the incredible rise to power of Michel 'Sweet Micky' Martelly from wacky, diaper-wearing pop star to the country's leader post-earthquake, saw it first hand.
"My good friend and producer on Sweet Micky for President, Macc Plaise, would always tell me, 'The reason that Haitians are so crazy about soccer is because of the fact that it is the easiest game to play if you are poor,'" Patterson said.
"You don't need much to play soccer. Even after the earthquake, soccer was one of the things that kept people going.
"One thing I observed during my time in Haiti is how incredibly proud they are to be who they are no matter the circumstances, they are resilient, hardworking, amazing people."
For midfielder James Marcelin, who has impressed this season in the NASL for the Carolina Railhawks, his attempt to leave Haiti to further a career which began as a child playing barefoot on the streets was almost destroyed on that fateful day the earth violently shook.
A move to America and the Portland Timbers was due to take place. Yet with airports closed and the country on lockdown, escaping was an arduous, almost impossible affair.
"I was at my sister's house when it happened," he recalled. "I ran outside and people were going crazy. They were running around crying and in shock. People were dying in front of me. It was horrible.
"You needed a US visa to leave the country. Everyone else had to stay where they were, which was no help to me as I was supposed to be heading to Portland. I had no phone signal. I was stuck for three weeks.
"Luckily a friend of mine had a private plane which was bringing in supplies for the people. I was able to board and go to America. It was a difficult moment."
Marcelin, like the rest of his teammates, won't lose sight of the enormity of taking on Brazil with the world watching.
"I didn't wear cleats until I was 15. We played barefoot and just kicked bottles or whatever else we had in the streets," he added.
"Getting out of Haiti is tough. There are no DVDs of the players who play back home. It's changing slightly now but there's very little for other teams and coaches to look at. No agents to help them. If you get spotted in the streets, you may have a chance.
"Soccer gave me an opportunity to create a life for myself. I am blessed. Others, though, haven't been as lucky."