Italy should have seen off Haiti with ease in 1974 but the group game burst into life through the unheralded Emmanuel Sanon …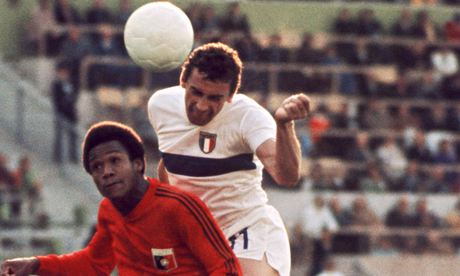 Luigi Riva, right, jumps over Arsène Auguste during Italy's group game match against Haiti in the 1974 World Cup. Photograph: AFP/Getty Images
The win-or-bust, tension-ratcheting final rounds of the World Cup allow memorable moments and dramatic sub-plots to breed like bacteria on a soggy handkerchief. Italy v Haiti, however, was the opening game of Group Four, a match which the heavy favourites won by a two-goal margin. And yet it was a day when one man rose into legend and another crashed into infamy; an afternoon knitted with spectacular yarns and statistical curiosities and embellished with one of the sport's most controversial substitutions.
We should start, though, with qualification, a process through which one side sailed with record-breaking ease, while the other relied on officiating so blatantly biased it would leave the Eurovision Song Contest with a frog in its throat.
Haiti should really have qualified in 1970, when in a final two-legged play-off for Concacaf's single place they lost 2-1 at home to El Salvador and then won 3-0 away. Aggregate scores were puzzlingly out of favour at the time, meaning the teams were tied on one win apiece – and El Salvador, having helped to start a war while seeing off Honduras in the previous round, won a decisive third meeting on neutral territory.
Four years later Concacaf's qualifying system had totally changed. Now the region's footballing powers played each other over three weeks in a single group, with just the winners progressing – and Haiti would host every game. The nation was governed at the time by the dictator Jean-Claude "Baby Doc" Duvalier and his ferocious militia, the Tonton Macoutes, who badly wanted their team to win and were willing to do all they could to guarantee it.
The key game turned out to be between Haiti and Trinidad and Tobago, who had perhaps the best team in their history: the top scorer in qualifying, Steve David, was joined by the man widely seen as the mini-tournament's best player in Everald Cummings, and its finest goalkeeper, Kelvin Barclay. They were beaten 2-1, but only after Trinidad had four goals inexplicably disallowed and a couple of very decent penalty claims bizarrely snubbed.
"It was as though we were in a trance", said David, later. "We felt we could score at will so we didn't argue, we just continued playing every time they disallowed one of our goals. We were so sure that we could not lose." Oliver Camps, a Trinidadian official, reported that "big men were crying like babies" after the game. "I don't know which match the referee and linesman were seeing but it certainly wasn't the one between Haiti and Trinidad and Tobago," he sniffed.
The Soca Warriors waited to hear of their association's inevitable appeal against the result, but bizarrely it did not come. Somehow, something had convinced the general secretary of Trinidad and Tobago's FA – a certain Jack Warner – to turn a blind eye to the controversy, and though Mexico gamely protested, the result stood (the referee, however, did not – he and one of his linesmen were banned from the sport for life). Trinidad then did Haiti a favour by beating Mexico 4-0, which meant the hosts could lose their final match against the Mexicans and still win the tournament, with a wronged Trinidad and Tobago finishing two points behind in second place.
If Haiti's progress to Germany was memorable for a surfeit of controversy and incident, Italy's is remembered for precisely the opposite reason. They sauntered through a straightforward group, also including Turkey, Switzerland and Luxembourg, without conceding a goal. Indeed from the 53rd minute of a friendly against Yugoslavia played in Turin in September 1972 until the World Cup nearly two years later – a total of 12 games – the Italy defence remained unbreached, with Brazil failing to find a way past them in a friendly and England frustrated twice. That wasn't Zoff's only record run over the period – he had also been part of a Juventus defence who went 903 minutes without conceding, and had come second to Johan Cruyff in the voting for the 1973 Ballon d'Or. Ahead of the finals, Zoff appeared on the cover of Newsweek, whose headline read simply: "The world's best."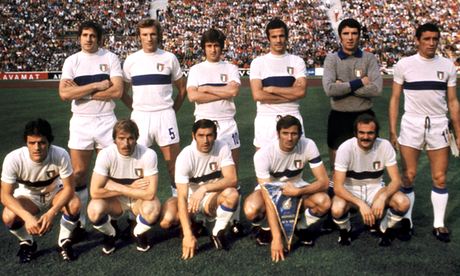 Italy's starting XI v Haiti. Top row, from left: Giorgio Chinaglia, Francesco Morini, Gianni Rivera, Luciano Spinosi, Dino Zoff, Luigi Riva. Bottom row, from left : Fabio Capello, Romeo Benetti, Tarcisio Burgnich, Giacinto Facchetti, Alessandro Mazzola. Photograph: AFP/Getty ImagesPre-tournament coverage of Haiti concentrated more on unconventional local customs than sporting ability. "We voodoo very nicely!" read the Mirror's headline, as they reported that the team's matches would be shown on big screens in "the slum-lined streets of Port-au-Prince" and that "the country folk will postpone the weekly cock fights and come in by donkey".
The Observer's Hugh McIlvanney witnessed the team – given fully six months to prepare for the tournament – in training.
"The marking by defenders is so haphazard as to suggest a fundamental weakness. It is easy to imagine hefty scores being piled up against them in the World Cup. The Haitians do have impressive ball skills … but their coach is concerned about the lack of the physical drive usually found in Europe."
One player, speaking on condition of anonymity, admitted that Haiti had "no chance" of reaching the second stage. "For us to take on the countries we are facing is like Haiti declaring war on the US. We have 11 good players. Poland, Italy and Argentina have maybe 4,000. It is all very well to say the game is played with 11 players but no one is fooled by such thoughts."
That the opening match remained goalless until half-time was largely down to what the Observer described as "the supernatural brilliance" of Haiti's goalkeeper, Henry Francillon, as Italy piled forwards. But a minute after the break the midfielder Philippe Vorbe slid a pass into space and Emmanuel Sanon – who predicted that he would score because "the Italian defence is too slow for me" and turned out to be absolutely right – raced past Luciano Spinosi, drew the goalkeeper, dodged past him and slid the ball into an empty net. After 1,143 minutes, and having frustrated many of the greatest forwards in the sport, Zoff's record had been broken by an unheralded 22-year-old who earned $200 a month playing for Don Bosco of Pétionville.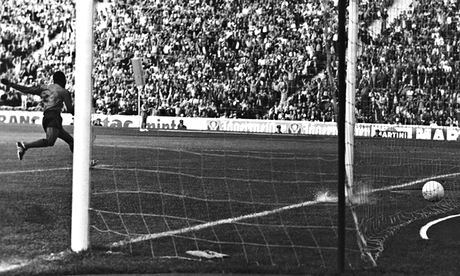 Emmanuel Sanon turns in celebration after skipping past Dino Zoff to give Haiti a surprise lead over Italy. Photograph: AP"Everybody was asking who would beat Dino Zoff," Sanon recalled. "The newspapers mentioned European and South American players but nobody thought a Haitian could do it. That upset me because I knew I could do it."
After the game Zoff insisted he was happy to have conceded. "Such a record never bothered me," he said. "Why should it? I am doing my job, yes? But I hoped that somebody would score against me either in Vienna in our pre-cup international against Austria [a dismal goalless draw], or in our opening match here. Now, perhaps people will stop asking me how I feel about such a record, because it is no more."
Haiti's advantage lasted for six minutes before Gianni Rivera equalised for Italy, who took the lead in the 66th minute when Romeo Benetti's shot deflected in off Arsène Auguste. Then Rivera released Giorgio Chinaglia, who took the ball past Francillon, glanced up and had to decide between two options: either he shot from what was now a very acute angle, or he squared for the unmarked Luigi Riva, who would have a tap-in. He shot, missed, and was promptly hauled off by Ferruccio Valcareggi.
"At half-time he said he was going to take me off after a few minutes," Chinaglia later explained. "Then we scored two goals and we're winning 2-1 and the son of a bitch took me off. If I stayed on I would probably have scored two or three goals."
On his way from the field Chinaglia dismissed his manager with a flick of the hand and headed straight down the tunnel to the dressing room, where he smashed eight bottles of mineral water and attacked a shower and a hairdryer. "My problem is I don't know how to be diplomatic," he admitted. "I can't help it. I'm an impulsive person who says what's on his mind and thinks about it afterwards." Many amateur lip-readers also deciphered what he told Valcareggi on his way past, and as a result the incident is known in Italy as Il Vaffanculo – the fuck-off – or Le Chinagliate.
"There are four players in this Italian squad that the rest of us call 'The Untouchables'," Chinaglia told the press that afternoon. "They are Fachetti, Mazzola, Rivera and Riva. When someone has to come off the field it is never one of them. Yet against Haiti, Rivera hardly touched the ball. He should have been taken off, not me."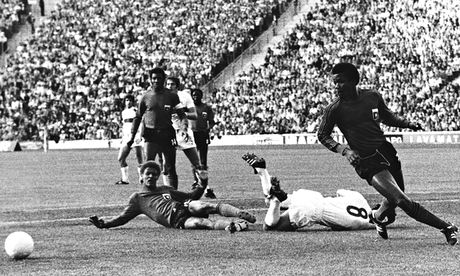 Italy's Fabio Capello (8) lies in a heap after a strong challenge from Haiti's Ernst Jean-Joseph (12). Photograph: APAfter the game Chinaglia spent three hours walking alone around the grounds of Italy's hotel, and then retired to the bar for a drink. Most of his team-mates refused to talk to him, further adding to the sense of exclusion experienced by a player who had been born in Tuscany but raised in Wales. There were few people there he knew and trusted – despite winning the league that season, Lazio had only three players in the World Cup squad (also including Giuseppe Wilson, a defender who had been born in Darlington). "I felt betrayed and abandoned," he said. "Nobody understood the psychology of the emigrant, who idealises his country, the flag, the shirt, but who feels isolated and as a result reacts angrily to any sleight he feels he has suffered. I never thought of leaving the team, I just wanted to be alone with my disappointment and my anger."
"Everyone knows what he did," said Valcareggi. "He did it, the television showed it. It wasn't a nice thing. If he wanted to tell me something he could have told me in the dressing room. That gesture he made to me is something you can't wipe out. He knows that, I know that. He didn't like being taken off and he won't forget it. I won't forget it either."
With one gesture the thin veneer of Italy squad unity crumbled, and they were lucky to draw 1-1 with Argentina in their next game, before losing 2-1 to Poland in their third, which ended with Enrico Albertosi, the substitute goalkeeper, fighting with a fan. Eliminated in the group stage, they told the press they were to fly in to Milan the following day and at the last minute diverted to Rome, a cunning ruse intended to avoid a repeat of the vicious egg-and-tomato welcome endured by the Italy side eliminated by North Korea in 1966.
Even then, they found so many unhappy Italians in Rome that 300 policemen were needed to keep them at bay. "Those allowed on to the terrace of the main airport building were searched for blunt objects and tomatoes," we reported. "None of the spectators got close enough to throw anything and they had to be content with shouting 'buffoons, buffoons!' and nastier expletives." Chinaglia was booed at every game the following season, and in 1976 left the country to see out his career in America.
Haiti's World Cup started to go downhill as soon as the match ended, when two players – Sanon and the defender Ernst Jean-Joseph – were summoned for routine drug tests. Sanon passed, but Jean-Joseph tested positive for phenmetrazine, a banned stimulant. "I have asthma and my doctor in Port-au-Prince gave me a lot of pills to take," he insisted. "I had no idea that anything was illegal. Our team doctor didn't warn me about anything."
It was a decent excuse and it looked for a while like he might escape censure – until the team doctor informed the media that Jean-Joseph hadn't told him of the medication, or even of the asthma. "What he told journalists about a case of asthma involves an entirely imaginary ailment," said the 27-year-old physician, Patrick Hugeux. "We don't know exactly what dose was taken but it is certain the amount he took was sufficient to have a doping effect. It had nothing to do with a pretended case of asthma but was taken precisely for the match … the boy was not of a sufficient intellectual level to realise what he did or what he said."
As it happened, the vice-president of the Haitian FA, major Acedius St Louis, was also the commander of the Leopards, a notorious elite battalion of the Haitian army under Duvalier's personal command. Jean-Joseph was forcibly and publicly taken from the team hotel, beaten up by St Louis and flown back to Haiti, his fate uncertain.
Until 1974, the only Haitian to have excelled at a World Cup was Joe Gaetjens, who was picked by the United States in 1950 and scored the winning goal in their infamous 1-0 first-round victory over England. In 1964, because his exiled brothers Jean and Freddie had been attempting to overthrow the Haitian regime, he was arrested and murdered by the Tonton Macoutes, then working at the behest of François 'Papa Doc' Duvalier. His body has never been found. This is history that every member of that Haitian team would have known.
They feared the younger Duvalier would react badly to the perceived disgrace of a team whose success, owing in no small part to his personal largesse, had previously been a source of great pride. "He made it clear that it was his team, and his money which got us to where we were," said Sanon. "He'd show up to training, and regularly phoned me and several of the other players to check that we were OK. Some of the guys felt it was dangerous to have Jean-Claude too close to the team. Although he was young, he was like an old-fashioned father, who gave us life, but could also punish us if he wished."
"I remember the look of venom in one official who'd always been all smiles previously," the defender Fritz Plantin told John Spurling in his book Death or Glory, of the moment Jean-Joseph was taken from the team. "As successful footballers, we'd been protected from that side of the regime but now we saw the dark side. We had a sleepless night before the game against Poland, and to be honest, I was only thinking about Ernst, not the game." They lost 7-0, and then – Jean-Joseph having telephoned to reassure his team-mates that he was not dead – 3-1 to Argentina in their final match, Sanon again on the scoresheet.
Fans arrive to pay their respects at Emmanuel Sanon's funeral ceremony at the Sylvio Cator Stadium in Port-au-Prince in 2008. Photograph: Ariana Cubillos/APThough neither side ended the tournament basking in glory, Haiti had at least been touched by it. Sanon's goal remains legendary and when he died of pancreatic cancer in 2008, aged 56, his funeral was held at the Sylvio Cator Stadium, where the team had secured their World Cup place 35 years earlier. The ceremony was attended by 20,000 and televised nationwide. "For us Haitians it is still the best result we have ever achieved," Vorbe said. "We matched the Italians for a while, and more than that, we managed to make a fool out of Zoff."
What The Guardian said: Hugh McIlvanney, 16 June 1974
The Footballers of Haiti, who came from the Caribbean for this World Cup knowing that at best they would be patronised, at worst dismissed as imposters, gave the competition one of its genuinely electric moments here tonight when they took the lead against Italy – by beating Dino Zoff, a goalkeeper who had not conceded a goal in an international match since September 1972. Emmanuel Sanon, a powerfully built and spiritedly aggressive black forward from Port-au-Prince, did what some of the greatest players in the world had failed to do in Zoff's 12 previous games for Italy.
Sanon thus goes straight into the folklore of his country along with Francillon, a goalkeeper of supernatural brilliance on the night, and Vorbe, the one white man in the Haitian team and the source of the magnificent pass that made Sanon's goal and of much else that was excellent. Italy moved Facchetti inside to smother the dangerous Sanon, tired out Vorbe and his helpers and finally broke down Francillon's resistance. So Haiti lost clearly enough in the end but anyone who calls them imposters from now had better have the decency to blush.
There is nothing like an inspired goalkeeper for winning the affections of a neutral crowd and Francillon, dark, handsome and theatrically defiant, had turned the German spectators into fervent supporters of Haiti long before the first half was over. Even the Italians, who had started to assemble with their red-white-and-green flags and their horns before breakfast, intent on spending the whole sunless day in delicious anticipation of a slaughter, were reduced to a muted buzz of respect as Francillon reached shot after shot, header after header. Sometimes he hurled himself about his goal with an almost frenzied agility, happy to make violent contact with the ball and beat it coarsely away from his line. In other moments, and more frequently as his confidence was fed by his own successes, he leapt gracefully to make solid, clutching saves. Mazzola and Riva and Chinaglia shook their heads and trhew their arms wide in exasperation as the minutes oozed away and Haiti refused to surrender.
The Italians had begun, naturally enough, in a mood of leisurely assurance, with Capello, Benetti and Mazzola building from the deep, and the designated front men, Riva and Chinaglia, regularly supported for once by Mazzola and the overlapping Facchetti. They were soon contriving openings without too much difficulty, and even after the first few of Francillon's interventions –a brave, lunging save from Mazzola's volley, a straining deflection of Facchetti's shot, the dramatic blocking of another from Chinaglia – we were still obliged to believe that the deluge was imminent.
Francillon felt under no such obligation, and as his small miracles accumulated, optimism spread through his defenders, and they, too, began to challenge the Italians as equals. For several this meant playing above their natural standards, but that was not the case with Nazaire, a tall, mobile centre-back who plays his club football in France and has the quality to make problems for any forwards.
His was the disciplining presence that made an effective barricade out of the mass of red shirts that swirled eagerly in front of Francillon. But still the goalkeeper had to deal in the extraordinary to keep his charge intact. A powerful 20-yard shot from Mazzola was held with insulting ease, and other attempts by the Italians gave him no more obvious alarm. By now his own players were brash enough to take the fight to Zoff. Presumably they had not heard of his dozen matches without the loss of a goal, for now and then they tried to beat him from a range that would have taxed a .303 rifle. Maybe they had seen the frayed edge of his invincibility.
Certainly their hopes of beating him were raised shortly before the interval when a strong right-foot drive from Vorbe forced the great man to spring sideways to thrust the ball for a corner.
Vorbe did infinitely better almost as soon as the second half was under way when he struck a beautifully judged pass to Sanon, and before the Italians could rectify the disorder in their defence, that muscular and driving black forward was free. Efforts by Burgnich to slow him down manually had no effect, and he swerved to his left and wide of Zoff before carefully placing the ball in the net to register the first defeat that goalkeeper has suffered in a thousand minutes of football.
The scenes that followed were understandably wild, both in the crowd – where the Germans accepted the small Haitian celebrations as a fuse for their own explosion of pleasure – and on the field, where the players from the Caribbean did everything but hold a party on the spot. Francillon, who had resisted congratulations as he went to the dressing-room at half-time, now danced towards the centre circle like a man in a trance.
Sadly, he was awoken from his dream within five minutes when Mazzola centred firmly from the right, and the ball went beyond Chinaglia, and three groping defenders to reach Rivera. His shot on the half-turn was simple and hard and too far wide of the goelkeeper's right shoulder to brook interference. If Italy assumed that their worries were about to dissolve, and a great header by Riva and an equally menacing shot from Rivera justified the thought, the marvellously aggressive Sanon brought them back to frightening reality again when he worked a space for Jean-Claude Desir and the resulting shot brought a save of the highest class from Zoff.
When Haiti did go behind it was to a sickeningly untidy goal. Benetti's shot from 20 yards was a fine one, but the remarkable Francillon was favourite to stop it until a deflection off Auguste paralysed him with its suddenness.
Anastasi was substituted for Chinaglia with slightly more than 20 minutes left, and Chinaglia's objections to the change were invalidated when Anastasi scored 10 minutes after his arrival. The Haitian defenders were weary by then, and could offer no worthwhile resistance as the ball was moved patiently across the face of their penalty area. Ultimately it travelled to Riva on the left, and his flick to Anastasi was the gesture of a man loading a gun.
Anastasi, despite an uncomfortable angle to the near post, fired efficiently and Haiti's cause was irretrievably lost. But all of them will carry bright and enduring memories of this exciting night in Munich.