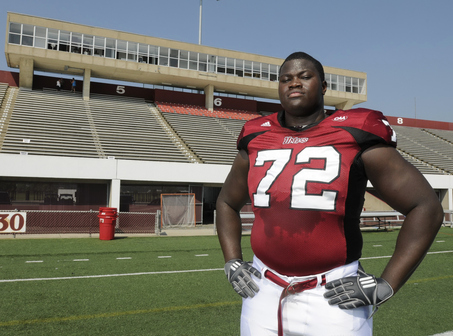 The drive down from Stamford, Conn., to the Jets' Florham, Park, N.J., facility took about an hour and a half on Thursday. With a driver doing the navigating, Vladimir Ducasse — all 6-foot-4 and 332 pounds of him — was able to relax in the backseat and chat on his phone to old friends and old University of Massachusetts teammates.
On Friday morning he walks onto the field for his first NFL practice.
This curious Jets offensive lineman — a college tackle turned pro guard who might one NFL day play tackle again — had plenty to ponder.
Out of Haiti.
Into football heaven.
"I had a couple of meetings with my coaches and trainers [on Thursday] and on Friday I report at 8 a.m. and have breakfast and more meetings with my coaches on the playbook," Ducasse said. "And then about 10:30 a.m., I get on the field. Very exciting. I can't wait to get to work. I'm going to listen to what my coaches say and practice it. I will take it a day at a time. This first day — I can't wait to get that feeling. Which players do I want to meet? Pretty much everybody."
You can bet everyone among the Jets has heard at least remnants of Ducasse's astonishing story. So, the players, coaches and media will be eager to meet and watch him even more than he desires to greet all.
"Yeah, you might be right," Ducasse said. "I don't know. We'll see Friday."
His roots run deep. He is 22. His mother died when he was 5. He was 14 when his father sent him and his brother to live with relatives in Stamford. His father, literally, feared for his sons' lives, since kidnapping of children in their neighborhood ran rampant. He arrived in America speaking barely a hint of English. And football? He learned much about the game from watching tapes.
He would become known as "The Dancing Bear" at UMass, a powerful and agile mix of talent on the offensive line. He would watch the mass destruction in Haiti from the recent earthquake while preparing for the NFL draft. It shook him — but he kept plowing. When the Jets made Ducasse the draft's 61st pick overall and their second-round selection, he became the first UMass player drafted since 1999 and the highest drafted since quarterback Greg Landry (the 11th overall pick) in 1968.
The Jets began scrutinizing Ducasse several months ago, fairly certain that they would let veteran guard Alan Faneca go and confident that Ducasse could step in, step right in, and handle the job.
The Jets say Faneca — remember, he just earned his ninth straight pro bowl-berth — was the weakest of their starting offensive linemen. They often had to protect him and could not use him in one-on-one situations as much as they would have liked. And $7 million due the 33-year-old veteran this season for more of that? Uh, youth would be served. Ducasse could do it. They love his athleticism. They think he is big enough and athletic enough to do whatever they want him to do. Broad shoulders. Thick. Grand physical presence. Long arms suited for pass protection. And his story, his yes-sir, all-work makeup? They were hooked.
In fact, Jets coach Rex Ryan told Ducasse at the February scouting combine, according to Ducasse: "We are bringing you in for a reason. Prove yourself and compete for a spot."
The beauty of the draft is that a player loved by some is not loved by all. The Jets see gold, but one NFL scout said of the Jets' new treasure:
"Well, the guy's from another country and the game is not a natural thing to him. The level of competition he comes from is not great. At the Senior Bowl, he was slow at the start but he picked it up as it went on. He got killed by [linebacker/defensive end] Brandon Graham (a former Michigan player and now a member of the Philadelphia Eagles), but a lot of guys did because no one could block Graham. Ducasse is a good athlete. Good learner.
Share "It's a little easier to play inside rather than outside on the line. You can cover mistakes. He can get help from the tackle and he has a running back behind him to help out. He's a big son-of-a-gun. Size and arms favor him as a guard. If they get him to play a lot this year and they have a good and full offseason with him, that could be great. Then you could move him out to tackle. But you don't want to kill the guy emotionally. And if you ask too much too soon, that could certainly happen."
Beat this guy down? Beat this guy out?
The Jets are not banking on that.
When he speaks, you can tell why they fell in love.
"I had a great experience at UMass," Ducasse said. "If I had it to do again, I would do it all over again. A lot of good people there. They stayed with me through the good times and the bad times. I was given good advice. I listened."
And what makes him such a good listener?
"I have always been able to respect my elders," he said. "They have lived longer. They have more experience. I listen to them. It's never been a problem for me, listening. I listen to my coaches. Coach Callahan [Bill Callahan, the Jets' offensive line coach] takes time with you. He thinks of everything. I think I can have a lot of success with him. I can't wait to get to work."
Friday marks the first work day of Ducasse's NFL life.
And he insists his job is not to fill Faneca's shoes, but to fulfill his own promise. To compete. To work. To listen. His story, his history, may be complex. But his fabric, his ethics are simple.