By Myron Echenberg
Myron Echenberg is Professor Emeritus of History at McGill University and the author of "Africa in the Time of Cholera: A History of Pandemics from 1815 to the Present," to be published in February by Cambridge University Press.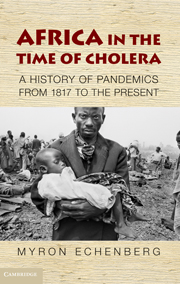 Although cholera no longer threatens most people today, unlike the devastation it wreaked in a series of global pandemics in the nineteenth century, this acute diarrheal disease remains deeply embedded in collective memory.  With good prevention directed at clean water supplies, personal hygiene practices, and careful public health surveillance as soon as a small outbreak occurs, cholera should no longer cause fatalities.  Much of this change comes from the development of timely and inexpensive treatment by means of oral rehydration therapy (ORT).  The WHO has set the bar at case fatality rates (CFR) of one percent, as an indication that local public health services meet this minimum standard.
Yet, since its beginnings in 1961, the Seventh Cholera Pandemic has been growing in intensity.  Developing societies have been hit particularly hard.  The bacillus, Vibrio cholerae, has adapted successfully to ecological changes.  No longer is cholera exclusively transmitted by feces of human carriers from cholera's ancient reservoir in South Asia.  V. cholerae can survive in bodies of water in which phytoplankton provide nourishment.  Climate-related events—changing currents, for example—can transmit cholera across the oceans, such as in Peru in 1991.  Free-standing cholera is present globally in a wide variety of bays, estuaries, and lakes where pollution has caused enough nutrients to be available to the bacillus.
Investigations led by French epidemiologist Dr. Renaud Piarroux at the source of the Haitian outbreak near the River Artibonite suggest that UN peacekeepers from Nepal, where cholera is endemic, may have been the carriers.  The soldiers' camp latrines were said to have had a leaky pipe that discharged waste into the river.  Rumors about alleged carriers have provoked scapegoating and violence, but the issue of the epidemic's origins, while of epidemiological interest, should no longer be an important issue.  It is not the presence of cholera so much as the conditions of surveillance and treatment which determine whether the disease can be controlled.
The ongoing, and predictable, disaster in Haiti follows similar massive outbreaks in Peru in 1991, in the Democratic Republic of Congo (DRC) in 1994, in South Africa in 2000, and in Zimbabwe in 2008.  Although Peru recorded a stunning total of over 323,000 cases, public health workers were able to keep the Case Fatality Rate (CFR) to a remarkably low 0.9 percent (3,000 deaths) through the timely administration of oral rehydration therapy.  In South Africa, 2000-01 saw 125,818 cases but rapid intervention by public health personnel and the military limited the death toll to only 264, a remarkable one-quarter of one percent.
More analogous to Haiti, however, collapsing public health services in failing states have turned cholera emergencies into charnel houses.  In the DRC town of Goma, where over a million Rwandan refugees, many of them génocidaires, gathered from July 20 to August 15, 1994, resulted in 13,000 cholera deaths.  In Zimbabwe in 2008-09, 128,000 cases resulted in 5,600 deaths, a CFR of 4.4 percent.
Haiti's final toll may very well be worse.  The latest figures, as of December 26, list 3,333 deaths among 150,000 cases, a CFR of 2.2 percent.  The number of confirmed deaths on December 19 alone was just over one hundred, far higher than previous peaks of around eighty in mid-November.  This data shows the epidemic is far from spent.
Haiti, like the DRC and Zimbabwe, is clearly a failed state.  Neglect and corruption combined to leave almost half the population without access to public health facilities even before the devastating earthquake last January left as many as 300,000 Haitians dead and 2.3 million survivors homeless.  Almost a year later, over half of these displaced persons are internal refugees living in squalid tent cities, without access to safe drinking water or proper sanitation.  Costly emergency intervention by international agencies has helped reduce mortality but conditions remain desperate.  Makeshift centers smell of vomit and diarrhea accumulating on earth floors, as well as the powerful odor of Chlorox bleach sprayed liberally.
On November 28, Haiti held contested presidential and legislative elections.  Several opposition groups listed the failure of the governing party to deliver anything approximating careful surveillance and timely treatment to cholera patients.  Aid from bodies like UNICEF, which has a special mandate for children, has focused on helping set up treatment centers, and on reducing cholera's spread by helping raise awareness.  As has been the case in Africa, however, costly emergency intervention once the epidemic reels out of control is a poor substitute for investing in clean water supplies and public health infrastructure, not only in urban but especially in rural districts, where lack of prompt access to treatment has resulted in catastrophic mortality.  The province of Grand Anse has experienced 129 cholera deaths on 391 cases, for a CFR of 33 percent, a clear indication that treatment has been slow to arrive.
As cholera eventually burns itself out, it is to be hoped that emphasis on prevention and control occurs before next year's potential cholera season is upon us.