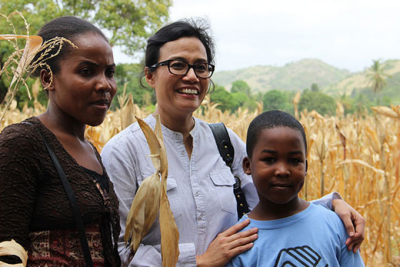 World Bank Managing Director Sri Mulyani Indrawati: Rural poverty is often higher and more difficult to fight than poverty in urban areas.
STORY HIGHLIGHTS
Extreme poverty declined from 31 to 24% between 2000 and 2012 in Haiti.
However, extreme poverty rates have stayed largely the same in rural areas for 12 years.
Only 11% of Haitians in the countryside have access to energy compared with 63% in the cities.
The roads in Port-au-Prince, the capital of Haiti, are buzzing: street merchants sell everything from clothes, to fruits to bottled water or soda, yelling prices to passers-by who are waiting for a "tap-tap", the local buses that are painted red, blue, yellow, green and often bear the face of famous people or a popular phrase.
Although Port-au-Prince was deeply affected by the earthquake four and a half years ago and faces still many challenges, recovery is advancing. More than 90% of displaced families have now moved out from camps into safer neighborhoods, more children are attending school, and residents have now better access to water and other essential services.
But about 200 kilometers away, in the rural community of Simon, things look different: roads are dusty and unpaved, and life is quieter.
It is not always easy to get clean water in Haiti's countryside. In fact, around 40 percent of Haiti's rural population uses non-protected water sources like rivers or unprotected wells, increasing the risks to contract diseases like cholera. As a contrast, in the cities, those who don't have access to clean water sources have more possibilities to purchase bottled water, which makes it easier to control diseases.
The situation has been improving in the community of Simon, as about 60,000 inhabitants have now better access to clean drinking water, thanks to a World Bank rural water project that installed clean water pumps or water connections in rural houses.
But there are still many others in rural Haiti that are too far from clean water sources and are in high risk of using contaminated water.
Jean Michelet Theard Desir lives with his wife and two kids in Simon, near les Cayes in the South of Haiti. He now has a water tap next to his house and pays around $4 every month for clean water. But only a few years ago, his situation was very different.
"Before I had this well and I went to wash myself in the river. When you wash yourself in the river, you wash yourself in the water that everyone uses and where everything happens. Sometimes, your body itches," said Theard Desir.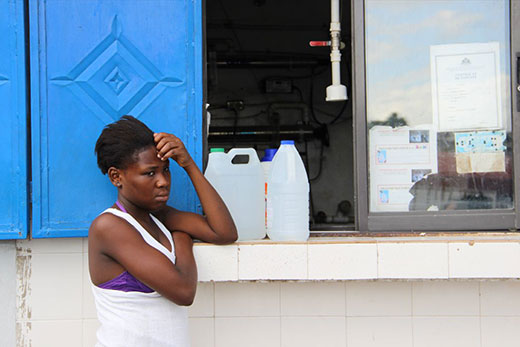 Stark gap between countryside and city
Haiti is in fact the most unequal country in Latin America and the Caribbean: the richest 20% of its population holds more than 64% of its total wealth, while the poorest 20% hold hardly 1%.
But the biggest inequality is geographical – between cities and the countryside. The gap between the urban and rural populations in Haiti is stark: almost 70% of rural households are considered chronically poor, against a little over 20% in cities. That means they live below Haiti's poverty line on less than $2 a day and lack access to basic goods and services.
Moreover, inequality is on the rise in the countryside, while declining in cities, according to the World Bank (based on Haitian Statistics and IT Institute data).
This is even more worrisome because most Haitians live in the countryside, over half the population. About 48% of Haitians live in cities, and 22% in the country's capital, Port-au-Prince.
According to the World Bank and the National Poverty and Social Exclusion Observatory (ONPES), extreme poverty rates have been going down in Haiti – from 31% to 24% between 2000 and 2012, mainly due to progress in cities, where they decreased from 21% to 12% in the same period. In rural areas, however, the extreme poverty rate has remained largely the same for 12 years.
So, while things are improving in Haiti's cities, particularly in the Port-au-Prince metropolitan area, the situation is darker for Haiti's countryside.
For example, only 11% of people in the Haitian countryside have access to energy compared with 63% in the island's cities. About 16% in rural areas have access to improved sanitation, while 48% in cities do.
Globally, rural poverty is often higher and more difficult to fight than in urban areas. But providing education, health services, and jobs to these communities is critical to promote equal access to a better life for all Haitians," said World Bank Managing Director and Chief Operating Officer, Sri Mulyani Indrawati this week during her visit to Haiti.
Clean water and appropriate sanitation services is essential to avoid diseases of all kinds. As Theard Desir explains, with access to clean water, his "body doesn't itch any more" and now his family can drink, cook and wash up safely.
But the road ahead is long, as the goal is that one day all 10.4 million Haitians can drink water without getting sick, can work in the evening with a light on and can have access to better opportunities.
As the country is working to sustain the progress achieved and broaden opportunities for its citizens, Haiti will need more targeted public investments in rural areas and effective management of its limited resources to improve access and quality of basic services and raise agriculture productivity. In urban areas, priority should be given to skill development and job creation.