No violence but tentative results will take at least 10 days for race that involved 54 candidates and tens of thousands of contenders for other elections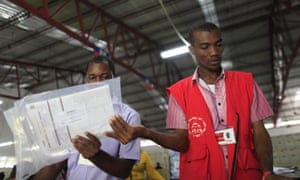 Electoral workers sort ballots at a tabulation center in Port-au-Prince, Haiti, on Monday. Photograph: Ricardo Arduengo/AP
Associated Press in Port-au-Prince
Monday 26 October 2015 16.07 EDT Last modified on Monday 26 October 2015 16.16 EDT
Haiti's voters have spoken. But nobody's quite sure what they've said.
Even tentative results of Sunday's presidential election likely won't be known for at least 10 days, despite the election, which involved 54 presidential candidates and tens of thousands of contenders for other races, going unusually smoothly.
Few places in the world take longer to give citizens any hint of who won an election.
One reason is that it's against the law for results to be released by anyone other than the Provisional Electoral Council, whose members are replaced every election cycle.
"A lot of the learning that is accrued every time they go through an election process seems to be lost," said Kenneth Merten, Haiti special coordinator for the US State Department and a former US ambassador to the country.
Haitian and international rights groups said Sunday's vote was largely free of the violence and disorder that has plagued previous elections, including the first round of legislative elections in August.
Haiti appears to be "moving in the right direction," said Celso Amorim, chief of the Organization of American States, a 125-member observer mission.
But watchdog groups said they are trying to keep a close eye on transportation and count of ballots.
Under guard by Haitian police and UN peacekeepers, Sunday's ballots and polling-place counts were being trucked from the countryside across often-dilapidated roads to a warehouse tabulation center in the capital of Port-au-Prince on Monday.
"Fraud can occur especially during the transportation and certification of ballots," said Abdonel Doudou, a member of the umbrella group Citizen Observatory for Institutionalizing Democracy, which deployed 1,830 observers across the country on election day.
The Observatory estimated turnout at perhaps 29 or 32%, an improvement from the 18% national turnout in August's parliamentary elections. Years of broken promises by governments that have failed to provide basic services have fed significant voter apathy in Haiti.
Richardson Dumel, spokesman for Haiti's Provisional Electoral Council, said preliminary results could be issued in 10 days. Final results are not expected until late November, at least, due to political factions contesting tallies.
Despite the relatively orderly voting across the nation of some 10 million people, there were some logistical problems and allegations of fraud.
Ballots were burned at four polling stations in northern Haiti, said Mosler Georges, executive director of the Provisional Electoral Council. Police said they made 234 arrests for various irregularities and seized 13 guns.
The winner of the 27 December presidential runoff will face challenges that include improving the nation's impoverished economy and weaning it off dependence on foreign aid donors.
Among the best-known candidates is Jude Celestin, a former head of the state-run construction company who was the government-backed candidate in the 2010 race. That time, he was eliminated from a runoff after his reported second-place finish was challenged by foreign observers who complained of irregularities.
Other top candidates include outgoing president Michel Martelly's pick, entrepreneur Jovenel Moise, and Moise Jean-Charles, an ex-senator and sharp critic of Martelly who brands himself the voice for Haiti's poor and disenfranchised.
____________________________________________________
Jovenel Moise is leading the pack, followed by Jude Celestin and Moise Jean-Charles, or, Moise Jean-Charles and Jude Celestin.
No matter what the combination may be, Jovenel Moise is the number one.
Lavalas Maryse Narcisse is a distant number 4.