Bochika, SAKALA Ayiti and BioPlanet USA, together planted over 500 Moringa trees in Haiti's Largest Urban Community Garden, the "Jaden Tap Tap" (Tap Tap Garden); More than 250 community members in Cite Soleil educated on the benefits of this "Miracle Tree."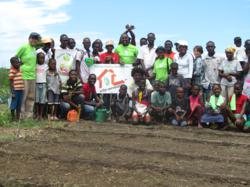 BioPlanet, Bochika, & Sakala Ayiti members in the Jaden Tap Tap after planting Moringa Forest
Thanks to Bioplanet USA & Bochika, more than 500 Moringa trees were planted, 10,000 Moringa seeds were donated, and nearly 300 community members in Cite Soleil learned about the nutritional and economic opportunities of this "Miracle Tree".
Miami, FL (PRWEB) April 30, 2012
Bochika, SAKALA Ayiti (Pax Christi PAP) and BioPlanet USA are proud to announce the successful completion of an important urban reforestation effort at the Jaden Tap Tap, in Cite Soleil, just north of Port-au-Prince, Haiti. More than 500 trees were planted and more than 10,000 Moringa seeds were donated for future forests.
BioPlanet USA awarded Bochika and SAKALA Ayiti a grant to cover the related costs of this urban reforestation program that will benefit more 250 young adults, children, and their families that come to the SAKALA community center and Jaden Tap Tap daily to participate in sports, gardening, and educational activities.
During the weekend of April 14, the Presidents of BioPlanet USA and Bochika, visited the Haitian capital to plant the Moringa forest that will add an important dose of nutrients to the community's diet, as well as improve the overall environment. Jaden Tap Tap staff and members of the community received an extensive and detailed presentation and training on Moringa cultivation, harvesting, benefits and methods of consumption. 120 children participated in BioPlanet's workshop "The Forest Begins at School," planting more than 200 additional seeds in discarded plastic containers collected the streets of the nation's capital. The forest is part of a BioPlanet USA initiative, "Tree of Life Forest in Haiti," and received special donations from a Mexican company, Imperllantas and the University School (part of Nova Southeastern University) in Florida.
"For a long time, the dream of Sakala Ayiti and the Jaden Tap Tap was to gather and share information on the use of Doliv [Moringa], the so-called Tree of Life," said Daniel Tillias, Executive Director of Sakala Ayiti. "We are grateful that Bioplanet, with all of their experience with the tree, accepted to partner with us to educate our community."
The Moringa forest at the Jaden Tap Tap, Haiti's largest urban garden, will be ready to harvest in 3 months and provide an additional source of nutritional benefits, and hopefully income, for the Sakala Ayiti community center and youth empowerment program. The Jaden Tap Tap, located in the 3BB neighborhood of Cite Soleil, is also a site to purchase Moringa seeds, seedlings, and to receive additional information on the benefits of this "Miracle Tree."
"Bochika is very happy that BioPlanet USA recognizes the same great potential of the Jaden Tap Tap and our partner organization, SAKALA Ayiti, as we do," said Ann Marie Warmenhoven, Bochika's Haiti Director. "We hope to partner with more organizations to support this amazing and successful initiative in Cite Soleil."
To learn more about the Tap Tap Garden or Get Involved, visit http://www.bochika.org, http://www.facebook.com/rasinlavil, or contact Daniel Tillias in Haiti (+509 36 49 1493) or Ann Marie Warmenhoven in the United States (574-904-1303). Donations can be made directly to the Tap Tap Garden via bit.ly/TapTapDonate.
About Bochika:
Bochika is a 501c3 not-for-profit organization headquartered in Miami FL. Bochika's mission is to empower marginalized and impoverished communities through participatory sustainable economic, agricultural, and social development programs. To fulfill this mission, Bochika builds partnerships with community-based organizations and provides training, tools, and technology that promote organizational development, increase social impact, and enhance global visibility. In its first year of existence, Bochika was awarded major grants to fund programs in Haiti and Miami, selected to lead a 300-person Capacity Building seminar in Colombia, and acknowledged for its innovation and commitment to change by former President Bill Clinton. To learn more, visit http://www.bochika.org.