Carrie Gibson tells us why she picked Floridatigre's comment on her piece about new restrictions on Haitians in the Dominican Republic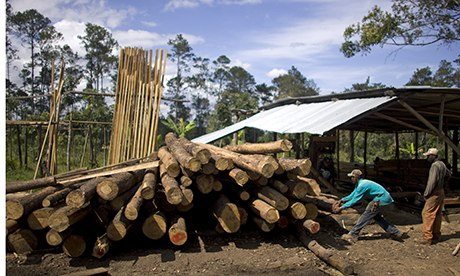 Men from Haiti and the Dominican Republic work with wood at an improvised factory at the border between the two countries. Photograph: Eduardo Munoz/Reuters
In this series Comment is free writers and editors want to highlight some of the best comments on the site. Each week, either an editor or the author of a recent piece will pick a comment that they think contributes to the debate. Hopefully it will give staff and readers an opportunity to see how thought-provoking such contributions can be and allow great posts the chance to be seen by a wider audience.
This week, Carrie Gibson has chosen a comment by Floridatigre on her article about the Dominican Republic:
"I live in the Dominican Republic. The situation is very difficult, essentially because the DR is a poor, but robust country, whereas Haiti is a complete economic basket case strongly dependent on foreign aid. Neither country has anything like "job-seekers allowance" or disability benefit, though the DR does have some publicly subsidized housing and health services.

"The cost of labour is very cheap in the DR and a large reason for this is that there is Haitian labour available very cheaply. The beautiful apartment I live in was built by Haitian labourers who received, I believe, less than $5 per day when they were working on the project.

"I am Anglo-American and my wife is Haitian. We have a daughter of five whose biological father was Haitian (died in earthquake in 2010), but whose registered father is a Dominican of Haitian descent. She has a Dominican passport, though whether she will now lose it, I don't know. I don't think the DR government is efficient enough to investigate everyone of Haitian descent to revoke their citizenship, carry out DNA testing, etc.
Our younger daughter was born in the DR and thus became a stateless person at birth. I was able to get a UK birth certificate for her and perhaps one day she will come to the UK. Thus I have a family in which four different nationalities are represented: Myself British and US, my wife Haitian, my daughter British, and my stepdaughter Dominican."
Carrie Gibson explains why she chose this comment:
"I chose this comment because I thought it reflected the complex realities for many people on the island. While Floridatigre's situation is complicated, I don't think it is unique, and it was good to read a comment from someone living in the Dominican Republic. I have spent time there on numerous occasions, and have travelled to Haiti as well, and agree with his later observation that "in reality Dominicans and Haitians are rubbing shoulders and going about their daily business quite amicably most of the time", and this is what I saw in places like Santo Domingo and Santiago. However, immigration – illegal or otherwise – is a serious global concern, as is the treatment of migrants. While a regular observer of the UK media might believe that immigration is mostly a British or European problem, the situation in the Dominican Republic and Haiti illustrates that is that it is an issue affecting nations of all sizes."
Floridatigre tells us his reasons for commenting on the piece, and gives us a bit of personal information:
Have you commented on Comment is free before?
Yes, I comment frequently, usually on topics that interest me such as healthcare, mental health, prisons, sex offending, Dominican Republic and Haiti, George Orwell and English literature in general.
For how long have you commented?
I think since 2007.
How would you describe the community of commenters you find here?
Tough question. As stated above I prefer to comment on topics on which I have some kind of insider knowledge or professional experience and I am often disappointed that many commenters are flippant or uninformed. For example we never seem to hear much from managers in the NHS or prisons putting their point of view on the subject matter that concerns them and we hear a lot from single issue advocates who take a narrow perspective. On the other hand, if one is diligent, one can find many wise and erudite commenters also who are very well worth following. As I lived in the US for many years, I find the restrictions on comments in Cif a bit limiting and have had many detailed and closely argued comments deleted for reasons that I don't necessarily understand.
Why did you feel motivated to comment on this piece?
Because I live in the DR and have Haitian family and wanted to communicate something about the complexity of the situation on the island of Hispaniola.
With regard to your comment highlighted here, do you feel you changed the conversation or moved the debate on?
Perhaps in a small way. It is very difficult to move a conversation on, as positions are so entrenched, and nobody has all the pieces of the jigsaw.
_______________________________________________________