A "potentially catatrosphic" Hurricane Maria is now a Category 5 storm, packing 160 miles per hour winds — with even higher gusts — as it nears Dominica and takes aim at the US territory of Puerto Rico.
"The extremely dangerous core of Maria is expected to pass over Dominica within the next hour or two," the National Hurricane Center said in its 8 p.m. ET advisory. "Maria is likely to affect Puerto Rico as an extremely dangerous major hurricane, and a hurricane warning has been issued for that island."
A US Air Force Reserve C-130 Hurricane Hunter data measured the intense storm, which heightens the chance of life-threatening storm surge and "hitting the Leeward Islands, the Virgin Islands, and Puerto Rico."
"Maria is developing the dreaded pinhole eye," a very small, perfect inner core of a very intense hurricane, the center said.
The hurricane center statement said Maria was centered about 35 miles east-southeast of Dominica and 55 miles northeast of Martinique.
The mammoth storm was moving west-northwest at 9 mph.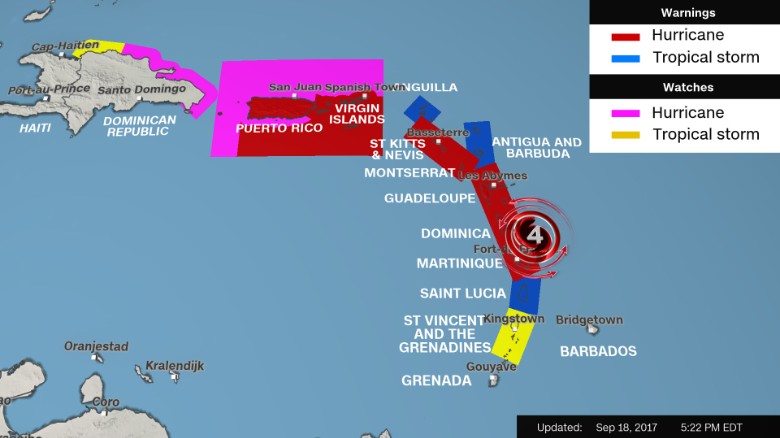 For the first time in 85 years, Puerto Rico is expected to suffer a direct landfall from such a strong hurricane. Puerto Rico's governor has declared a state of emergency ahead of that landfall, which will likely happen Wednesday.
President Donald Trump issued an emergency declaration for Puerto Rico for federal assistance to augment the territory's storm-response initiatives.
"It's time to wrap up your preparations now, Puerto Rico," CNN meteorologist Chad Myers said.
Bracing for impact
Dominica is a small island with a population of nearly 74,000 about halfway between Puerto Rico and Trinidad and Tobago, according to the CIA World Factbook. It's nearly 290 square miles (751 square kilometers) and "slightly more than four times the size of Washington DC."
"The Dominican economy has been dependent on agriculture — primarily bananas — in years past, but increasingly has been driven by tourism as the government seeks to promote Dominica as an 'ecotourism' destination," the factbook said.
Hours before Maria's expected landfall on Dominica — and just over week after the island was brushed by Irma — Prime Minister Roosevelt Skerrit urged residents to take any belongings that could become dangerous projectiles indoors.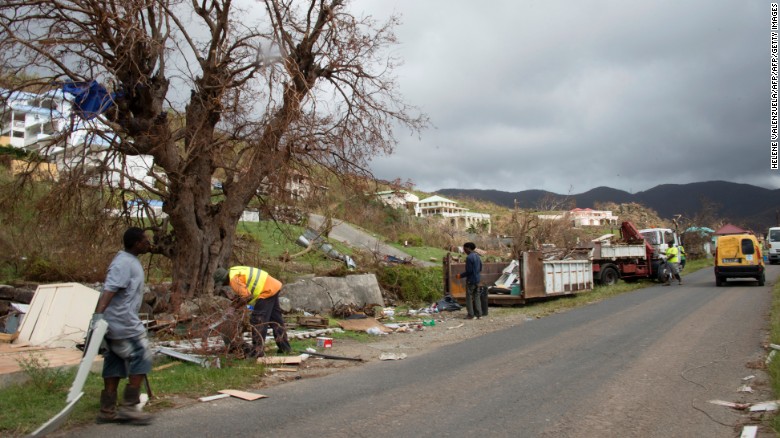 Photos: Hurricane Irma tears through Caribbean
Workers remove debris on Thursday, September 14, in Friars Bay on the French Caribbean island of Saint Martin. Hurricane Irma devastated the Caribbean island and others in the region.
The next few hours should be placed on cleaning up around the house and on your properties rather than stockpiling weeks of foods and other supplies," Skerrit said in a televised speech.
"This is not a system that will linger very long. Therefore, the goal must not be on stockpiling supplies but on mitigating damage caused by flying objects."
In Antigua, another island battered by Irma, yacht skipper Kevin Joseph took extra precautions ahead of Maria.
"Our company, we have lost in excess of a hundred boats so far by Hurricane Irma, and for that reason we're not taking any chances," Joseph said.
"We're gonna take the remainder of the fleet that's here in Antigua, and we're gonna take them south to the island of Martinique where they're safe for shelter so that we can ride out the impending storm."
Scrambling in Puerto Rico
"We want to alert the people of Puerto Rico that this is not an event like we've ever seen before," Gov. Ricardo Rosselló told reporters.
Puerto Rico sheltered many of the evacuees who fled Hurricane Irma's wrath in other Caribbean islands. Now those evacuees and native Puerto Ricans are bracing for another catastrophic hurricane.
Issa Alexander barely survived Irma when that hurricane shredded his family's home in the British Virgin Islands. He evacuated to San Juan, Puerto Rico — only to face the prospect of more devastation.
"I'm hoping that Maria doesn't come, but I don't know," said Alexander, 22.
He's terrified for relatives still in the British Virgin Islands — especially because the lines of communication are still down.
"I don't even know if they know that it (Maria) is coming," Alexander said. "I can only hope that the same spirit that everybody has — the same God that helped everybody to survive is still looking over them."
Puerto Rico housing authorities said there are 450 shelters able to take in 62,714 evacuees, and up to 125,428 in an emergency situation. But there are six fewer shelters available post-Irma, since some schools still have no electricity.
What to expect from Maria
The storm will affect parts of the Leeward Islands and the British and US Virgin Islands for next couple of days, the center said.
Other Leeward Islands are now under hurricane warnings, including Guadeloupe, Dominica, St. Kitts, Nevis and Montserrat. The US Virgin Islands and the British Virgin Islands are under warnings.
Trump issued an emergency declaration for the US Virgin Islands.
"Maria will affect portions of the Leeward Islands and the British and US Virgin Islands as an extremely dangerous major hurricane during the next couple of days, and hurricane warnings are in effect for many of these islands," the center said.
There are tropical storm warnings in effect for Antigua and Barbuda, Saba and St. Eustatius, St. Martin, Anguilla and St. Lucia. The government of the Dominican Republic has issued a hurricane watch from Isla Saona to Puerto Plata, and a tropical storm watch west of Puerto Plata to the northern Dominican Republic-Haiti border.
The British Foreign Office said more than 1,300 troops are in the region, on affected islands or nearby locations, ready to help after Maria goes by. One military team has been deployed to the British Virgin Islands.
A British military reconaissance team is on standby to go to Montserrat and assess needs, the office said. The HMS Ocean is set to arrive in the area at week's end with 60 tons of government supplies.
Up to 12 inches of rain — and even 20 inches in some areas — are expected to deluge the central and southern Leeward Islands through Wednesday night, the National Hurricane Center said.
"Rainfall amounts of 6 to 12 inches with isolated maximum amounts of 25 inches are expected across Puerto Rico," the NHC said. "Rainfall on all of these islands could cause life-threatening flash floods and mudslides," it said.
'More dangerous than Hugo and Georges'
Puerto Rico's governor ordered evacuations ahead of Tuesday's deteriorating conditions.
"We expect to feel storm winds, tropical storm winds, since Tuesday up until late on Thursday. That's about two-and-a-half days of tropical storm winds, and on Wednesday we will feel the brunt — all of the island will feel the brunt of sustained category four or five winds, Rosselló said.
"This is an event that will be damaging to the infrastructure, that will be catastrophic, and our main focus — our only focus right now — should be to make sure we save lives."
"It is time to seek refuge with a family member, friend, or move to a state shelter because rescuers will not go out and risk their lives once winds reach 50 miles per hour."
Rosselló added that Maria's size means all of Puerto Rico will experience hurricane conditions.
If Maria strikes the island as forecast, it will be "more dangerous than Hugo and Georges," he said.
Hurricane Jose
Another hurricane, Jose, is also churning in the Atlantic and has spawned tropical storm warnings for part of the US East Coast.
While forecasters don't anticipate Jose making landfall in the US, it's still expected to cause "dangerous surf and rip currents" along the East Coast in the next few days, the hurricane center said.
At 5 p.m. Monday, Hurricane Jose was about 250 miles east-southeast of Cape Hatteras, North Carolina, and was moving north at 10 mph.
The tropical storm warning is in effect for parts of southern New England, from Watch Hill, Rhode Island, to Hull, Massachusetts, the NHC said.
"Jose is expected to produce total rain accumulations of 3 to 5 inches over eastern Long Island, southeast Connecticut, southern Rhode Island, and southeast Massachusetts, including Martha's Vineyard and Nantucket, through Wednesday," the hurricane center said.
"Minor to moderate coastal flooding is possible from Delaware to southern New England," the center said. "Swells generated by Jose are affecting Bermuda, the Bahamas, and much of the US east coast."
Jose is expected to weaken in the next few days, but will likely remain a hurricane through Tuesday.
CNN's Brandon Miller, Marilia Brocchetto, Judson Jones, Taylor Ward, Deborah Bloom, Leyla Santiago, Michael Holmes, Matt Wotus and Susannah Cullinane contributed to this report.