(CNN)Hurricane Maria is forecast to rapidly strengthen over the next two days as it takes aim at Caribbean islands devastated by Hurricane Irma just days ago.
As of Sunday at 11 p.m. ET, Maria was about 100 miles (165 kilometers) northeast of Barbados and about 210 miles (340 kilometers) east-southeast of Dominica, the center said. It had strengthened into a Category 1 hurricane with winds of 85 mph, and is forecast to continue moving toward the eastern Caribbean at 13 mph.
"Maria continues to strengthen and is expected to be at major hurricane intensity when it affects portions of the Leeward Islands over the next few days, bringing dangerous wind, storm surge and rainfall hazards,"
the hurricane center said.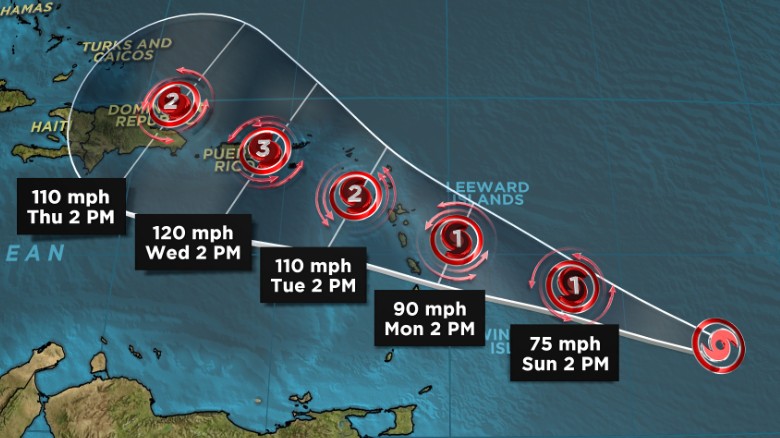 Hurricane Maria is expected to keep strenghening as it heads toward the Caribbean.
Maria is one of three storms churning in the Atlantic Ocean, but it poses the most danger to the hurricane-battered Caribbean.
Maria has prompted a hurricane warning for Martinique, Guadeloupe, Dominica, St. Kitts, Nevis and Montserrat. A tropical storm warning is in effect for Antigua and Barbuda, Saba, St. Eustatius and St. Lucia. A warning is typically issued 36 hours before the anticipated first occurrence of tropical-storm-force winds.
The warning means that tropical storm conditions are expected within 36 hours.
A hurricane watch is in effect for the US Virgin Islands, the British Virgin Islands, St. Maarten/St. Martin, St. Barthelemy and Anguilla — many of which were devastated when
Irma blew through the Caribbean, killing 44 people.
A hurricane watch is typically issued 48 hours before the anticipated first occurrence of tropical-storm-force winds.
"Maria is likely to affect the British and US Virgin Islands and Puerto Rico by mid week as a dangerous major hurricane," the NHC said.
Torrential rainfall could cause deadly flash flooding and mudslides. Maria could dump 6 to 12 inches of rain across the Leeward Islands — including Puerto Rico, the US Virgin Islands and the British Virgin Islands — through Wednesday night.
Hurricane Jose
Meanwhile, Hurricane Jose is maintaining its intensity as it churns north, threatening "dangerous surf and rip currents" along the US East Coast in the next few days, the hurricane center said.
Late Sunday, the Category 1 hurricane was about 305 miles (490 kilometers) southeast of Cape Hatteras, North Carolina, and moving north at 9 mph.
While the center of Jose is expected to stay off from the US East Coast, "swells generated by Jose are affecting Bermuda, the Bahamas, and much of the US east coast," the NHC said.
"These swells are likely to cause dangerous surf and rip current conditions for the next several days in these areas."
The hurricane center said that Jose would produce heavy rain as it passes near southern New England and the mid-Atlantic on Tuesday and Wednesday, but that based on current forecasting the risk of flooding would be "limited in scope."
Tropical Depression Lee
Lee, the third storm in the Atlantic, fizzled from a tropical storm to a tropical depression Sunday, the hurricane center said.
Lee's maximum sustained winds have sputtered to 35 mph, and are expected to further weaken in the coming days.
CNN's Kelly McCleary and Gene Norman contributed to this report.