Jimmy 'Barbecue' Chérizier issued call to arms as US looks to UN to approve Kenya-led mission to stem country's growing violence
The most severe humanitarian crisis in the Americas has taken yet another dramatic turn after Haiti's most powerful gang boss took to the streets to call for an armed uprising to overthrow the country's unpopular prime minister.
Jimmy Chérizier, a police officer turned gang lord nicknamed "Barbecue", issued his call to arms on Tuesday, as reports suggested the US was preparing to ask the UN security council to approve a Kenya-led intervention designed to address the Caribbean country's escalating security crisis.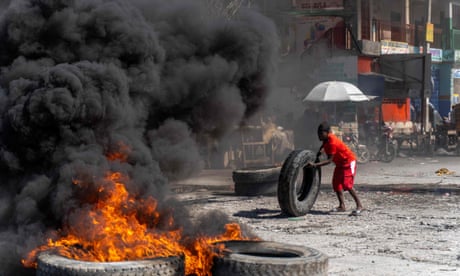 "We are launching the fight to overturn Ariel Henry's government in any way," Chérizier said of Haiti's prime minister, who took power after president Jovenel Moïse was assassinated in 2021. "Our fight will be with weapons," the gang leader told Reuters.
Haiti has been spiraling deeper into turmoil since Moïse was murdered at his Port-au-Prince residence. Since then, rifle-toting gangs have commandeered up to 90% of Haiti's capital and there has been an explosion of killings, kidnappings and sexual violence, turning much of the city into a no-go zone. Millions are struggling to eat, partly as a result of gang checkpoints blocking food supply routes.
From comparatively safer hillside neighbourhoods, "you can see the city [below] burning … You see houses burning. You see all the gunshots – even during the day," said Diego Da Rin, a Haiti specialist from the International Crisis Group who recently visited the country.
"It's really difficult to be there – and it's really difficult to leave as well, when you're in the plane just [thinking]: 'I can leave – but most people who live here don't have a choice,'" Da Rin added. "[The police] are completely outgunned by the gangs right now."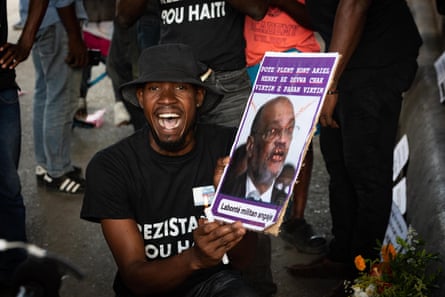 The government's failure to halt the bloodshed has spawned a vigilante movement called "Bwa Kale" that has seen citizens rise up against the gangs with machetes, rocks and guns.
This week the Episcopal Conference of Haiti lamented what it called "one of the longest and most lethal sociopolitical and security crises in [Haitian] history". "A low-intensity war against peaceful and unarmed people is raging across the country," the bishops' group warned.
Since last October there have been calls – from both Henry's beleaguered government and foreign leaders – for some kind of foreign intervention to help Haiti's overwhelmed police force regain control of the increasingly lawless capital. One senior US diplomat recently told the Miami Herald that US officials had been "circling the globe" in search of countries willing to take part in that effort, although most are reluctant because of the dangers involved.
The intervention appeared to move a step closer this week when Kenya's president, William Ruto, announced his country would be "the leading nation in the UN-backed security mission in Haiti".
"We are committed to deploying a specialized team to comprehensively assess the situation and formulate actionable strategies that will lead to long-term solutions," Ruto said during a meeting with Ariel Henry on Wednesday.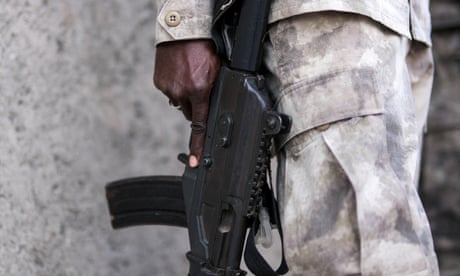 Da Rin anticipated members of the security force could touch down in Haiti in November or December if the resolution passes. "We expect a force of around 2,000 police officers, maybe with some military backup units," he said, predicting: "It won't be as huge as previous armed interventions."
The prospect of the force's arrival is a highly sensitive issue in a nation which has experienced a succession of disastrous foreign interventions, stemming back to the 19th century. The most recent – a 2004-2017 UN peacekeeping mission called Minustah – is widely remembered for causing a cholera outbreak that killed thousands, sexual abuse allegations and an alleged massacre in Port-au-Prince's largest shantytown, Cité Soleil.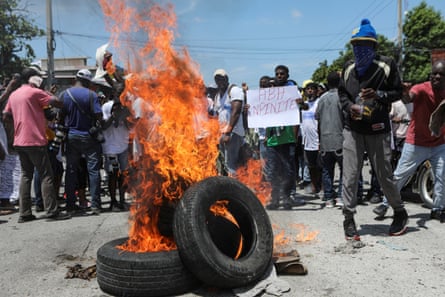 On the streets of Haiti's capital there is skepticism over whether another intervention will work. Many members of civil society fear the force will simply help prop up Henry, whom critics accuse of scuppering attempts to resolve Haiti's political crisis and arrange fresh elections crucial to a country with no elected officials.
"The 1,000 Kenyans that are coming aren't going to resolve our security issues because the US came here at least three times [and] security got worse," said Sonthonax Jules, a 64-year-old security agent.
"There are no forces who can resolve Haiti's problems. Haiti's problems can only be solved by Haitians," Jules added.
Clerina Confie, a 60-year-old saleswoman, voiced cautious optimism that the intervention might improve security and permit her to return to her home in the violence-stricken district of Carrefour-Feuilles.
But for now, Confie planned to remain in an abandoned theatre in downtown Port-au-Prince where refugees fleeing gang violence are sheltering. "Even if I have to sleep in the middle of the street with the kids, I won't go back to that area," she said. "If I'm destitute, it's because of [the gangs]."
Pierre Espérance, a prominent human rights activist, said there was no way of addressing Haiti's security crisis without addressing its crisis in governance.
"One of the reasons the gangs are powerful today is because the state authorities at the highest echelons and the police hierarchy are colluding with bandits," he said. "In order to improve the security situation, the country has to be led."