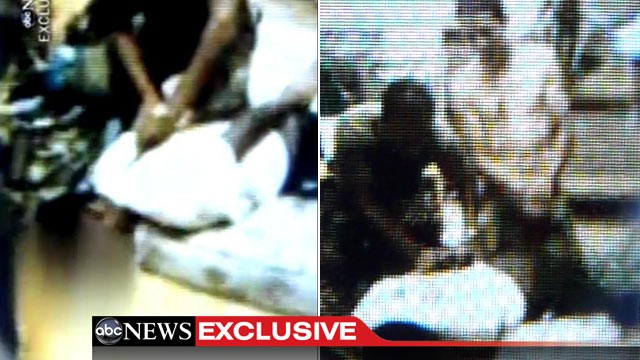 The teenage boy who was allegedly sexually assaulted by United Nations peacekeepers in Haiti reportedly plans to testify against his attackers.
Fritz Dorziair, a representative for the boy's family, said the teen and his parents will travel to Uruguay — the home country of his alleged attackers — for a May 10 court hearing, according to international and local media reports.
In September, ABC News obtained a cell phone video that purportedly showed an incident in July when a group of Uruguayan peacekeepers abusing the then-18-year-old. The minute-long video appears to pan out from a sideways close-up of the alleged victim's strained face to reveal his body being held down on a mattress by the uniformed men. The alleged assailants can be heard laughing as a shirtless soldier kneels behind the Haitian victim and appears to be assaulting him. The video ends as a soldier grabs the bedraggled young man's arm and seems to try pulling him onto his feet.
WATCH: UN Peacekeepers Accused of Sexually Assaulting Haitian Teen
The boy's parents told ABC News they didn't know exactly what happened to their son until the video started circulating in Haiti, prompting them to file written depositions in a Haitian court. Interviewed by a reporter at a Haitian courthouse, the young man said he was snatched from behind as he walked by the U.N. base. He alleged he was beaten and sexually molested. "They're bad people — vagabonds," he said.
A medical certificate filed with the court in Haiti and obtained by ABC News alleges the victim was beaten and had sustained injuries consistent with having been sexually assaulted.
The suspects in the case were arrested and sent back to Uruguay to face trial, but the case appeared to stall in January and they were all released. When they were released, a U.N. spokesperson told ABC News the men would be freed until the teen could be located for testimony at which point the men would be back for trial.
"The recent release of the soldiers, pending completion of the civilian trial, will not circumvent the possibility that the soldiers be re-imprisoned, should they be found guilty and sentenced accordingly," spokesperson Anayansi Lopez said in January.
Under an agreement between Haiti and the U.N., peacekeeping troops are only subject to discipline and legal action from their country of origin.
The Associated Press contributed to this report.
_________________________________________________________________________
What's with is alleged business??
The Uruguayan president accepted the fact it happened and apologized to the Haitian Nation and to John Jean. The flew their armies chief to Haiti for meetings with Congressman Bob Barr, Ed Marger and Mike Puglise, Johny Jean's American attorney. Without the Americans the case would have been swept under the table since the UN investigation had already found that no crime was committed.
Then they sent the sailors back to Uruguay and released them, and tried to pretend the event never happened.
Now Ed Marger will lead a legal team to Uruguay to participate in a trial that should see Johny Jean's attackers jailed.
What's with this alleged crap.
Johny Jean was raped, raped, raped raped and raped some more by a group of vicious Uruguayan sailors who should be shot, or placed in a Haitian prison where they can learn some of life's  harsh realities..