The Guardian.uk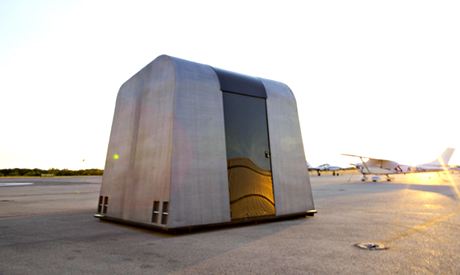 Exo units by Reaction Housing are cheaper than other forms of disaster relief and is safer, reusable and faster to deploy.
Following the earthquake in Haiti in 2010, the UN and other humanitarian organisations scrambled to provide sufficient housing for 1.5 million Haitians. At the end of 2013, around 150,000 people were still living in temporary structures and makeshift tents. Progress to rebuild the country has been slow.
Tents made from flimsy plywood and plastic sheeting are often just the first of a number of shelters that people made homeless by natural disasters can expect to call home over a number of years. The process costs millions of dollars each year and several tents may be needed for each family before a temporary shelter is deployed and a permanent home is eventually built. This problem – which is worse in developing countries like Haiti where reconstruction takes much longer – has prompted calls for more durable, long-term solutions.
Reaction Housing, a Texas-based startup, thinks it has an answer. Inspired by the Styrofoam coffee cup, the Exo is low-cost, portable and easy to assemble. The company's founder, Michael McDaniel, came up with the idea after becoming frustrated with the slow humanitarian response following Hurricane Katrina in 2005.
"There are simply no purpose-built products from the ground up that meet the specific needs of disaster responses," says McDaniel, citing the pitfalls of using travel trailers and modified shipping containers. "Companies that design and manufacture trailers are not particularly concerned with the environmental or health aspects of dwellings. The same goes for prefabricated buildings. These are stick-built constructions done as cheaply as possible to achieve margins."
Looking like a mini aircraft hangar, the Exo consists of two parts: a base and a dome. There are digital door locks, skylights, access to electricity, air conditioning and heating and access to water and sewer services; bathrooms and kitchens can be fitted too. The Exo's features may not be groundbreaking, but they address issues of decent living – such as sanitation and safety – that tents and trailers often don't.
Each unit costs around $5,000 – a fraction of what it cost (roughly $20,000) to provide a basic trailer for a family affected by Hurricane Katrina. The units can be stacked together, making transportation easier, and because it's lightweight (under 180kg) it can be assembled quickly without tools or machinery. Just like flipping a Styrofoam cup upside down, the Exo can be flipped off a lorry or ship with relative ease.
"At the end of the Exo's useful life, the entire structure can be recycled [placed in storage for reuse]," McDaniel adds. "You can't do that with a trailer."
Plenty of products and designs with the potential to revolutionise disaster relief housing have come and gone before the Exo, but have struggled to make the jump from prototype to mass deployment. So what's different this time?
Aside from securing $1.5m (£902,000) in seed funding, and raising money through a crowdfunding campaign, Reaction Housing has received interest from various parties including aid organisations. It is currently partnering with the Maram Foundation to deliver prototypes to displaced families in Syria. They will also be shipping prototypes to families in Haiti who have not yet been aided by the post-earthquake recovery.
Despite the interest surrounding the Exo, which has intensified since it was showcased at this year's SXSW music and film festival in Texas, the product could still fail to take off. McDaniel says the problem is that government agencies and NGOs are generally reluctant to buy from startups and small private companies. The Exo may be a product built from the ground up, but a lack of support from humanitarian agencies, or future capital, could knock the bottom out of its business model and vision.
"Most governments and NGOs don't pre-stock products in the event of disasters. They rely on what's available off-the-shelf in the aftermath of a crisis," says McDaniel. "Because of this, there are more ideas than actual products on the market. It's basic supply and demand. Immediately after any disaster there is always a flood of ideas, but startups and companies can't get products produced in volume."
The caveat, notes McDaniel, is that when people's lives are at risk, governments and NGOs are unlikely to gamble with unproven technology. But after years of designing and building the prototype, which started as an idea formed in his backyard, McDaniel believes that there's little to rival it. He says that continued support from the humanitarian sector would only help to scale up production and drive down the price, making it more accessible.
How willing will governments and NGOs be to invest in a product such as the Exo? That depends. It's not just perceptions of current disaster relief housing that need to change; it's how people caught up in the inhumane conditions of disasters are viewed as consumers. Housing solutions shouldn't just provide basic shelter; they should provide something durable and safe amid the chaos that disaster zones are notorious for.
• Exo units: the shelters redefining emergency housing – in pictures