Vertical mag.com,
Two people were killed when they were struck by a helicopter's tail rotor during relief operations in Haiti last month.
The accident helicopter, a Canadian-registered Bell 429, was one of two aircraft sent to Haiti by manufacturer Bell Helicopter to assist in the aftermath of Hurricane Matthew.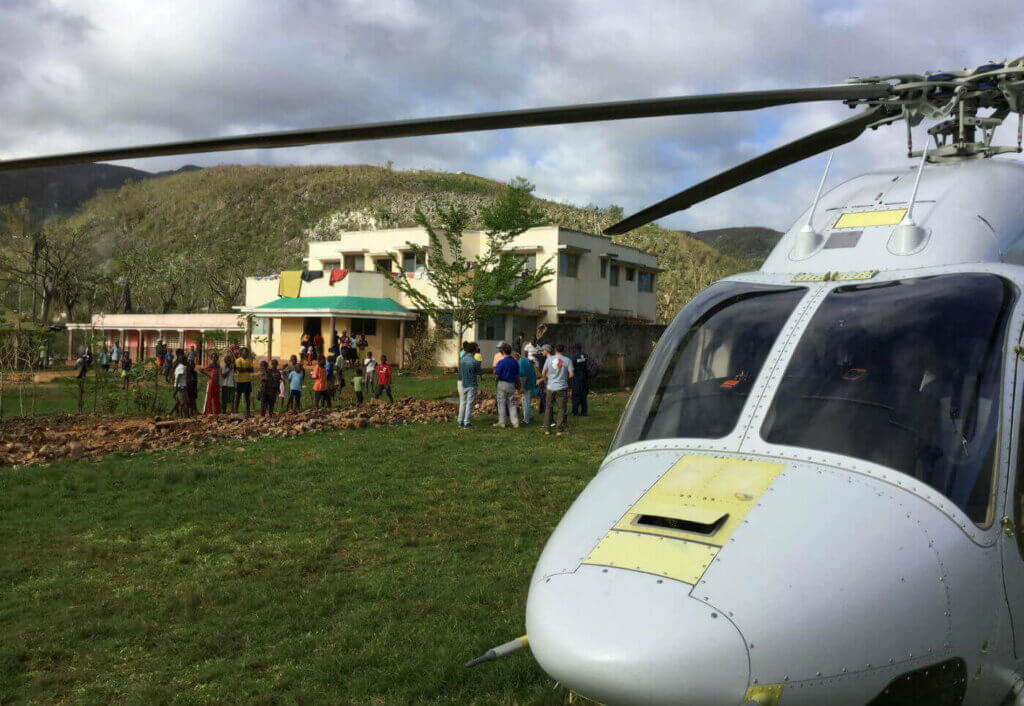 The accident helicopter was a Canadian-registered Bell 429 that Bell Helicopter was operating in Haiti at its own expense. Airlink Photo
Bell confirmed the accident, which took place in the administrative department of Grand'Anse on Haiti's southwestern peninsula. The region bore the brunt of Matthew when it passed through Haiti as a Category 4 hurricane in early October.
"We are deeply saddened that a fatal accident occurred at a disaster relief distribution point in a remote location on the morning of Nov. 12," Bell declared in a statement provided to Vertical.
"Two Haitians were killed when a large group rushed the helicopter after it landed. Bell Helicopter has been in contact with the families of the two persons involved and is looking at ways we can support their immediate needs at this very difficult time and under these challenging circumstances."
Bell was in Haiti through a partnership with Airlink, a humanitarian organization that was founded in 2010 with the mission of connecting non-governmental organizations (NGOs) with commercial airlines for passenger and cargo transportation.
Most of Airlink's aviation partners are scheduled or on-demand air carriers that operate under strict regulation and oversight. But while their large planes are valuable for moving aid workers and supplies to the general area of a natural disaster, they aren't capable of reaching many of the remote areas that were devastated by Hurricane Matthew.
The partnership with Bell Helicopter represented Airlink's "first-ever end-to-end logistics program, including chartered airlift and helicopter transport in support of defined requirements from the ground in Haiti."
As a helicopter manufacturer, rather than an air carrier, Bell is not authorized to transport passengers or cargo for compensation or hire. In the aftermath of Matthew, however, the company was eager to volunteer its helicopters and crews to support relief efforts at its own expense.
Shouldering the considerable cost of the operations allowed Bell to conduct the flights — with the Bell 429 and a U.S.-registered Bell 412 — as a private operator, without the oversight and regulatory requirements that would apply to a commercial helicopter operator.
In a press release announcing the venture, a Bell spokesperson stated that the company was "proud to support this important effort to help the people of Haiti," adding that "helicopters allow us the ability to get to places where others cannot go."
Once Bell's crews were in the country, Airlink connected them with various NGOs including Mission of Hope Haiti and All Hands Volunteers. The latter is a U.S.-based nonprofit that engages spontaneous volunteers — who are not required to have relevant experience — to respond to natural disasters around the world.
Over a period of roughly two weeks, the two Bell aircraft delivered 50 metric tons of food aid to affected communities. But tragedy struck on one of Bell's last planned food aid missions, when the 429, with a pilot and two All Hands volunteers on board, ventured to a remote village in the mountains southwest of Jérémie.
Reports of increasing unrest among populations desperate for assistance had already resulted in travel warnings for the region, including one from the U.S. State Department, which noted that distribution points had been the scenes of mob actions that had overwhelmed available security.
And, in early November, All Hands had announced on its Facebook page that it would be concluding its response in Haiti on Nov. 10 due to safety concerns. (The volunteers who were flying on Nov. 12 were among the few who remained behind to assist in the final days of the project.)
Yet the need for aid remained intense. On Nov. 11, the United Nations Office for the Coordination of Humanitarian Affairs reported that more than 75 percent of the population in Grand'Anse was still in urgent need of food assistance.
Arriving in the isolated village that had received little assistance thus far, the Bell pilot made the decision to land, but kept the rotors turning.
As the All Hands volunteers began to distribute food aid, they were unable to control the onrushing crowd. The volunteers re-boarded the aircraft, and the pilot made an emergency departure. Reportedly, the victims — a man and a woman — were fatally injured by the tail rotor as the aircraft was departing.
After learning of the incident, the pilot landed the aircraft at a secure location, and the helicopter remains in Haiti to support investigation by Haiti's civil aviation authority, the Office National de L'Aviation Civile (OFNAC). Because the aircraft is registered in Canada, Bell also notified that country's Transportation Safety Board (TSB).
"Bell Helicopter continues to work with both authorities to support the investigation of the accident," the company stated. "Our sincere condolences and prayers are with the families of the deceased, and with all the people of Haiti who continue to be in need, as well as the aid workers and the crews who have been working diligently to deliver supplies during this trying time."
The hazards posed by tail rotors are well understood by the helicopter community, but are not always appreciated by the general public. Tail rotors spin much faster than main rotors and are often at head height — sweeping just four-and-a-half feet above the ground, in the case of the Bell 429.
But their small size and high rpm can make them difficult to perceive in the noisy vicinity of a running helicopter. According to a 2006 Flight Safety Foundation report on human contact with propellers and rotor blades, tail rotor blades have been cited in nearly three-quarters of U.S. helicopter rotor blade accidents.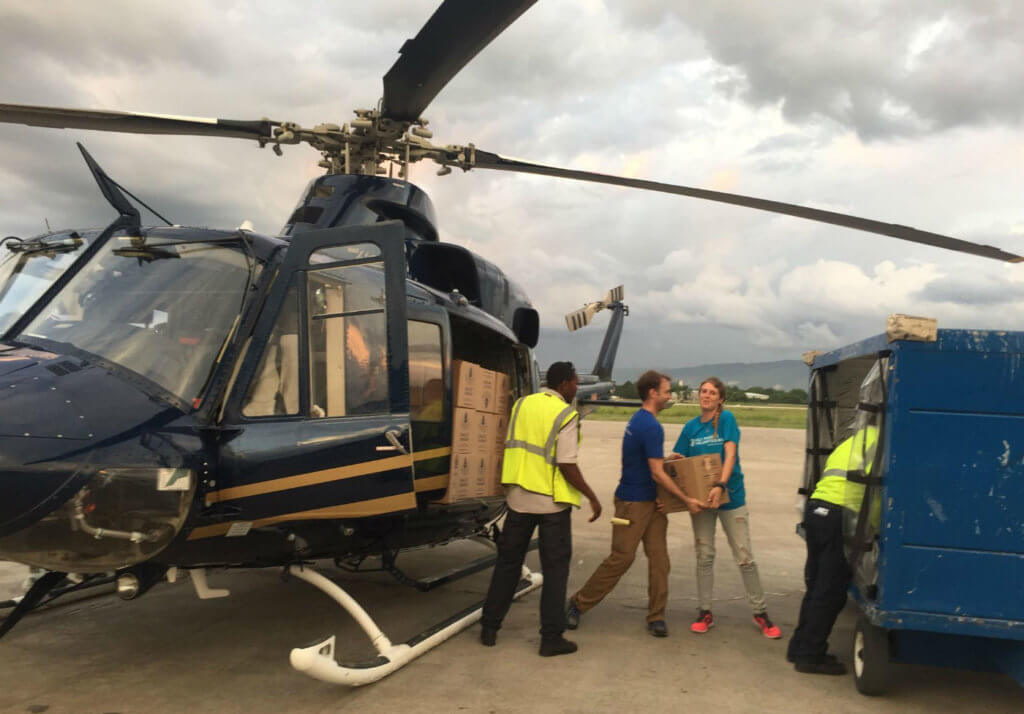 Over a roughly two-week period, the two Bell aircraft in Haiti delivered 50 metric tons of food aid in partnership with NGOs including All Hands Volunteers. Airlink PhotoSituations like the one Bell encountered in Haiti are not unheard of. To manage the risks associated with these kinds of humanitarian operations, some established NGOs who regularly contract with commercial helicopter operators have developed formal helicopter safety guidelines.
For example, Médecins Sans Frontières (MSF, also known as Doctors Without Borders) — which employs flight coordinators who have aviation backgrounds as well as humanitarian experience — has formal safety rules and clearly defined requirements for helicopter landing zones. In its operations around the world, the organization uses "audited commercial operators with strong experience of bush operations," according to MSF flight coordinator Philippe de Saint-Georges.
"Here in Haiti, each mission is carefully reviewed and preapproved by ops and flight crew prior to dispatch," de Saint-Georges explained by e-mail, noting that the final approval of any landing zone is made by the pilot-in-command on site, following the operator's standard operating procedures and MSF safety guidelines.
"After each mission, debriefing with [the] crew from one side and with [the] medical/explo team from the other side collects any problem, building since the beginning of operations [a] kind of 'Haitian Best Practices Kit' that we use regularly to update our general safety rules," he added.
All Hands told Vertical that its "local partner was in communication with local contacts on the ground," and confirmed that one of the volunteers on board the accident helicopter spoke Haitian Creole. However, All Hands did not have formal safety guidelines for the operation, stating, "Bell were leading on all helicopter operations. All Hands Volunteers were brought in to assist with logistics only."
The organization expressed its sadness over the accident and offered its "heartfelt condolences to the families who have suffered this tragic loss."
Although Bell said that it will be conducting an internal assessment of the accident, it's not clear whether the lessons learned will reach the broader aviation and humanitarian communities. A TSB spokesperson, confirming that the agency had received Bell's initial report, said the TSB had decided that it "would not be participating further" in the investigation.
Airlink did not indicate that it would be re-evaluating its use of private aircraft or its approach to helicopter operations. When asked for comment, Airlink executive director Steve Smith stated, "Only Bell Helicopter was willing to donate helicopter resources to NGOs to transport much needed aid to these desperate inaccessible communities. . . . Airlink had — and has — full confidence in Bell's ability to operate its helicopters safely.
"At the same time we are heartbroken by the suffering that has occurred as a result of this tragic accident and that Bell's generosity and the efforts of its dedicated flight crews ended in this way."