The resilience of the Haitian people has endured through years of natural disasters.
On Jan. 12, 2010, a massive earthquake ravaged Haiti, claiming up to 316,000 lives and displacing more than 1.5 million people. Today ― seven years later ― 2.5 million Haitians are still in need of humanitarian aid, according to a new report from the United Nations.
The quake tore a catastrophic path of destruction through the ailing island nation, leaving Haitians with a herculean recovery mission. In the years that followed, a string of devastating natural disasters have fueled ongoing famine and poverty crises, given rise to a deadly cholera epidemic, and quashed Haiti's continued efforts to rebuild.
"Haitians continue to suffer years after the earthquake," U.N. Humanitarian Coordinator Mourad Wahba, who has worked in the country for two years, told The WorldPost. "People lost their friends and family. I see the pain in their faces when they talk about it now. It's a very long healing process."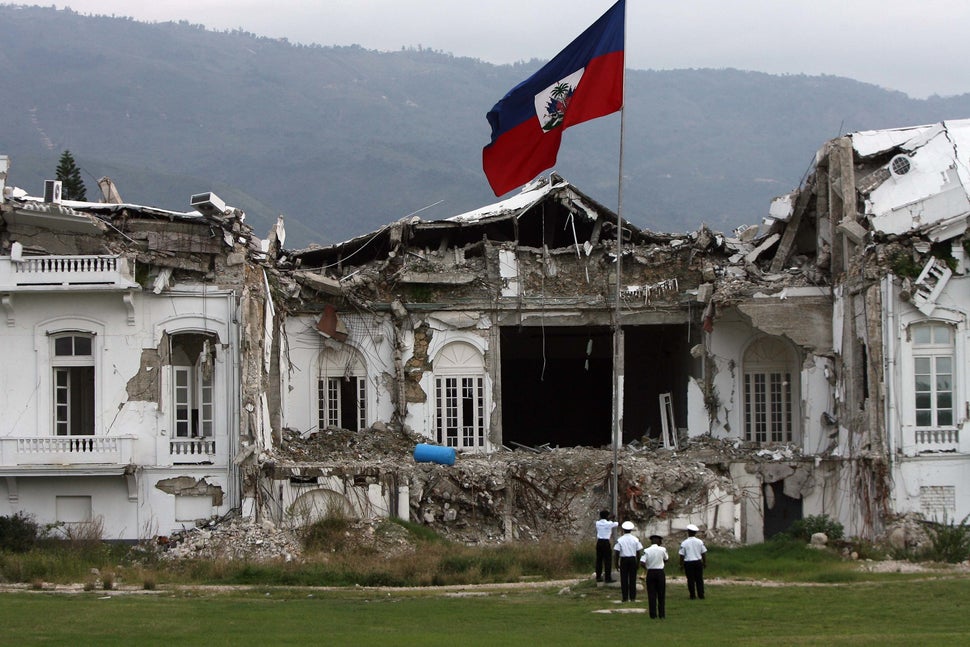 HECTOR RETAMAL via Getty Images
Guards raise the Haitian national flag outside the quake-destroyed ruins of the presidential palace on Nov. 16, 2010.
The earthquake injured about 300,000 people and left 3.3 million facing food shortages. With more than 80 percent of rural housing severely affected, hundreds of thousands of newly homeless people were forced to live in scattered tent cities. Vital public institutions including schools, medical facilities and government buildings crumbled to the ground in hard-hit parts of the country, including the capital of Port-au-Prince. The quake also decimated crops and irrigation canals in many areas ― a massive blow to a nation that has historically relied heavily on farming and agriculture.
"There are still about 55,000 people in camps and makeshift camps," noted Wahba. "Many are still living in unsanitary conditions due to displacement caused by the earthquake. We have a very long way to go."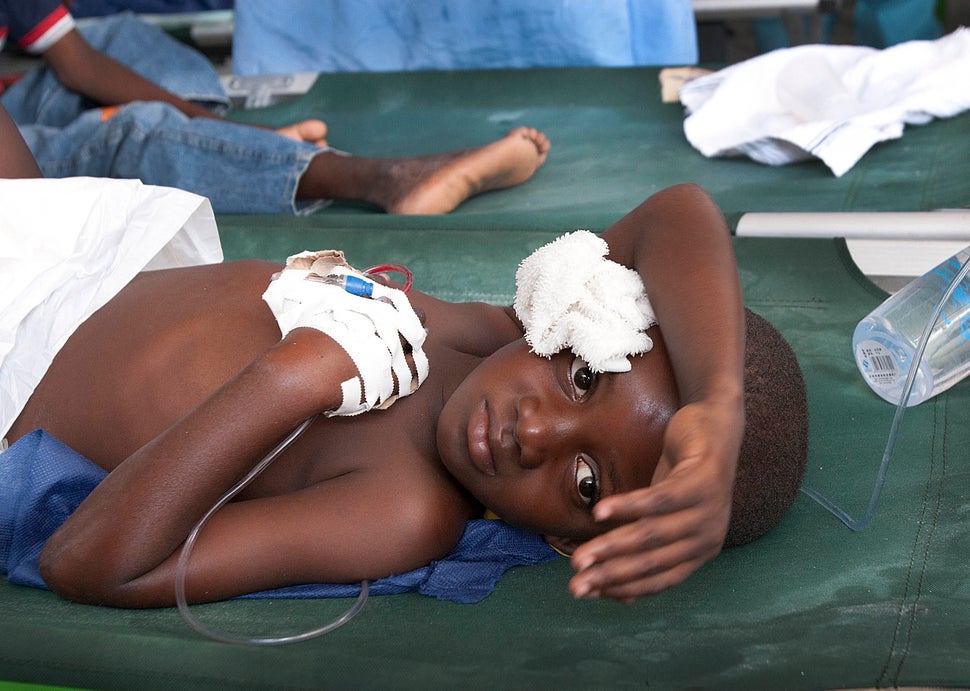 C.W. Griffin/Miami Herald/MCT via Getty Images
Mackenzy Regis, 7, holds his head while suffering from a case of cholera at the International Red Cross station near Port-au-Prince, Haiti, on Nov. 26, 2010.
Just months after the 2010 earthquake hit, the worst cholera epidemic in recent history rapidly engulfed Haiti, killing thousands and infecting more than 6 percent of the population in just over two years. The ongoing crisis placed enormous strain on Haiti's severely weakened health care system, and has also killed hundreds of people in nearby nations, including in Mexico, Cuba and the Dominican Republic.
U.N. peacekeepers are accused of spreading the disease in Haiti before the outbreak. Former Secretary General Ban Ki-moon apologized for his organization's role in the epidemic during an address in December, saying "we are profoundly sorry."
There is also a distrust of humanitarian organizations in the country due to slow reconstruction following the earthquake, despite billions of dollars raised in international aid. The Red Cross, for example, is accused of building only six homes in Haiti with nearly half a billion dollars in donated funds, and spending millions on internal expenses.
Haiti's slow and painstaking recovery has also been hindered by alarmingly high levels of poverty. Michele Wucker, the author of Why the Cocks Fight: Dominicans, Haitians and the Struggle for Hispaniola, talked to Newsweek in 2010 about the economic struggles in Haiti, where at least 58.6 percent of the population lives in poverty. She attributed many of the nation's financial problems to former Haitian dictators Francois Duvalier and his son, Jean-Claude, who was overthrown by a popular uprising in 1986.
"The Duvaliers left Haiti economically decimated," she said. "A large number of educated professionals left the country during the Duvalier regimes, and the period that followed was so unstable, it was hard to lay down roots and build infrastructure."
Wucker also shed light on how foreign intervention has affected the country from its earliest days:
Haiti won its independence after a long revolution that destroyed a lot of the country. They were then required to pay a large indemnity to France or else many countries—including the United States—refused to acknowledge Haiti for fear that it would encourage an American slave revolt. More recently, both Haiti and the Dominican Republic were occupied by the United States, but Haiti was occupied for much longer. By the time the U.S. pulled out in 1934, Haiti's own institutions had atrophied.
Haiti's political woes have largely continued through the 21st century. In early 2016, political chaos erupted into violent protests that pushed controversial President Michel Martelly out of office. The power vacuum left the country in a state of uncertainty without proper leadership at a time of national crisis.
Haiti is especially vulnerable to natural crises. Its location puts it at risk for hurricanes and earthquakes, and a lack of adequate infrastructure amplifies the effects of these disasters.
Hurricane Sandy crashed through the country in 2012, causing drastic flooding and scores of new deaths and cases of disease infections. Then, a three-year drought plunged Haiti deeper into famine and poverty.
In October 2016, Hurricane Matthew killed at least 1,000 people and leveled entire communities. Downed trees and collapsed buildings blocked roadways in some of the worst-hit areas, making it extremely difficult to deliver desperately needed supplies and support. Experts correctly predicted the storm would lead to a resurgence of sicknesses like diarrhea and cholera.
After each tragedy, Haitians begin the rebuilding process once again.
"There has been a lot of solidarity. People were working to restore their homes and livelihoods right away," said Wahba, who was in Haiti during Hurricane Matthew. "A lot of markets that were badly damaged have already started functioning again. I think it shows a lot of resilience."
This year, hundreds of Haitians living in the Dominican Republic are expected to return to Haiti as the neighboring country continues to execute waves of arbitrary expulsions. This will place strenuous demands on Haiti's crippled agriculture sector and leave many returnees in limbo, without homes or jobs awaiting them.
President-elect Jovenel Moïse, who was elected in November, will face an array of humanitarian and socioeconomic challenges when he takes office.
The photos below show Haitians rebuilding their country, time after time.
THOMAS COEX via Getty Images

People build makeshift shelters in front of destroyed houses and a church in downtown Leogane, Haiti, on Jan. 16, 2010.

STR New/Reuters

A man carries a bundle of metal bars salvaged from the rubble of collapsed buildings in Port-au-Prince, Haiti, on Jan. 17, 2010.

Daniel Aguilar/Reuters

People walk along a debris-covered street in Port-au-Prince on Jan. 17, 2010.

Ho New/Reuters

Women clear rubble in Port-au-Prince on Jan. 25, 2010.

ROBERTO SCHMIDT via Getty Images

Workers remove rice from a warehouse after the earthquake in Port-au-Prince on Jan. 26, 2010.

Women clean the rubble and streets of the Carrefour Feuille area of Port-au-Prince on Jan. 26, 2010, as part of a United Nations-supported "Cash for Work" program.

Handout via Getty Images

Locals remove building materials at a site in Cite Soleil, Port-au-Prince, on Feb. 4, 2010.

THONY BELIZAIRE via Getty Images

A young man helps rebuild the destroyed College St Jean l'Evangeliste on April 5, 2010.

Kena Betancur/Reuters

Haitians construct a wall as they rebuild a destroyed house on Jan. 7, 2011.

Kena Betancur/Reuters

Rebuilding after the earthquake on Jan. 9, 2011.

Ken Cedeno via Getty Images

Construction workers pour cement while rebuilding a wall in Port-Au-Prince on April 12, 2011.

The Washington Post via Getty Images

A man ties steel rods together on a walls at Normally High School in Port-Au-Prince on Jan. 11, 2012 as the city continues to rebuild following the earthquake.

AFP via Getty Images

A firefighter helps clear a flooded street Oct. 25, 2012, after Hurricane Sandy swept through the nation.

Handout/Reuters

A man moves his belongings which were damaged by Hurricane Sandy on Oct. 25, 2012.

Swoan Parker / Reuters

A Haitian farmer waters his crops in an area outside of Port-au-Prince on Jan. 21, 2013.

Stringer/Reuters

Workers move bales of Vetiver roots to be processed at the Agri-supply distillery on Haiti's southwest coast on March 27, 2014.

Stringer/Reuters

Workers dig up the roots of grass plants on a plantation outside Les Cayes on March 27, 2014.

Joe Raedle via Getty Images

People in Haiti continue to rebuild and re-establish their daily routines on Jan. 13, 2015.

Andres Martinez Casares/Reuters

A man ties sticks to build a makeshift tent at a refugee camp for Haitians returning from the Dominican Republic on the outskirts of Anse-a-Pitres on Sept. 7, 2015.

Carlos Garcia Rawlins/Reuters

People rebuild destroyed houses after Hurricane Matthew hit Jeremie, on Oct. 6, 2016.

Andres Martinez Casares / Reuters

A man rebuilds his home after Hurricane Matthew passed in Camp Perrin on Oct. 8, 2016.

Carlos Garcia Rawlins/Reuters

People rebuild a destroyed house on Oct. 12, 2016.

Carlos Garcia Rawlins/Reuters

Workers rebuild a partially destroyed orphanage on Oct. 14, 2016.

Carlos Garcia Rawlins/Reuters

Men work to reconstruct a house on Oct. 19, 2016.

Andres Martinez Casares/Reuters

A boy looks at a man as he rebuilds the roof of a house affected by Hurricane Matthew in Damassins on Oct. 22, 2016.